Stationary concrete mixing plants use latest technologies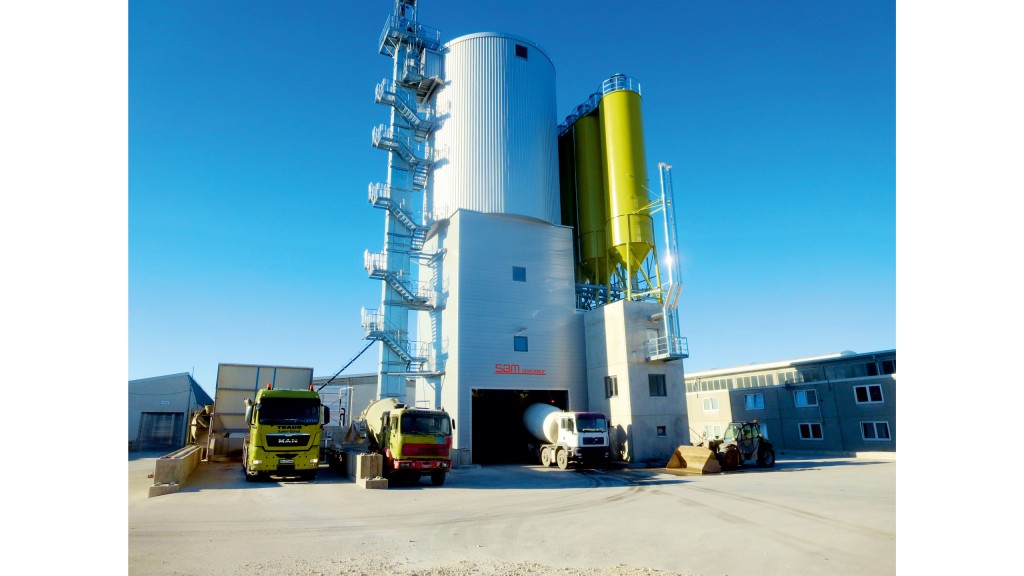 The new TOWERMIX stationary concrete mixing plants use optimized processes and the latest technologies to meet the high demands made when producing prefab concrete parts.
To achieve high qualities of concrete, two counter current planetary mixers are installed in the centre of the TOWERMIX 3000 + 1500 ST D10 875 V, producing 3000 l and 1500 l hardened concrete per batch. Ten chambers can hold up to 875 cubic metres of aggregates, and there is also a store for seven different kinds of cement. A weighing machine is included, and a state-of-the-art microprocessor control ensures precision in all parts of the mixing process.
For environmental protection, the plant includes innovative recycling equipment for residual concrete from mixer trucks. This material can be reused in the mixing process.
Different aggregates are delivered and directly unloaded into the respective hopper. The tower is filled by a discharge conveyor belt and a bucket elevator specially designed by SBM. Filling the cement store is simple thanks to a central blowing statoin in the silo building. Two extra-wide lanes ensure quick loading of mixer trucks.
SBM has made sure that TOWERMIX is easily accessible. The operators can reach the mixing area directly from the control room, and all other service levels can be quickly accessed by the stair tower. Spare parts can be replaced easily thanks to an integrated crane. Technical upgrades can be done easily as well.
Full production at low temperatures is no problem for TOWERMIX. A heating system is installed in the plant, along with warm-air heating for the aggregates and a water heating system for both mixers, ensuring the required concrete temperatures for year-round operation.
Due to the optimum planning to the existing works considering the works logistics, the capacity planning and the design of the components, and the joint planning of the three-storey company building, the turnkey and ready-for-operation TOWERMIX plant concept scored also with the company Traub GmbH & Co. KG, a producer of prefab and prestressed concrete parts.
The building company trusts in the quality and the know-how of SBM as confirmed by managing director and owner Dipl.-Ing. Franz Traub: "Our old plant had to be replaced. It has been especially important to us that the new investment fulfils all state-of-the-art requirements of modern concrete technology and that it can be perfectly integrated into our works. We have been convinced by the complete performance of our partner SBM, and we are very satisfied with the production result."
Company info
Related products