Exploring the benefits and uses of roller-compacted concrete in road building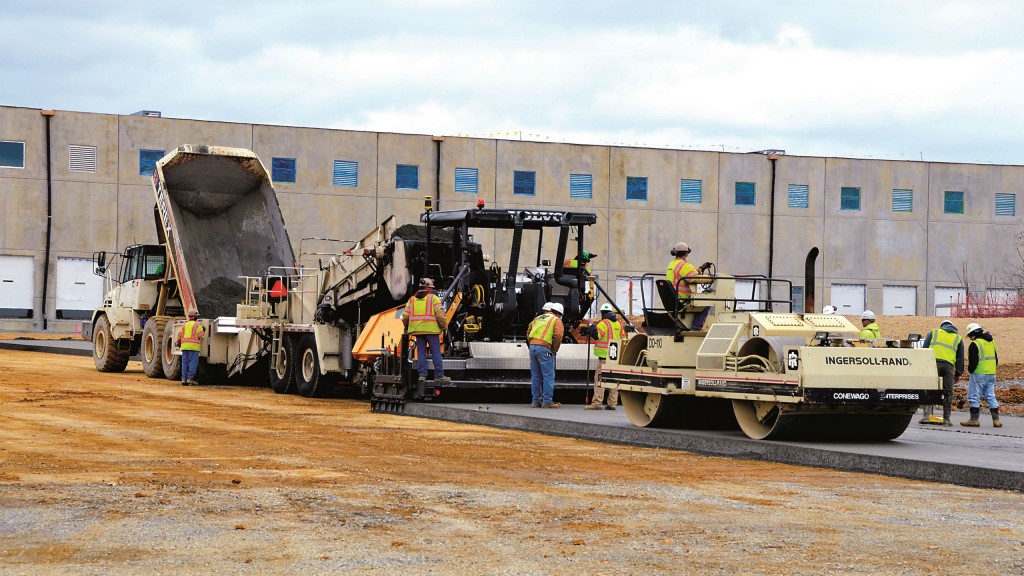 Roller-compacted concrete (RCC) got its start in the 1970s, when the Canadian logging industry switched to environmentally cleaner, land-based log-sorting methods. The industry needed a strong pavement to stand up to massive loads and specialized equipment, according to the Cement Association of Canada (CAC). Yet economy was equally important: log-sorting yards can span 40 acres (16 hectares) or more. RCC met this challenge and has since expanded to other heavy-duty applications.
Roller-compacted concrete is named for the construction method used to compact it. It is placed with conventional or high-density asphalt paving equipment, then compacted with rollers.
RCC has the same basic ingredients as conventional concrete – cement, water and aggregates – but it is drier, thick enough to be compacted by vibratory rollers. Typically, RCC is constructed without joints and does not need forms or finishing, nor does it contain dowels or steel reinforcing, making it simple, fast and economical to place. It is used when strength, durability and economy are the main factors.
For paving, the high strength of RCC eliminates common and costly problems traditionally associated with asphalt pavement as it resists rutting; spans soft localized subgrades; will not deform under heavy, concentrated loads; does not deteriorate from spills of fuels and hydraulic fluids; and will not soften under high temperatures.
Unique mix, unique construction
CAC explains that RCC owes much of its economy to high-volume, high-speed construction methods. Large-capacity mixers set the pace. Normally, RCC is blended in continuous-mixing pugmills at or near the construction site. These high-output pugmills have the mixing efficiency needed to evenly disperse the relatively small amount of water used.
Dump trucks transport the RCC and discharge it into conventional or high-density asphalt pavers, which place the material in layers up to 10 inches (250 mm) thick and 42 feet (13 m) wide.
Compaction is the most important stage of construction: it provides density, strength, smoothness and surface texture. Compaction begins immediately after placement and continues until the pavement meets density requirements.
When appearance is important, joints can be saw-cut into the RCC to control crack location. If economy outweighs appearance, the RCC is allowed to crack naturally.
Since the surface of RCC is rougher than standard concrete pavement, an asphalt surface is sometimes applied on top for greater smoothness or as a riding surface for high-speed traffic.
Today's RCC owes much of its appeal to performance: the strength to withstand heavy and specialized loads, the durability to resist freeze-thaw damage, and the versatility to take on a wide variety of paving applications.
Applications
There are numerous applications for roller compacted concrete according to the National Ready Mixed Concrete Association.
Logging, Composting and Storage
These types of applications require pavement strength and durability to support the heavy loads. Surface appearance, texture and smoothness are less important; therefore, coarser aggregates can be used. Road graders and dozers are sometimes used to place the RCC in the most basic applications.
Ports, Intermodal and Heavy Industrial
Such facilities have large, open areas with few obstructions that could delay the construction process, making them ideal candidates for RCC. The heavy container handling equipment will often have point loads of 12 tonnes (13 tons) or higher, with traffic speeds of 50 m/hr (30 mph) or less.
Light Industrial Sites
Warehouses and auto manufacturing provide large uninterrupted areas that are ideal for RCC. Access roads within the industrial complex represent another application area.
Streets
Traffic is always a major concern when paving streets. Due to traffic constraints and the time required to place multiple asphalt lifts, some agencies have chosen to use a single lift of RCC pavement, which provides rapid construction while reducing both project and user costs. In some cases, light traffic has been placed on the RCC pavement within 24 hours after construction.
When traffic speeds are greater than 50 km/hr, surface smoothness is important. To achieve this, most projects use high-density pavers and/or diamond grinding. A thin asphalt surface course placed on top of the RCC is another option.
Road Widening and Shoulders
Widening roadways is a common way to meet new lane and edge drop-off criteria but in many cases the road is widened into areas where soil and road foundation conditions are poor. The strength of RCC and its speed of construction make it particularly suited to this application. The material provides a stable foundation that can be surfaced with asphalt or concrete for highway traffic and that provides a long, low maintenance life. Distressed pavement in shoulders can also be replaced with RCC.
Highways
For highways, RCC is currently used primarily as a base under a thin asphalt wearing course for rideability. However, another possibility is to use RCC as a base under a conventional concrete pavement. It provides an excellent construction platform and allows the thickness of the final concrete pavement surface to be reduced. Because the RCC base allows for a reduction in the thickness of the conventional concrete pavement, multi-layer systems can be used cost-effectively in highway, airport and heavy industrial applications and should provide the same long-term performance as full-depth pavements.
European-style, high-density Volvo paver
"About fifteen years ago, we started experimenting with roller-compacted concrete as an alternative to asphalt paving," said Don Smith, president of Conewago.
Initially, they used a standard asphalt paver and standard asphalt compactors. However, it didn't take long for Smith and his team to realize they could do better. "We quickly figured out that the European-style high density pavers with dual-tamper-bar compaction were the only way to put down RCC," he said.
Conewago looked to Volvo Construction Equipment and found that its high-density Volvo ABG7820C paver was what they needed. The machine offers a variable-width screed that extends up to 9.1 metres (30 feet), which, when coupled with vibratory double tamping bar, means Conewago can place material faster while achieving compaction normally completed by large rollers. The added paving width also eliminates the number of joints, which reduces long-term maintenance needs.
RCC quality essentially comes down to density. The industry standard is 98 percent, and the Volvo ABG7820C has the ability to hit 90 to 95 percent right out of the paver. The double tamper bar on the screed then strikes off the RCC material and gives it a smooth surface, and allows for additional compaction effort.
For a 16.6-hectare (40-acre) parking area at a major new distribution centre, Conewago placed more than 82,000 metric tonnes (45,000 cubic yards) of RCC over a four-month period. The paver is used in conjunction with a Topcon Millimeter GPS grading control system to optimize smoothness.
Lafarge Pavamax
An example of RCC is
Lafarge's
Pavamax, which has a long service life requiring minimal maintenance, yet is low cost. The company says that RCC uses less granular material than an equivalent asphalt design, and can use alternative products such as fly ash, ground granulated blast furnace slag or silica fume. Products like Pavamax fare well in life cycle analyses, thanks to high durability and low energy consumption during production.
Company info
Related products
Related Articles
Searching for the best-performing excavator? Your search ends here. We tested the Volvo EC350E and EC380E against a leading competitor in three different tests: trenching, truck loading and lifting capacity at reach. The results show a 20% difference in cost-per-ton, a 15% difference in tons-per-hour and a 12% difference in both operating costs and lifting capacity. See the results and put an end to your search for the best excavator.