KEESTRACK expands screening lineup with new mobile drum screen series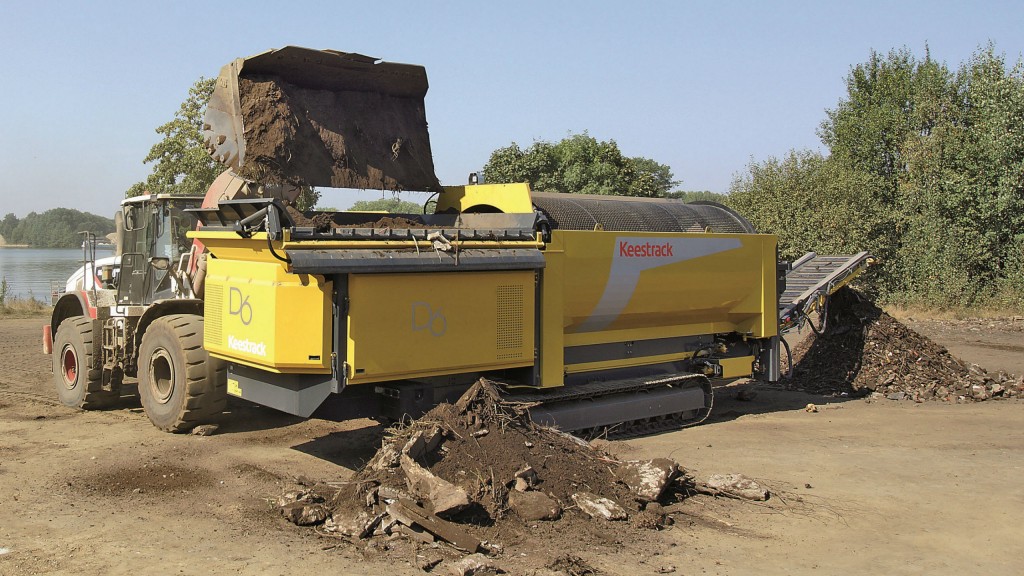 With a total of 11 track-mounted vibrating screening plants for scalping or classifying defined end products, Keestrack is offering one of the largest ranges of screening technology for mineral applications. The new drum screen series "D" now substantially extends the international processing specialist's programme and opens new business segments in landscaping, biomass processing and the handling of waste or recycling materials. Four wheeled versions and particularly the tracked models D5 and D6 guarantee a high operational versatility on changing sites or on large-scale depots with varying materials.
Completing the range
To extend its offering in screening technology Keestrack co-operates, since last year, in development and production with a European specialist in wheeled drum screen solutions. As an immediate result, 4 trailer versions, with transport weights from 11 to 24 tonnes, were introduced into the Keestrack programme. The easily relocatable plants cover all typical applications including compost; soils, wood, or biomass; light construction waste; and sand and gravel.
At Bauma 2016 the track mobile drum screen Keestrack D6 was introduced. Optimized transport dimensions and high production rates make the model a perfect match to the company's range of highly flexible screening solutions. As well as the smaller D5 (15,6 t; 4,700 mm; 1.8 m Ø) the 19-tonne D6 with 5,500-mm drum screen ensures trouble-free low bed transports (width: 2,920 mm), quick setup times and is easy deployable on site.
Flexible in practice
Large crawler tracks allow quick positioning and operation of the Keestrack D6 even on difficult grounds with fully extended main and side conveyor. With approx. 80 tonnes stockpile capacity those ensure economical one-man operation. Loading into the wide, 5-cubic-metre feed hopper is easy with hydraulic tipping grid. A reinforced belt feeder leads the material into the drum screen (Ø: 2,000 mm). A load monitor automatically adjusts the feeding speed. Discharge speed of oversize and fine fraction conveyor can be controlled manually.
The plant is run via a user-friendly on-board control panel with an optional remote control to control all essential functions. Various routine settings, as sequential start/stop-function or the "EcoMode" function to reduce the speed of the 3.4-litre Deutz diesel engine (74.4 kW) during loading breaks, ensure cost efficiency and ease of operation. This is also provided through the standard central greasing system and the optional "CleanFix" system for automatic dust removal from engine and oil coolers. By reversing the angle of the fan blades, the radiators are cleaned in set intervals to ensure cooling even under very dusty conditions. All maintenance points and components are easily accessible through wide-opening panels and doors. The complete drive unit with engine and hydraulics is mounted on a swivelling frame and the belt feeder can be pulled out hydraulically to facilitate easy drum change.
To quickly adapt the Keestrack D6 to changing materials or properties (moisture, contamination) the drum with eight roller supports and double-pinion drive can be changed in only 30 minutes. Standard wall thickness of the drum body is 6 mm (optional 8/10 mm), the size of the square or round mesh might vary from 10 to 100 mm. Available options allow adaptation of the plant to specific operation requirements. These include, among others, magnetic drum separators for coarse and fine fractions, and a wind sifter module for the removal of light materials (paper/plastics) from the coarse fraction.