John Deere 2154G/2156G and 2654G/2654G swing machines boost operator comfort and productivity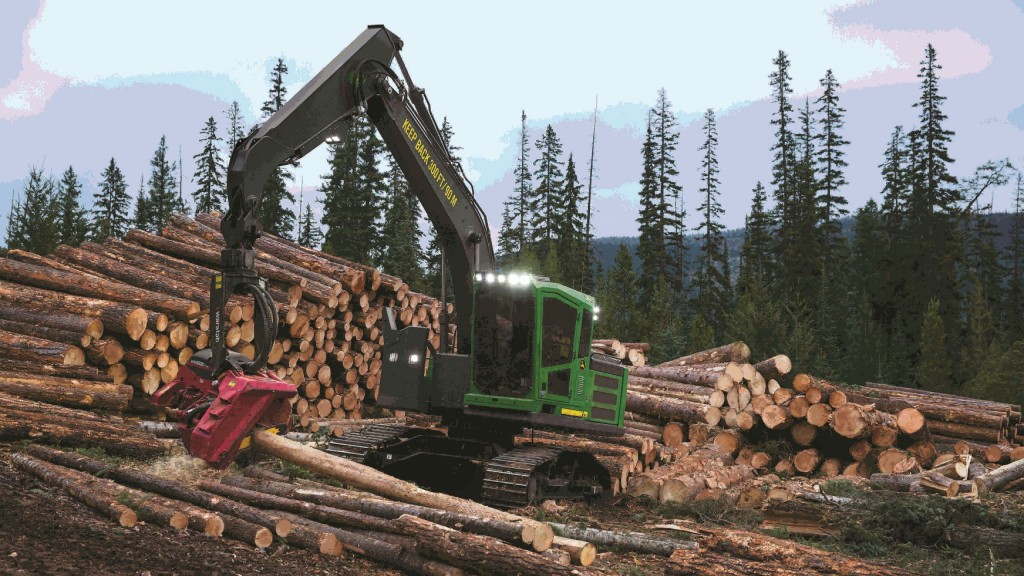 John Deere 2154G/2156G and 2654G/2656G Forestry Swing Machines are designed to increase operator efficiency and performance. These G-Series machines can maneuver through the toughest of jobs, from loading to processing big wood. Much like the large frame machines, the 2156G and 2656G Log Loaders are distinguished by the 56 model number, while the Forestry Excavators retain the 54 model number. All four models are equipped with a powerful PowerTech Plus 6.8L engine. On the 2154G and 2156G models, the new engine reduces fuel usage by 5 to 8 percent.
The G-Series machines include a variety of features to increase operator comfort. The climate-controlled, redesigned operator cab is much larger and quieter than the predecessors, and is equipped with ergonomic controls, excellent window clarity and isolation mounting, boosting operator productivity from dawn to dusk. The Forestry Excavator models feature a standard 25 percent larger side-entry cab, while the Log Loaders/Processors have a standard elevated rear entry cab, which allows for safe and easy entry and exit. A cab-forward option on the 2156G and 2656 Log Loader/Processor models boosts operator confidence, providing excellent visibility particularly when swinging toward the boom side of the cab. The LED options on all models expand the lighted area, providing crisp, clear lighting for improved visibility and safety.
"For our new G-Series machines, we wanted to develop a machine that not only responds to the needs of our customers, but goes above and beyond the industry standards to provide operators with the comfort and productivity they need to get through long days," said Dave McFarlane, product marketing manager, John Deere Construction & Forestry. "The improvements help operators feel confident on the jobsite, allowing them to be more efficient and, ultimately, improving the operations' bottom line."
The design on the G-Series machines features significant undercarriage improvements. The 2154G and 2156G models have been updated with larger rollers, while the 2654G and 2656G are available with an optional longer track, improving machine stability, increasing operator comfort, boosting machine lift capacity and extending lower roller life. Improvements to the boom, arm, mainframe and undercarriage increase the life of the structures.
To simplify service, the G-Series models feature a 35 percent reduction in electrical components, helping to reduce electrical-related downtime. The machines are equipped with a larger cooling system with hydraulically reversing fans to increase airflow and lower operating temperature. Additionally, ground level service access, conveniently located filters and test ports, and LED service lights simplify routine maintenance.
Company info
Related products