Caterpillar Chairman and CEO Doug Oberhelman elects to retire in 2017; Jim Umpleby elected as Caterpillar's next CEO; Dave Calhoun to become Non-Executive Chairman of the Board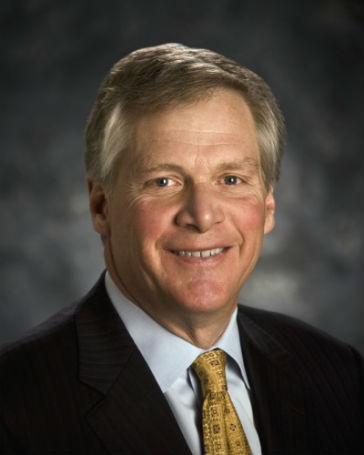 After more than 41 years with Caterpillar Inc., Chairman and CEO Doug Oberhelman has elected to retire, effective March 31, 2017. During his time as Chairman and CEO, Oberhelman has reinvigorated the company's focus on serving customers while also driving a culture of quality and safety. Oberhelman led the company to its highest sales and revenues peak in its 91-year history in 2012, and, since that time, has successfully led the company through the unprecedented downturn affecting key industries.
"Our people have heard me say many times that my greatest responsibility as Chairman and CEO is to manage Caterpillar for today and position the company and its future leaders for long-term success," Oberhelman said. "It has been an honour and a privilege to lead this company, and I am confident in the choice of my successor, Jim Umpleby.
"During the last four years, Caterpillar has faced unprecedented global economic conditions that have significantly impacted the industries served by our customers, as those industries and economic growth in many regions around the world have slowed or severely contracted. Faced with these challenges, our employees have responded like champions. We have improved our market position and grown our field population. Our product quality is at historically high levels, and I believe we are leading the industry in digital capabilities. I am confident that Caterpillar is stronger than ever, with product quality, power, technology and innovation that is the envy of our competitors. Add to that lean and agile manufacturing capabilities and an unrivaled global distribution channel. The future is bright," Oberhelman added.
The company's Board of Directors has elected Jim Umpleby, currently a Caterpillar Group President with responsibility for Energy & Transportation, to succeed Oberhelman as CEO. Umpleby, a 35-year veteran of the company, will join the Caterpillar Board of Directors and become CEO effective January 1, 2017. He joined Solar Turbines Incorporated in San Diego, California, in 1980. Solar, a wholly owned subsidiary of Caterpillar Inc., is one of the world's leading manufacturers of industrial gas turbine systems. Early in his career, he held numerous positions of increasing responsibility in engineering, manufacturing, sales, marketing and customer services. Umpleby lived in Asia from 1984 to 1990, with assignments in Singapore and Kuala Lumpur, Malaysia. The Caterpillar Board of Directors elected Umpleby a Caterpillar Vice President and President of Solar Turbines in 2010. He was named Group President and a member of Caterpillar's Executive Office, effective January 2013.
"For more than 91 years, Caterpillar equipment has been renowned for its quality, durability, innovation and value," Umpleby said. "I have been privileged to work with Caterpillar employees and dealers in supporting our customers as they develop the world's infrastructure and improve standards of living and quality of life. I look forward to leading our dedicated team as we build upon the accomplishments of those that have come before us."
Oberhelman will remain as Executive Chairman of Caterpillar until March 31, 2017, when he will retire. Upon Oberhelman's retirement, Dave Calhoun, a current member of the Caterpillar Board, will assume the role of Non-Executive Chairman of the Board. Calhoun is Senior Managing Director and Head of Private Equity Portfolio Operations of The Blackstone Group L.P.
Ed Rust, former Chairman and Chief Executive Officer of State Farm Mutual Automobile Insurance Company, and currently Presiding Director of the Caterpillar Board, will remain on the Board, but will no longer hold the title of Presiding Director once Calhoun assumes the role of Non-Executive Chairman.
"The Board has a robust, best-in-class succession planning process for the critical roles of Chairman of the Board and Chief Executive Officer as well as other top executive positions. One of our top priorities as a Board is developing a strong pipeline of senior leaders. Discussions are held throughout each year, and today's announcement is the result of these ongoing and deliberate Board discussions," Rust said. "I am certain Jim will continue the superb leadership, which is the hallmark of Caterpillar, in the years to come. I especially want to thank Doug for his strong and outstanding leadership of the company throughout his tenure, particularly in the last four years, when the global economic environment has created unprecedented challenges for Caterpillar. We wish Doug all of the best for a successful retirement following a distinguished and successful 41-year career."

Calhoun has been a member of the Caterpillar Board of Directors since 2011. In addition to his role with the Blackstone Group, he was previously Executive Chair of Nielsen Holdings N.V. (2014-2015), served as Chairman of the Executive Board and Chief Executive Officer of The Nielsen Company B.V. (2006-2013), Vice Chairman of General Electric Company and President and Chief Executive Officer of GE Infrastructure (2005-2006).

"I am honoured to take on these new responsibilities with Caterpillar, an iconic and global leader," Calhoun said. "Following a deliberate succession process, the Board confidently elected Jim as Caterpillar's next CEO. He reflects the best attributes of Caterpillar's culture and leadership. I also want to compliment Doug for his outstanding leadership as Chairman and CEO, as the capstone to more than four decades of service. His leadership in the last four years has been remarkable as the company has successfully navigated an incredibly difficult cycle while positioning Caterpillar to take full advantage of the next upturn."
A replacement for Umpleby will be announced at a later date.