HCSS partners with John Deere to streamline data reporting and optimize fleet management for construction companies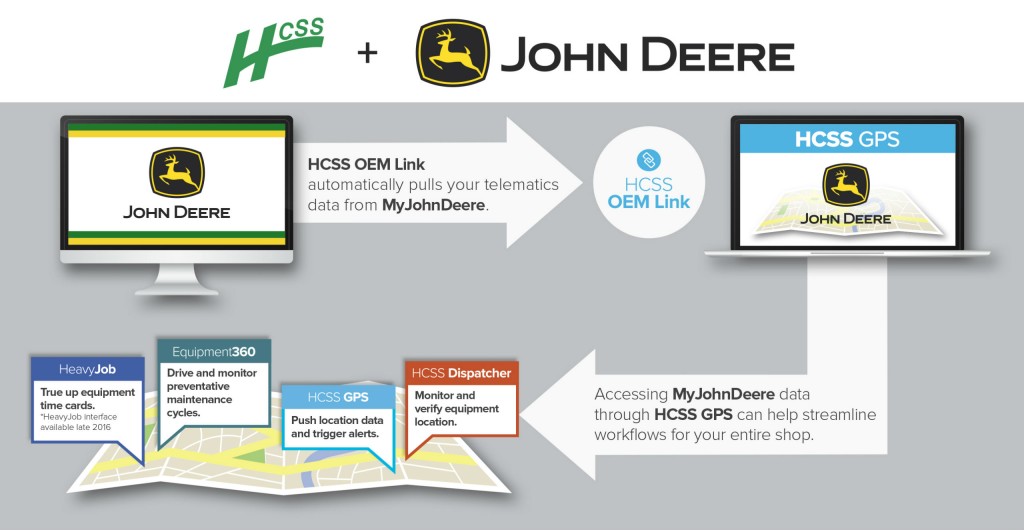 Construction industry software solutions provider, HCSS, has a new partnership with John Deere to streamline equipment maintenance and parts and service requests by leveraging AEMP 2.0 data, which John Deere refers to as their JDLink Machine Data API. HCSS will be among the first in the industry to be able to pull AEMP 2.0 data from a partnering manufacturer into a fleet management software.
By integrating data from the John Deere JDLink system into HCSS OEM Link, customers will be able to use JDLink telematics data to drive and automate workflows in the HCSS suite of products, including: Equipment360 fleet management software; HeavyJob time cards and reporting program; HCSS GPS telematics solution; and HCSS Dispatcher dispatching system.
"Integrating JDLink with the HCSS portfolio gives our shared clients an edge over their competitors by using OEM data to make more informed decisions to drive efficiency and productivity, which is critical for increasing profitability," said JP Giometti, HCSS Director of Strategy and R&D.
"Our partnership with HCSS empowers customers to take advantage of the existing telematics connection on their John Deere equipment and see their JDLink machine data in the powerful HCSS tool suite in conjunction with other telematics brands," said Liz Quinn, product marketing manager, John Deere WorkSight. "In addition, customers will be able to easily link from the HCSS application to the MyJohnDeere.com environment when they need to order parts, manuals or have a closer look at a John Deere machine in the JDLink Dashboard. Seeing all brands of telematics data in one application optimizes a customer's fleet management decisions and eliminates manual data entry and jumping from one manufacturer's portal to the next."
COMANCO Environmental Corporation was one of the first contractors to recognize the value telematics data can offer. Having been an HCSS customer since 2007, COMANCO's IT Manager Matthew DiTarando says "In nine years, we've leveraged GPS and telematics to hone our operations, achieving a significant return on investment. We look forward to utilizing the open JDLink Machine Data API and integrating that vital telematics data into our HCSS products. Combining these two into one cohesive system will enable us to thrust our fleet department forward into a future of advanced planning of scheduled maintenance utilizing real-time telematics."
John Deere selected HCSS as a partner based on compatibility with its WorkSight technologies and ease of use with customers. HCSS also is an alpha tester of JDLink Machine Data API (AEMP 2.0), which is scheduled to launch later this year.