Doosan DX190W-5 wheeled excavator is an ideal solution for a range of jobs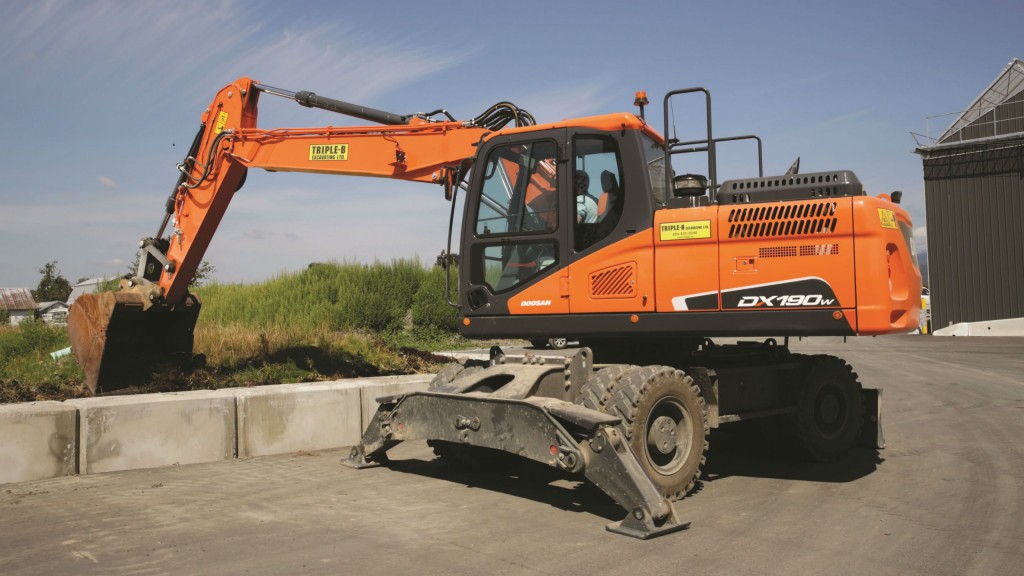 Managing construction equipment inventory can be a challenge for any company, especially one that is growing. One strategy is to wait until there is sufficient work before purchasing a new machine. The risk is not having the equipment to do a job and losing the work. On the other hand, is it better to add equipment and hope enough projects come your way to justify the investment? The downside to that approach is having machines sitting idle until the jobs come in.
Tom DeJong, the 42-year-old owner of Triple-B Excavating Ltd. in Abbotsford, British Columbia, has a philosophy that combines adding and subtracting equipment based on his intuition, his ability to forecast the future workload and his evaluation of which machines are the best fit. Often his equipment decisions – renting, buying and selling – are made in the fast-moving construction environment of the Fraser Valley.
"If we get busy, the first thing I look at is whether to rent or purchase the right equipment to handle the projects," he says. "I want to play the market for a short time to see if the work materializes, because to rent a machine for a month is almost like making three or four payments on a new one. Renting could cost me $12,000 a month compared to a $3,000 payment on a new machine.
"However, if I know that I have several months of work, I will just go buy a machine," he continues. "Then I will use the money I make during those few months to float me through if business slows down. If things really go sideways, I'll sell one of my older machines."
DeJong says he always waits for some sign that more business is coming his way before purchasing equipment. When he started his company in 2001 he only had a small crawler excavator. A few years later, in order to try to expand the type of work he was doing, he rented a dozer from his father, Ted, owner of DeJong Excavating Ltd.
"That rental lasted six months," he recalls. "The work was materializing, so I purchased the dozer. Once it was productive, the decision to add a third machine was easier because by keeping the excavator and dozer busy I was able to generate the cash flow necessary to cover the third unit. I have used that strategy ever since."
Part of that plan is to sell a machine at around 7,000 to 8,000 hours (typically at five years). DeJong keeps his equipment well maintained and, as a result, it has a good resale value.
Wheels ideally suited for pavement
DeJong has high expectations for his newest excavator, a Doosan DX190W-5 wheeled model, purchased from Westerra Equipment – the local Doosan construction dealer – with assistance from territory manager Darren Sabatino. The 167-nethorsepower excavator is designed to deliver optimum power and fuel efficiency, and is ideal for operating on paved concrete and asphalt.
Before buying his first Doosan product, DeJong spent time evaluating the wheeled excavator. The machine got good reviews from his competitors that owned the brand. He tried out the DX190W-5, got prices from other manufacturers, compared all the features, including the warranty which he said was very attractive, and concluded that "the Doosan excavator beat every other machine."
The excavator is mainly used for the ditch-cleaning portion of Triple-B Excavating's business. DeJong works for more than 100 local dairy farm customers and several municipalities, and he considers the DX190W-5, equipped with a 60-inch ditching bucket, the ideal machine for cleaning ditches.
"The maximum travel speed of almost 22 miles per hour allows us to get from one digging location to another very efficiently," he says. "Another key feature is the two-piece boom, which allows us to reach out and dig farther. I would not want a wheeled excavator without a two-piece boom." The DX190W-5 has a maximum reach of 30 feet (at ground level), and a maximum digging depth of 18 feet 4 inches.
DeJong also reports that the excavator "is smooth to operate, with very precise controls. The comfortable, operator-friendly cab is superior to other excavators we have tried. Overall, it's a really good machine."
In addition to ditch cleaning, De-Jong uses the DX190W-5 for digging lagoons and basements, land clearing, site preparation, demolition and other related projects. With a variety of earthmoving equipment, his company is well-positioned to take on any job.
"My business is built around the concept that when someone calls me, I never want to be in a position of turning them down because I don't have the right equipment available," he says. "That's why I have no problem renting or buying a machine if the work is there or if I can see it coming. I know that philosophy isn't for everyone, but it sure works for me."
Related products