G-Series large-size swing machines put productivity into full swing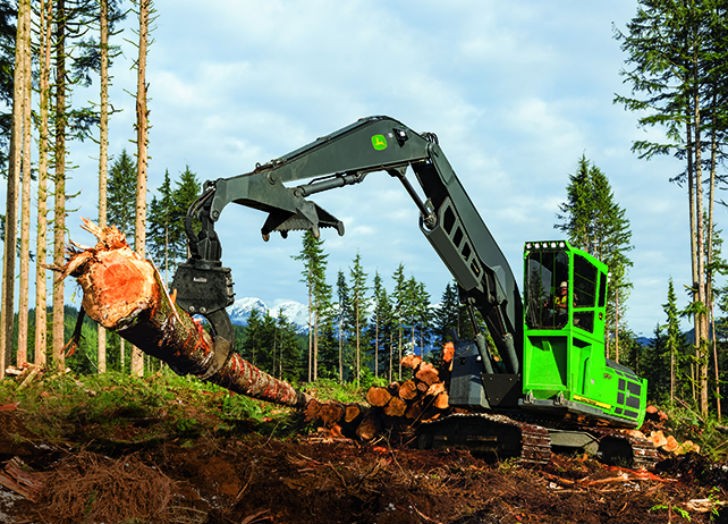 Setting a new industry standard for the swing machine market, the John Deere 3154/3156G and 3754/3756G swing machines offer operators increases in productivity, durability and reliability. From loading to processing big wood, the G-Series swing machines help loggers efficiently power through jobs. As part of the G-Series introduction, John Deere will distinguish its crawler log loaders using 56 in the model name, while the forestry excavators will continue to use the 54 designations.
The most notable improvement on the G-Series swing machines is the completely redesigned cab, which is equipped with features to increase operator comfort. The larger side-entry cab and the elevated rear-entry climate-controlled cab are more spacious than their predecessors and include fatigue-reducing features, such as excellent window clarity, ergonomic controls and isolation mounting to boost operator productivity throughout long days.
The 3154G and 3754G swing machines are equipped with a side-entry cab, while the 3156G and 3756G models are equipped with an elevated rear-entry cab, allowing for safe and easy entry and exit. These elevated cabs feature floor-mounted windows that increase visibility to the tracks to help maneuver over difficult ground conditions. Additionally, a new cab-forward option on the 3156G model boosts operator confidence, particularly when swinging toward the boom side of the cab, positioning the operator 17 inches further forward than standard cabs. New LED lighting options on all models expand the lighted area with crisp, clear lighting for improved visibility and safety on the jobsite.
"At John Deere, we understand that operator comfort is vital to productivity, particularly during long days on the job," said Dave McFarlane, product marketing manager, John Deere Construction & Forestry. "When developing the new G-Series swing machines, we focused on improving operator comfort and safety, creating a more spacious cab and increasing visibility. We feel these improvements will raise the bar for operator expectations in the industry."
In addition to the redesigned cabs, the new G-Series swing machines offer a host of features designed to improve machine uptime and performance. The 3154G and 3156G models feature a larger hydraulic pump and hydraulic cooling package, along with a 9.0-litre engine, improving multifunctioning performance and providing better reliability, durability and productivity in big wood applications.
The G-Series machines also offer significant undercarriage improvements, including larger lower rollers and a longer track frame option on the 3754G and 3756G machines. The updates to the 3754G and 3756G machines place more track on the ground, offering increased stability and operator comfort, boosting lift capacity and extending roller and track life. Additionally, the 3756G machines are now available with integrated hydraulic plumbing for the Waratah processing heads, offering loggers a factory-installed solution across both models.
Service has been simplified on the G-Series machines, with a 30 percent reduction in electrical components, helping to reduce electrical-related downtime. Additionally, the machines are equipped with a larger cooling system with reversing fans to increase airflow and lower hydraulic operating temperature. Larger service bays with LED service lights and a large, tilt-down service platform make it easier for operators to perform routine maintenance
Company info
Related products
More from Cranes & Lift
The all-new CASE TR340B compact track loader — operating at 90 horsepower with a 3,400-pound rated operating capacity — is the most powerful radial-lift CTL in the CASE lineup. Its all-new 8-inch LCD display improves on industry-leading CASE visibility with a new backup camera that is viewable in both forward and reverse operation. The display also showcases critical operating information and "trip" details. All-new electro-hydraulic controls, managed through the display, make it easier than ever for operators to dial CASE CTLs into specific application demands. All new cab controls and joysticks make the new TR340B easy to own and operate.
Industries such as construction, mining, energy, utilities and forestry, face many challenges when it comes to tracking assets and employees. Equipment often has to be transferred between locations, or monitored while it is dormant during off seasons. Lone workers may have to travel long distances or visit multiple sites during the course of their activities. And, all of this is further complicated today with shifting supply chains and economic realities putting further strain on the bottom line.