Sandvik Mining and Rock Technology showcases next generation mining equipment and services at MINExpo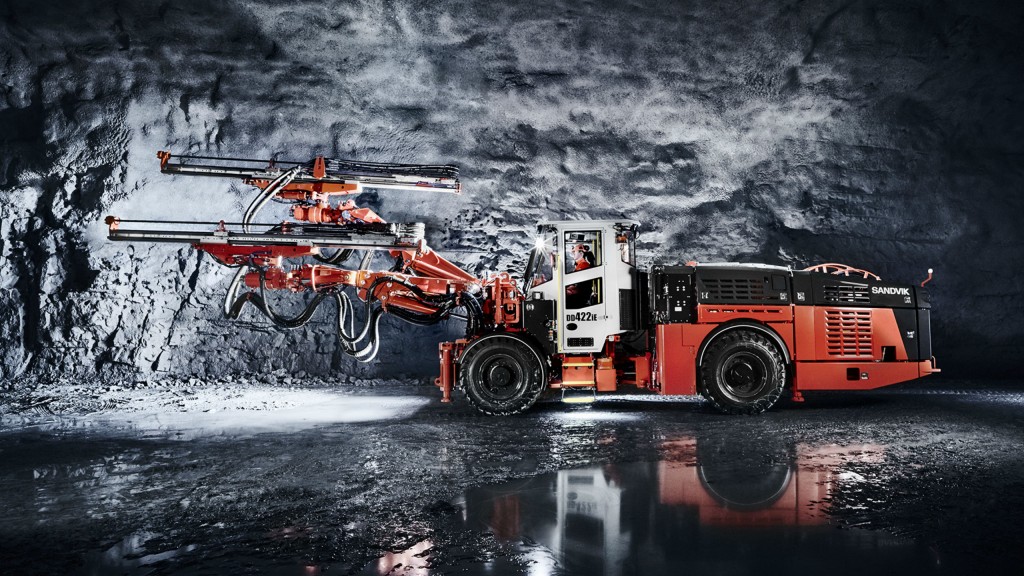 At MINExpo International 2016, Sandvik will showcase the latest in its portfolio of innovative equipment and services, ranging from a single drill bit to mine automation.
Automation – the rock factory is here today!
Sandvik offers a wide range of automation solutions that customers can apply right now in order to maximize the full potential of their mine site while significantly improving safety. Depending on customer requirements, they can provide AutoMine for autonomous solutions and OptiMine for information management – or a combination of these two – all resulting in improved safety and productivity. Because it's automation by miners, for miners, each solution is tailored to realistic conditions and needs, both in surface operations and underground.
3D scanning is one of several new and innovative features available in their automation offering. It automatically scans overbreak and underbreak to save valuable time during the drilling cycle, helping customers develop more meters every month. Don't miss the opportunity to discover more about the benefits of 3D scanning at the show.
Revealing – 100 percent battery tramming
At MINExpo Sandvik will launch a number of drill rigs, including its latest addition to the DD422 series. Sandvik DD422iE uses electric battery power instead of a diesel engine, eliminating emissions during tramming. The patented electric driveline system on our latest automated mining jumbo enables battery recharging during drilling. Sandvik DD422iE burns less fuel, also generating less heat and noise than conventional drivelines. The result is safer, healthier and more productive development drilling.
There is growing awareness of the potential health impacts of diesel particulate matter (DPM) and other underground engine emissions which often dictate high mine ventilation costs. This extends beyond drilling to other underground equipment. Discover more about the electrifying solutions for underground loading and hauling from Sandvik at MINExpo.
Next generation – drilling for every application
Explore the latest examples demonstrating Sandvik's extensive experience in surface and underground drilling – whether top hammer, ITH, DTH or rotary – at MINExpo. These include the launch of the latest addition to their modular 400 underground range of ITH long hole drill rigs with automation capability. Learn more about the latest in the series of diesel-powered, self-propelled, crawler-mounted surface blasthole drills which is automation-ready and features forward-thinking design and technology for bulk mining operations. Coupled with the patented Sandvik Compressor Management System fuel consumption can be improved by up to 25 percent.
Reinventing – drill bit design
Having developed and supplied productive rock tools for more than 100 years, Sandvik continues to reinvent drill bit design. The newly-introduced top centre drill bits, incorporating the most significant upgrade to face drilling bits in decades, is one of the Sandvik highlights at MINExpo. The new design features a so-called "raised front", elevating two or three front buttons – depending on diameter size – a few millimetres above the gauge buttons located on the periphery of the bit. Additionally, the front buttons are set at a slight angle relative to the symmetric axis of the bit.
The raised front creates a slightly recessed hole bottom pattern that alters the rock-breaking action in order to achieve improved performance. This, together with a new cemented carbide grade GC80, which combines toughness with a softer centre, further extends the service life and long grinding intervals. More launches will be revealed at the show.
Eco-efficiency – comminution
Learn more about the advancements in the field of comminution and see the latest in the range of crushers in the quest for more eco-efficient comminution solutions – one of these being Sandvik CH865, their mid-range mining crusher for high-reduction tertiary and pebble applications. The intelligent systems on Sandvik CH865 enable real-time performance optimization, while smart, compact design solutions reduce dynamic loads and minimize engineering and installation work.
Visit the Sandvik booth and learn all about Sandvik:
Service solutions
Rebuild solutions
Component solutions
Upgrades and custom engineering
Genuine kits and performance fluids
"We're driving innovation throughout our entire portfolio, from new equipment to ever smarter customer services," says Marie Brodin, Vice President, Marketing and Communications, Sandvik Mining and Rock Technology. "We are focusing on the numbers that matter by conveying customer value and lower total cost of ownership of the total Sandvik package. At MINExpo we will showcase a compelling offering of products and services, all designed to benefit our customers' bottom line in terms of increased safety and productivity. Sandvik is at the forefront when it comes to mining equipment, whether it be equipment automation or cemented carbide grades for drill bits. What ties it all together are our dedicated people and our offering of genuine parts and services. We call it Sandvik 365."
Company info
Related products