Link-Belt 298 Series 2 lattice crawler crane features easy luffing attachment

Link-Belt Construction Equipment's new 250-ton (226-mt) 298 Series 2 lattice crawler crane is built upon its job-proven predecessor, the 298 HSL. "We believe the new transport package and combination boom tip absolutely completes our customers' wish list, and the 298 HSL Series 2 continues to deliver great capacities," says Link-Belt Product Manager, Lattice and Telescopic Crawler Cranes, Scott Knight. Since its initial introduction in 2007, the 298 HSL has been placed in rental fleets across the globe – from dry docks in Brazil to tunnel construction projects in Queens, New York, NY logging over 12,000 hours in just two and a half years.
Luffing attachment
The new boom design is the capstone of the 298 Series 2 and allows the working combination boom tip section to remain in place when transitioning from conventional mode to luffer with a maximum combination of 180 feet (54.8 m) of luffing boom and 195 feet (59.4 m) of luffing jib. In order to provide quick conversion from conventional style lifting to a luffing configuration, assembly has been simplified with the advent of the following:
Semi-bore weldments for pin locations
"Point of use" storage provisions for all components
Stop bolts for quick pin alignment
A new luffing jib transport package with lifting lugs simplifies and expedites luffer assembly. The rear post will scissor into place by means of alignment links. The transport package also comes assembled with nylon rope reeving to assist with initial luffing jib wire rope hoist reeving. Once the rear post is in working position, all luffing jib pendant connections are made and the luffer is ready to be raised for work. All assembly is done from the ground with no work at height exposure.
Conventional lift crane
The 298 Series 2 will also feature a new base section and 12-inch-wide (30.48 cm) boom walkway. Bar pendants with storage brackets replace dual wire rope pendants. A newly designed retractable auxiliary lifting sheave has a capacity of 25-ton (22.67-mt) and offers two parts of line. Conventional boom length will remain the same as the 298 HSL at 60 – 290 feet (18.2 – 88.39 m). The maximum tip height of boom and jib [250 feet + 90 feet (76.2 + 27.43 m)] is 342 feet 3.2 inches (104.32 m).

Additional features
The 298 Series 2 will come with a Cummins QSL 9 Tier 4 engine. Greater fuel efficiency is just one of the benefits offered with the ECO winch system, resulting in lowered operating cost, less engine rpm under load and fewer emissions. When activated by the operator, ECO hoist provides maximum line speed with lighter loads all with the engine under 1,000 rpm. Also, standard equipped is operator-selectable "auto-engine shutdown" allowing the engine to shut down after extended periods of inactivity, so long as critical operating criteria are met.
The crane operator is assisted by an on-board high-resolution rear view camera that helps monitor jobsite conditions. An audio/visual travel alarm system informs crew members on the ground. The RCL monitoring system provides the operator all lift information, is extremely intuitive and allows the operator to set swing and other control parameters creating virtual walls with audio, visual alarms and function kickout.
Company info
Related products
Related Articles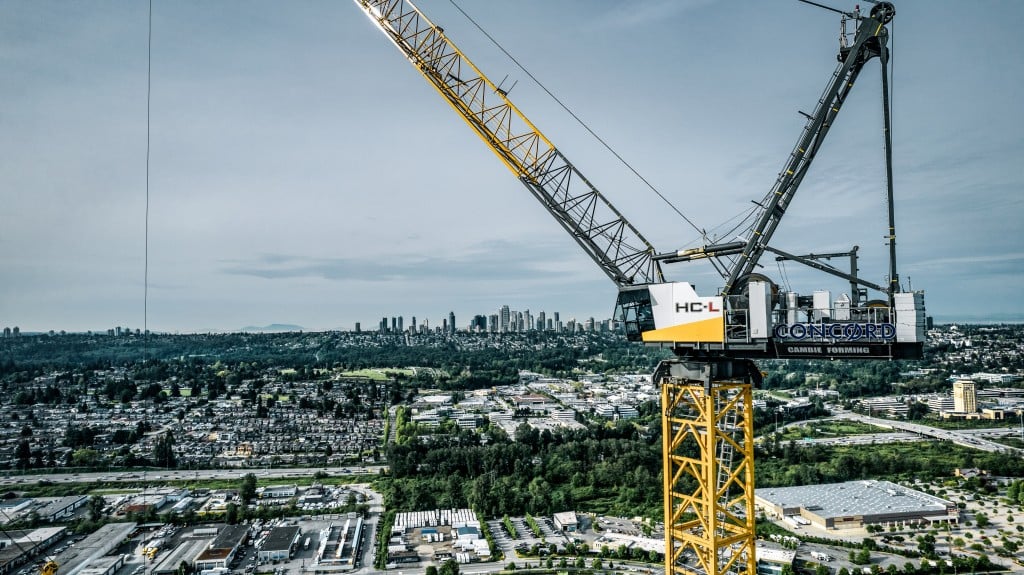 Cambie Forming to build 56-storey Burnaby residential building using newly bought Liebherr tower crane