On-the-job efficiency improved with worksite software
Automation for better tracking of crew and assets on the jobsite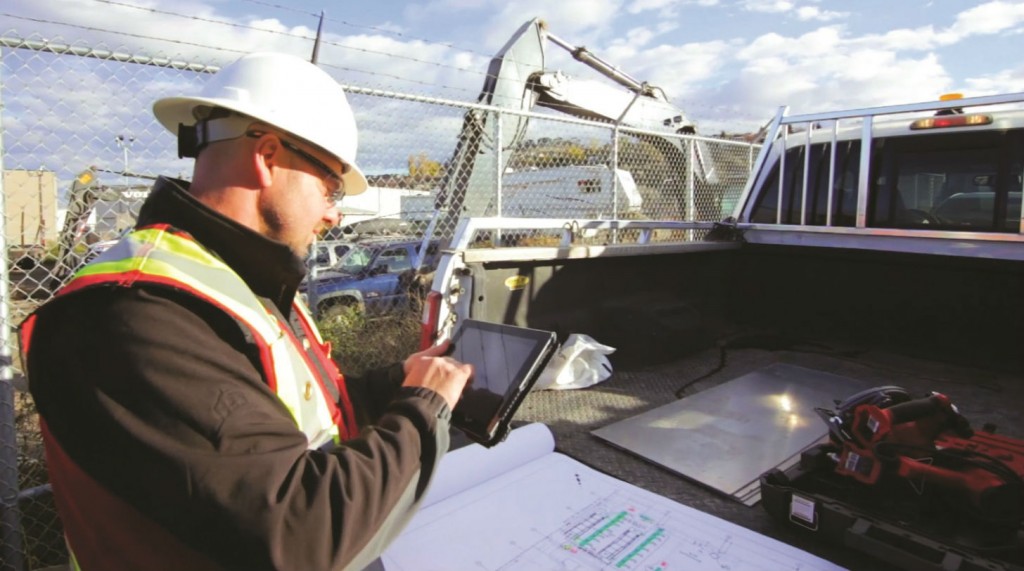 As technology expands its reach within many industries, methods of improving efficiency are growing. Heavy construction operations are starting to realize the benefits of bringing technology and automation into the mix, especially when it comes to organizing and monitoring assets on the jobsite.
When a contractor's employees are spread across a large jobsite – or several – it's hard to be sure who is running which piece of equipment at what point in time, what hours were worked, if employees are trained properly for their tasks, and if that piece of equipment has been maintained. That can be both inefficient and potentially dangerous to the employees.
Improving safety and efficiency are key reasons to consider using a worksite management system to keep track of those many variables that crop up in many active, busy locations.
Site management is important in numerous ways, from tracking assets and employees, to real-time project hours, budget and costs, and documentation and safety, according to Carl Mark, CEO of Traqspera, a company that produces worksite management software.
"Most, if not all, companies have systems that are already running their businesses, such as accounting systems, HR, payroll and project management. These systems are typically run in the office, and communications are sent out to the crews on different worksites," Mark said. "We're bringing automation technology to the worksite with technology that the employees like to use – the system works alongside them in the way that they run their processes on that site. They have access to tools and information right on the worksite that they've never had before."
Tracking improves processes
Logistics and telematics systems are one way of managing worksites, but tying them in with tracking of employees improves the process for all involved.
"They can have GPS indicators on the equipment. The site foreman may have a number of people on his crew, and he needs to know where each one of his trucks, trailers, excavators, and so forth are. He's able to track those things based on the location on the worksite, and accountability is tied to the employee," he said.
Worksite management software generally integrates a number of areas together; attaching employees to a piece of equipment to provide better accountability is one way, and tying work done to timesheets is another. Tracking employee training credentials and safety are also parts of the process.
"We've had some customers that, before they used Traqspera, showed up at a project but weren't able to prove the employees were trained. They had no records of the training. For liability reasons, they weren't able to start or complete the project," Mark said "Tracking safety meetings, showing that they've had safety meetings, and being able to get sign-off from all the employees… is a very key aspect of this system."
Understanding the needs of crews on site is a big part of Traqspera and its software, Mark noted.
This is "worksite software built by guys that used to be on the worksite," he said. "The first thing we knew is that it had to be dead simple with easy interfaces, because the guys using it on the worksite don't have time for complex screens."
Crew members and foremen become less efficient when they have to deal with heaps of paperwork, spreadsheets and emails. To ease the transition to worksite management software, Traqspera designed its system with mobile and portability in mind, allowing employees to use phones and tablets they're already familiar with. With those products, they can access the system remotely and outside of the office, where the projects and work actually happen.
"We made the screens very simple – there are very few things users need to do. For site superintendents, approvals are just a single touch, and corrections are a single entry of a number," Mark said.
Employees can enter their time into the system; those records are then visible to managers and foremen, giving a greater opportunity to see exactly where the project sits in real-time. If a crew member is needed elsewhere, a quick check will provide supervisors with the information they need to rearrange tasks. At the same time, equipment and tools in use are registered and tracked, which encourages employees to be accountable for the equipment they make use of and makes it easier to plan which machinery needs to be where.
Converting to management software simple
Implementation of Traqspera is simple, Mark said. It can make use of data generally held by the customer already to place staff and equipment details into the system quickly.
"They have this information and data, and we've made it really simple for them to onboard with us by filling out predetermined templates," he said. A typical onboarding of the system is done over one or two weeks, at which time Traqspera's software is ready to run.
The company has partnered with a number of large and medium-sized companies in and around its base of operations in British Columbia and spreading across North America. Summit Electric, a large electrical contractor based in Kamloops, B.C., implemented the system recently and reported that it was able to improve employee productivity and organization for its 80 staff, along with increasing efficiency. Less errors were reported in billing and employee time, revenue was increased, and loss, misplacement, and theft of tools and assets reduced. They estimated they saved over $120,000 in the first year alone by running Traqspera.