Four key factors for implementing telematics
Strongco telematics expert Paul Kearnan shares his insights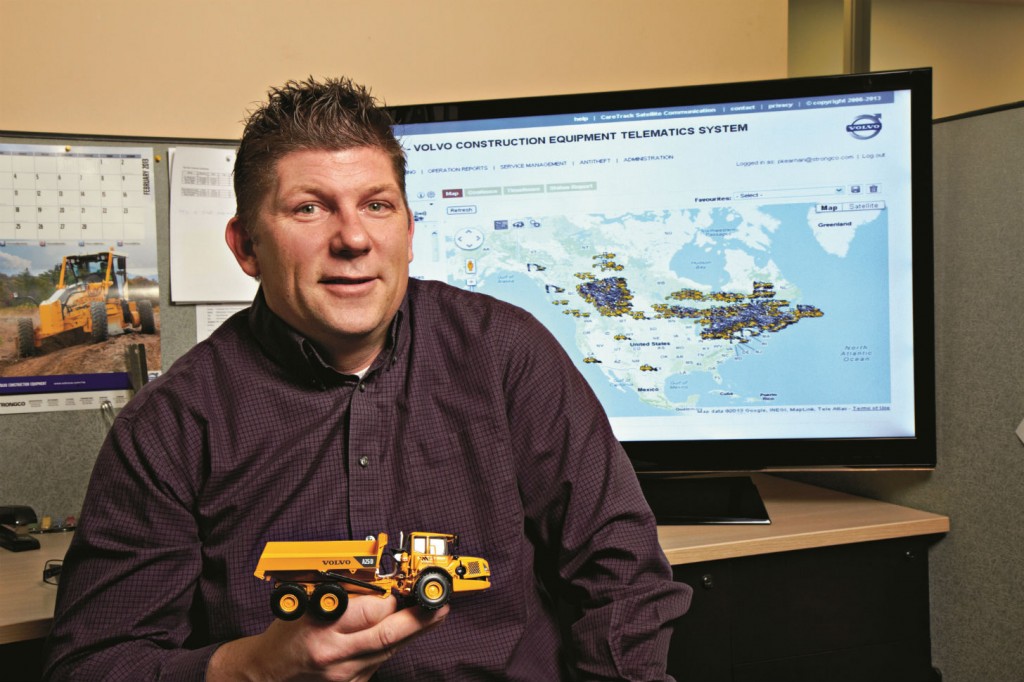 Only a few years ago, when someone was holding a cellphone it was natural to think they were calling someone. Today, that person might be hosting a Skype meeting, reading the news, watching a video, buying something online, taking a picture or wiring money. When smartphones first rolled out, it took a few years of just scratching the surface of their capability before we started customizing them with apps to meet our individual needs.
While we have made significant progress in telematics, scratching the surface is exactly where we are today in the construction industry, says Paul Kearnan, telematics expert at Strongco. Kearnan oversees roughly 3,500 telematics-equipped customer machines for Strongco, a construction equipment dealer with 27 locations across Canada that represents major brands such as Volvo.
As the number of Strongco customers using telematics has grown significantly under his tenure, so too has his ability to recognize what makes some companies incredibly successful in telematics implementation, while other companies fail to reap the benefits.
According to Kearnan, there are four factors that are key to successful implementation of telematics.
1. Find a champion in your company or at a dealer
In 2011, Strongco recognized that before they could sell the value of telematics to customers, they had to first sell that value internally to their sales team and to their parts and maintenance teams. That's when they hired Kearnan to lead the charge.
"When I first started, telematics was still so new," Kearnan says. "And everyone in our office was incredibly busy. There wasn't time for them to tackle what felt like a huge undertaking. So we had some work to do internally."
Kearnan started by creating customized training programs for all divisions of Strongco staff, from the mechanics to the salespeople. These programs showed how telematics could intersect with specific roles, from planning service schedules to having data at hand that customers can use to make more informed purchase decisions.
Recognizing that there is potential in telematics but feeling too busy to implement it is the same predicament faced by many construction companies today.
"The companies who are seeing great success are the ones who have recognized they can't just ask a team member who is already working at 110 percent capacity to single-handedly undertake the implementation of telematics and expect it to be successful," says Kearnan.
"You have two options if you want to see success: you can either enlist the help of a knowledgeable equipment dealer – who can aid in developing a plan, offer training and provide remote monitoring services on your behalf; or you can assign a dedicated internal champion, much the way we did at Strongco in 2011."
2. Customize the experience
Success with telematics doesn't always mean using all of its bells and whistles. One size does not fit all when it comes to the way companies benefit from its use.
"At Strongco, when we sell a machine to a customer, we aim to sell them exactly what they need to get the job done most effectively – nothing more. It's the same thing with telematics. We shouldn't be asking customers to bite off more than they can chew. The goal is to make it relevant, not overwhelming."
Rental fleet management
A perfect example of a company for whom 'simpler can be better' is Hub Equipment, a Toronto, Ontario rental house served by Strongco and with 85 telematics-equipped machines. The company hones in solely on location tracking and machine hours to help plan service.
Joe Cuzzolino, rental operations manager at Hub Equipment says using basic telematics is a perfect fit for them. "It takes me just five minutes to pull the reports from our Volvo equipment at the end of the day.
"It's incredibly easy and it helps us plan for service in a way that least inhibits our customers [who] expect us to be able to conduct service without ever interrupting their work. Telematics has helped us achieve that."
Dedicated fleet manager
"The opportunities that exist for companies that employ a dedicated fleet manager are incredible," Kearnan says. "These companies can be really sophisticated with their data – shaping everything from operator training and safety programs, down to the way the company formulates competitive project bids with a complete record of machine productivity and the associated operating costs. Those financial rewards can be immense if you have the proper team in place to manage it.
3. Involve all stakeholders
"The most valuable change will come when we change the way we think about the 'traditional' model of communication between a dealer and a customer. The best case scenario for telematics is that a telematics point person at a dealership is working in conjunction with both a fleet manager and an owner to build and track a telematics program."
Kearnan recognizes that fleet managers have so much on their plates, dealers often have to be a partner in telematics. But, he says it's vital that all three parties are in communication so that everyone is getting the most out of the partnership.
"The larger a company gets," Kearnan says, "the more people there are at the decision-making table, usually each with different day-to-day concerns. It's vital to get all of those parties on the same page in regard to the overall goal of the telematics program and what needs to be monitored, evaluated and acted upon."
In an ideal scenario, everyone has a place in the conversation, all the way down to the operators.
"As an owner, it can be easy to become distanced from your operators," Kearnan notes. "Telematics data offers an excellent opportunity to monitor operator behaviour, improve training and start a constructive dialogue. We've even seen successful companies offer incentives for operators who are able to make cost-saving adjustments. It's encouraging when you see all levels of the company involved."
4. Implement an API
One of the reasons many people have been slow to adopt telematics as a program beyond just machine hours and location tracking is due to the fact that multiple manufacturers offer telematics systems, each with different interfaces. Naturally, the question becomes, what do I do if I have a mixed fleet?
The organization most equipped to tackle this issue was the Association of Equipment Management Professionals (AEMP). In September of 2014, AEMP announced the launch of the Application Programming Interface, or API. The program provides customers that have mixed fleets with the ability to conveniently access 19 data fields across the fleet, regardless of brand.
Just as with telematics, driving adoption of the API will require multiple champions, Kearnan notes. "Of the roughly 3,500 customer machines being monitored by telematics, many of them are operating in mixed fleets but off the top of my head, I can only think of a few customers currently using the API. That's why we at Strongco are now implementing the API in our telematics control centre, to be better able to train our customers on its use. Ultimately, it's going to drive adoption of telematics, which will make everyone's lives easier, from the OEM to the dealer to the customer."
It's this triangle relationship, according to Kearnan, that is key to progress.
More progress ahead
"I see so much opportunity for us. Right now, it's just on us to phase customers into telematics in a way that doesn't overwhelm them, but helps them see how it can make their lives easier. Without a doubt, it's our role to bridge that gap between OEM and end user, and the way we do that is a little different for each of our customers."
Despite there being many more guidelines to success than there were five years ago, there's still a long way to go, according to Kearnan, and communication is key to furthering the roadmap.
"As we continue to build more customized programs for our customers, we're reporting back up to the manufacturer, and they're using that feedback to further research and develop their technologies.
"Simultaneously, some of the manufacturers we're working with are starting to arm us with more program options, such as dealer-managed and even OEM-managed telematics monitoring and reporting services that ease that adoption process for curious customers who don't know where to begin."
As for the future of telematics, Kearnan thinks it is going to be a great thing. "I'm pretty excited about it," he says.