GOMACO 3300 multi-application paver
The Smart Telescoping Mold mounting system allows for paving from the right or left side, while Smart Leg and Track Positioning provide extreme steering capability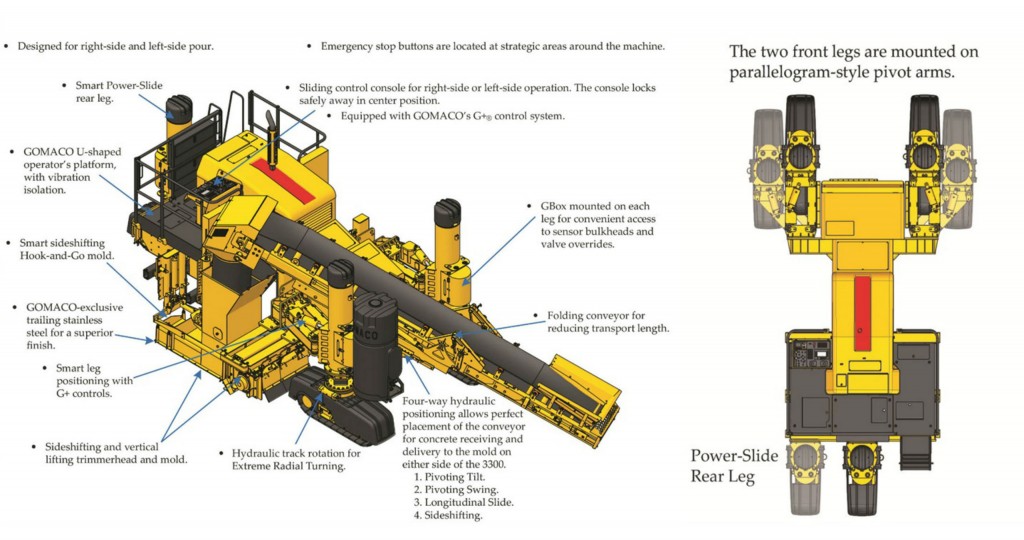 GOMACO introduced their new 3300 multiapplication slipform paver at Bauma 2016. It was specifically designed for right-side and left-side pour capabilities using a symmetrical design that makes it easy to pave from either side. Its U-shaped operator's platform provides a complete view of the entire paving operation from anywhere on the platform and the control console easily slides from side-to-side to accommodate the direction of the pour.
The 3300's design includes a 20-foot (6.1-m) long conveyor with four-way hydraulic positioning which allows perfect placement of the concrete into the hopper on either side of the 3300. The four-way positioning includes pivoting tilt, pivoting swing, longitudinal slide and sideshifting. The conveyor hydraulically folds to reduce the overall transport length of the paver.
The 3300 features extreme steering which is accomplished using hydraulic rotational drives on the tracks and G+ controls. The two front legs are mounted on parallelogram-style pivot arms and the rear leg has power slide for positioning. Leg positioning is accomplished with smart cylinders and the G+ digital control system, along with Smart Track Rotation to provide the G+ control system with the exact location and position of the tracks and reference to their straight ahead line.
Another unique feature on the 3300 is the Smart Telescoping Mold mounting system for reference to G+ for repeatable mold offset. It has the GOMACO Hook-and-Go mold mounting system to quickly and efficiently change from one mold profile to the next. The trimmerhead and mold sideshift vertically adjust to clear obstacles which allows the 3300 to pave right up to obstacles.
The G+ control system easily interfaces with stringline or a 3D guidance system for the 3300 multi-application paver.
Company info
Related products