Jade Equipment expands grader sales and service support with new central Ontario facility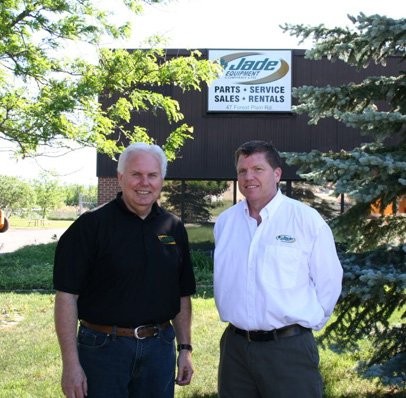 Just two years after opening in Mississauga, Ontario, Jade Equipment Company Ltd., is expanding its Ontario operations to a new facility on the outskirts of the City of Orillia. With rapid growth and space constraints at its 1900 sq. ft. Mississauga facility, Jade has been looking for opportunities to expand its Ontario footprint. The company already had its eye on locations north of the Toronto region as a move towards a more central service hub for customers when Ric Ross, Jade's Vice President and General Manager, spotted the property at the Forest Home Industrial Park.

Known as "Canada's Grader People," Jade Equipment Company Ltd. serves a niche market supplying new, rebuilt and used parts for Champion and Volvo motor graders internationally, along with sales and rental of used road machinery. Jade will soon offer maintenance and repair services to Ontario's grader fleets as well. "Because of space constraints, we couldn't do that in Mississauga, but we've always had service bays at our original location in Edmonton."

Room to grow
Jade's new Ontario base is located at 47 Forest Plain Road, just off Highway 11 at the south end of Orillia. With a 13,000 sq. ft. building on 2.8 fenced acres, the site features office space, four over-sized service bays, a component rebuild area and detailing centre and a large secure paved yard. "It has everything we need for this type of business," said Ross. "It's clean, it's very big, it has the right-sized doors – it has just about everything we had on our wish list." Ross notes that the new premises will also provide room for future growth, including rentals of additional equipment such as wheel loaders and backhoes.

"Our specialization in graders puts us in a unique position with contractors and municipal fleets," Ross explains. "Stocking a wider range of machines will offer our customers an extra level of convenience for planning their road works and paving projects."

Potential in Ontario
Jade Equipment was incorporated in 1988 in Edson, Alberta by oilfield contractor John Dolanz. The business relocated to Edmonton after he passed it on to his daughter and son-in-law, Bonnie and Steve McCoy. Ric Ross began working with the McCoys in 2010, following many years in the Champion and Volvo grader business with its sales affiliate, Champion Motor Grader Sales Ltd. In 2010, the firm opened its first Ontario facility, with Ross managing regional operations.

Steve McCoy, the company President, is committed to the growth of the business here. "There is a large potential market for us in Ontario," he says. "We really feel this new location will help us to reach that market. With a large population of motor graders in Ontario alone, our offering of parts and also quality rebuilt used machines will provide a great opportunity for our customers and the company," said McCoy.

"Ontario is more challenging than Alberta from a parts supply point of view," said Ross. "In Ontario, fleets are generally older than in Alberta, but fortunately our facility has the resources to service and refurbish machines regardless of vintage." Ross said.

Improved access
Ross, who hails from nearby Barrie, Ontario, notes that the new Central Ontario location offers more advantages to Jade's business. "Geographically, we're right on one of Ontario's major north-south highways (Highway 11) and an important east-west highway (Highway 12)," he explains. "We still have great access to customers in Toronto and the southwest area, but we're much more accessible for northern customers and it offers a stable workforce."

According to Ross, the company is already in the process of hiring new employees for positions as heavy duty mechanics and sales staff. He reported that the facility opened for business at the end of May.