Volvo paves the way for revolutionary asphalt alternative
U.S.-based contractor Conewago Enterprises Inc. is using Volvo ABG7820C pavers when laying down its roller-compacted concrete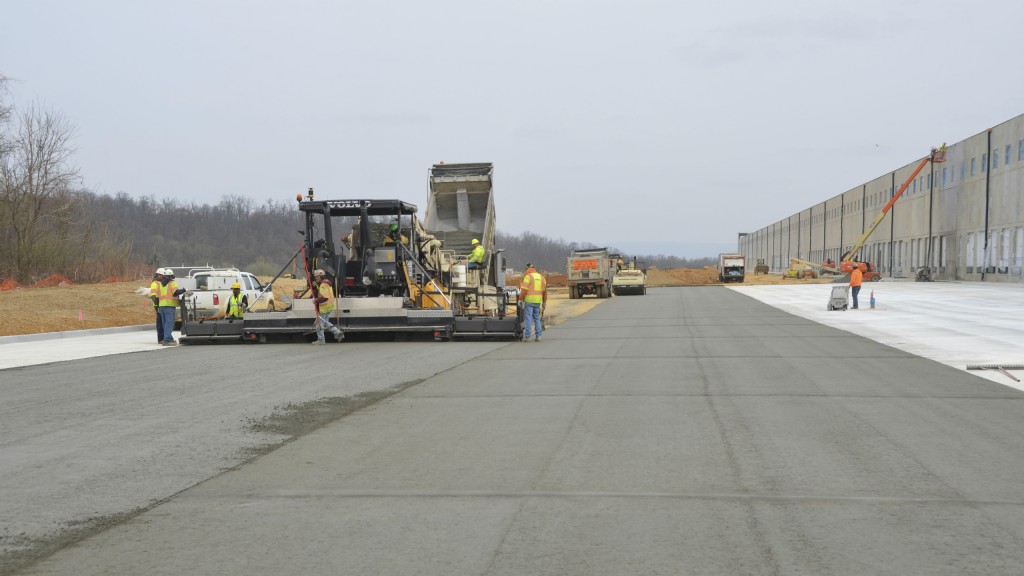 Along the Appalachian Mountains from the Canadian–U.S. border to Tennessee runs Interstate 81 (I-81). Stretching for 1,376 km (855 miles), the route carries over 12 percent of the nation's gross domestic product, and has subsequently been named the 'trucker's highway'. In recent years, hundreds of distribution warehouses have sprouted along this heavily trafficked corridor as Americans shift to online buying and demand shorter delivery times.
Don Smith, president of Hanover, Pennsylvania-based contractor Conewago Enterprises Inc, observed this construction trend more than a decade ago and introduced an attractive paving option to the regional market: roller-compacted concrete (RCC).
"About fifteen years ago, we started experimenting with roller-compacted concrete as an alternative to asphalt paving," Smith explains. "At the time, oil prices were on the rise, so we were looking for other material options and found RCC to be a very suitable substitute for the types of projects we were completing."
Little did he know that this innovative and value-engineered product would go on to support the millions of pounds of freight hauled daily in and out of these logistic centres.
The three main advantages of RCC are its cost effectiveness, durability and capability to span over the poor soil conditions often encountered in the mid-Atlantic region. It is made from a mix of Portland cement, aggregate and water that is classified as zero slump due to a very low water content. The roller compacted concrete produces a rigid pavement versus asphalt, with customers seeing lifespans of more than 20 years. Because the application is similar to asphalt paving, it is applied with a conventional or high-density paver and the mix is tamped with vibratory steel or rubber-tire rollers after it is placed.
The best result requires the best machine
When Conewago first starting placing RCC, a standard asphalt paver was used with standard asphalt compactors. However, it didn't take long for Smith and his team to realize they weren't up to scratch. "We quickly figured out that the European-style high-density pavers (such as the ABG models) with dual tamper bar compaction were the only way to put down RCC," he says.
Conewago looked to Volvo Construction Equipment and found that its high-density Volvo ABG7820C paver was more than up to the task. The machine offers a variable width screed that extends up to 9.1 metres (30 feet), which, when coupled with vibratory double tamping bar, means Conewago can place material faster while achieving compaction normally completed by large rollers. The added paving width also eliminates the number of joints, which reduces long-term maintenance needs.
RCC quality essentially comes down to density. The industry standard is 98 percent, and the Volvo ABG7820C has the ability to hit 90-95 percent right out of the paver, which reduces the amount of rolling needed to reach the 98 percent target. The double tamper bar on the screed then strikes off the RCC material and gives it a smooth surface, and allows for additional compaction effort.
A smooth operator
A renowned drawback of RCC over asphalt is its reputation for a rougher ride at higher speeds (over 40 mph). However, the Volvo ABG7820C works in conjunction with a Topcon Millimeter GPS grading control system to optimize smoothness.
"When we were looking for a larger paver we compared Volvo and its competition," Smith continues. "Our crew was more than familiar with ABGs, and definitely noticed the difference in smoothness when operating the Volvo. That combined with the high quality finish and durability meant the Volvo was the natural choice."
Strong support
Conewago was supported in this decision by local Volvo Construction Equipment dealer, Highway Equipment & Supply Company, located in nearby Harrisburg. "As far back as I can remember, we have dealt with Highway Equipment; they are always there when we need them, offering fantastic customer support. It was great to have them involved with this paver purchase as well," says Smith.
Pennsylvania Department of Transportation (PennDOT)
Conewago is participating in a PennDOT pilot program to test RCC and traditional asphalt for a section of residential roadway in Adams County. While asphalt indexes are dropping in tandem with oil prices, Smith foresees that RCC will continue growing. "We expect the demand for RCC to grow exponentially as more distribution customers see its total value, especially as oil prices start to rise again," he says. "Volvo Construction Equipment has undoubtedly helped us in our mission in establishing RCC as an innovative method for the placement of concrete and we look forward to working with them for many more years."
Proven success
Despite still being a relatively new product on the market compared to asphalt, RCC has already proved a hit in various industries, such as rail, and manufacturing and distribution. In 2014, Conewago was approached by Liberty, an $8.2 billion (€7.4 billion) real estate investment trust, to help build a new 158,000-square-metre (1.7-million-square-foot), $93 million (€84 million) distribution centre. Situated along the I-81 in Shippensburg, Pennsylvania, the project involved placing RCC on a 16.6-hectare (40-acre) parking area. Using the Volvo ABG7820C paver, the project was completed on time and to the high standard Liberty demanded.
Over a four-month period, Conewago placed more than 82,000 metric tonnes (45,000 cubic yards) of RCC on the site. The building now stands as one of the largest commercial warehouses in the United States and one of the largest tilt-up concrete structures in the world.
Company info
Related products