Looking back at three main themes of Bauma 2016: connectivity, efficiency & productivity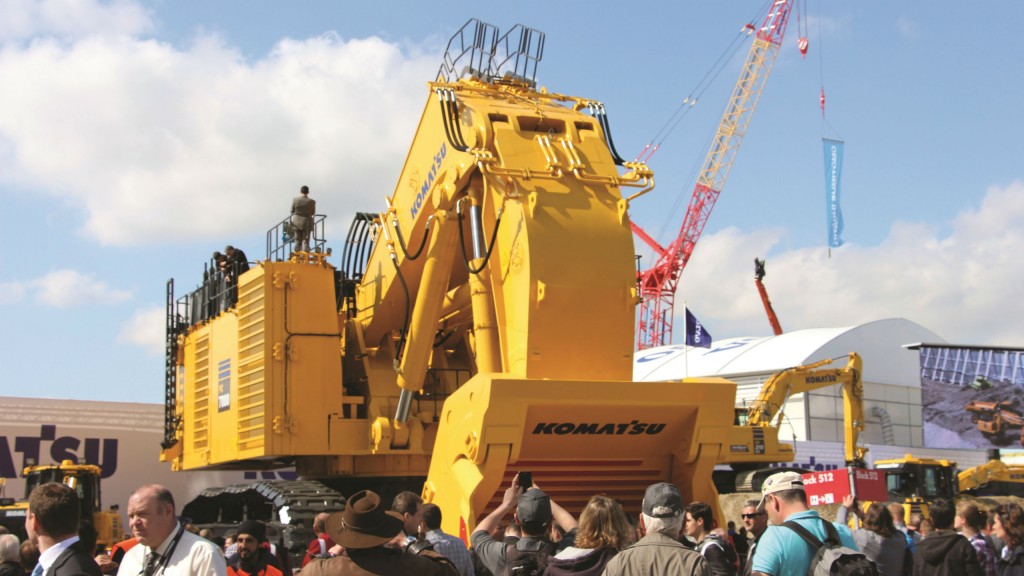 At this year's Bauma international trade show in Munich, Germany, exhibitors reported record demand for equipment from the 580,000 visitors that streamed through the gates at the fair, according to show organizer Messe Munchen. Connectivity, efficiencies and productivity were three main themes. Here are some highlights of those themes.
​Connectivity
The intersection of electronics and iron continues to play a significant role as a change agent in the construction industry, and several companies showcased technology that better connects machinery to operators and customers.

Caterpillar chose to wrap its 60-something products at Bauma around the theme of "The Age of Smart Iron" and other major manufacturers also emphasized the importance of connectivity.
Topcon Positioning Group rolled out a new 3D control system for dozers, while Leica announced the iCON grade iGG4, a new dual machine control solution for graders.
Trimble announced partnerships with major OEMs and advancements on existing telematics platforms. The company said it plans to integrate its Trimble Ready factory-fit machine control kits to enable the installation of Trimble GCS900 Grade Control System components on select Hyundai excavators in the aftermarket. Trimble also announced that customers in Europe and North America can now order a Trimble Ready Doosan DX225LC-5 excavator from the factory, enabling a faster and simplified installation of Trimble GCS900 2D or 3D Grade Control System components with no welding, re-painting, drilling or disassembly required. Trimble and Volvo Construction Equipment agreed at Bauma to establish a Trimble 3D machine control solution that will integrate with Volvo Dig Assist 2D machine control on Volvo excavators.
Efficiency from engine advancements
Exhibitors showcased developments that cut cycle times and improve operator comfort, and other innovations that make a machine perform better or faster.
For the past several years, productivity gains have focused on engines – specifically the progression from Tier 3 to Tier 4 Final. Driven by regulations requiring more stringent controls on particulate-matter and nitrogen oxide (NOx) emissions, OEMs redesigned their equipment to accommodate new engine technologies, and took great pains to improve performance and reduce fuel consumption at the same time.
While equipment designed for the North American market is still governed by Tier 4 Final, in Europe manufacturers are gearing up for the next phase. Stage V emissions regulations are due to take effect in 2019 or 2020. Whether or when the U.S. EPA decides to move to Tier 5 is still uncertain, but the new engines at Bauma offered a glimpse of what could be coming in the next five years.
For example, Cummins showed a new line of ultra-low-emissions engines from 100 to 430 hp (75-321 kW), designed to meet Stage V with EGRfree architecture and Single Module aftertreatment technology.
Caterpillar launched the C9.3B industrial engine, a Stage V offering designed for use in off-highway machines. According to Cat, the engine delivers 18 percent more power and torque with 30 percent smaller aftertreatment.
This year at Bauma there was a noticeable focus on electrification, seen in a wide variety of new machinery. When presenting their new products, Wacker Neuson said the concentration was on "emission-free drives" such as battery-powered rammers, a tracked electric-powered dumper and a mini-excavator with diesel or electric drive. "All products have one thing in common: they can work ideally in enclosed, poorly ventilated spaces or in the urban sector without being inferior to conventional machines in terms of performance," the German manufacturer reported.
Wacker's product brand Kramer came out with the "e-loader" – the first all-wheel-steer wheel loader with an electric drive, for which it was awarded the Bauma Innovation Award in the Machinery category. While not yet available in North America, the battery-powered e-loader can be used for up to five hours and generates comparably lower operating and service costs than the diesel version, according to Kramer.
Genie also picked up on the increasing trend toward electrification. The U.S. lift manufacturer was showcasing its new Z-60/37 FE hybrid articulating boom. The diesel-electric boom lift provides the choice of two modes of operation: "Full-electric" which means full-day emissions-free performance on a single charge, or "Hybrid" mode which provides more than a week of run time with a single tank of diesel, said Genie.
Competitor Snorkel, meanwhile, joined the game with a new electric drive version of its TM12 self-propelled telescopic mast lift. Snorkel also debuted two new additions to their electric slab scissor lift family. The new S3215E and S3220E models join the existing line of four hydraulic drive lifts.
Two other major OEMs went with their proven technologies to reduce fuel consumption while maintaining high productivity. Komatsu presented the HB365LC-3 hybrid excavator, while Liebherr showcased the PR 776 Litronic crawler tractor, the world's first hydrostatically powered crawler tractor in the 70-tonne category, according to Liebherr.
Greater productivity through better cab design

Cab design was another big focus at Bauma. JCB highlighted the success of its CommandPlus cab in its flagship 457 wheel loader by announcing that four more wheel loader models will feature the cab. Operators in the "Command Driving Position" experience re-engineered pedals, an adjustable steering column, seat-mounted hydraulic levers, and an LCD screen with rear-view camera.

A group of OEM suppliers and scientists banded together to form the "CAB Concept Cluster". The product they come up with, the "Genius Cab", won the Bauma Innovation Award 2016 in the Design category. The futuristic-looking cab, whose exterior resembles a cut diamond, features sensors that detect dangerous situations, cameras instead of mirrors, and "weather-resistant" elements such as an electrically adjustable sun shade. The operator's highlights include a highly adjustable seat has a massage function, and the cab features a 12-inch touchscreen, an electronically controlled windshield wiper and a Controller Area Network (CAN) that links all functions and components.