Manitowoc MLC650 keeps Montreal bridge replacement on track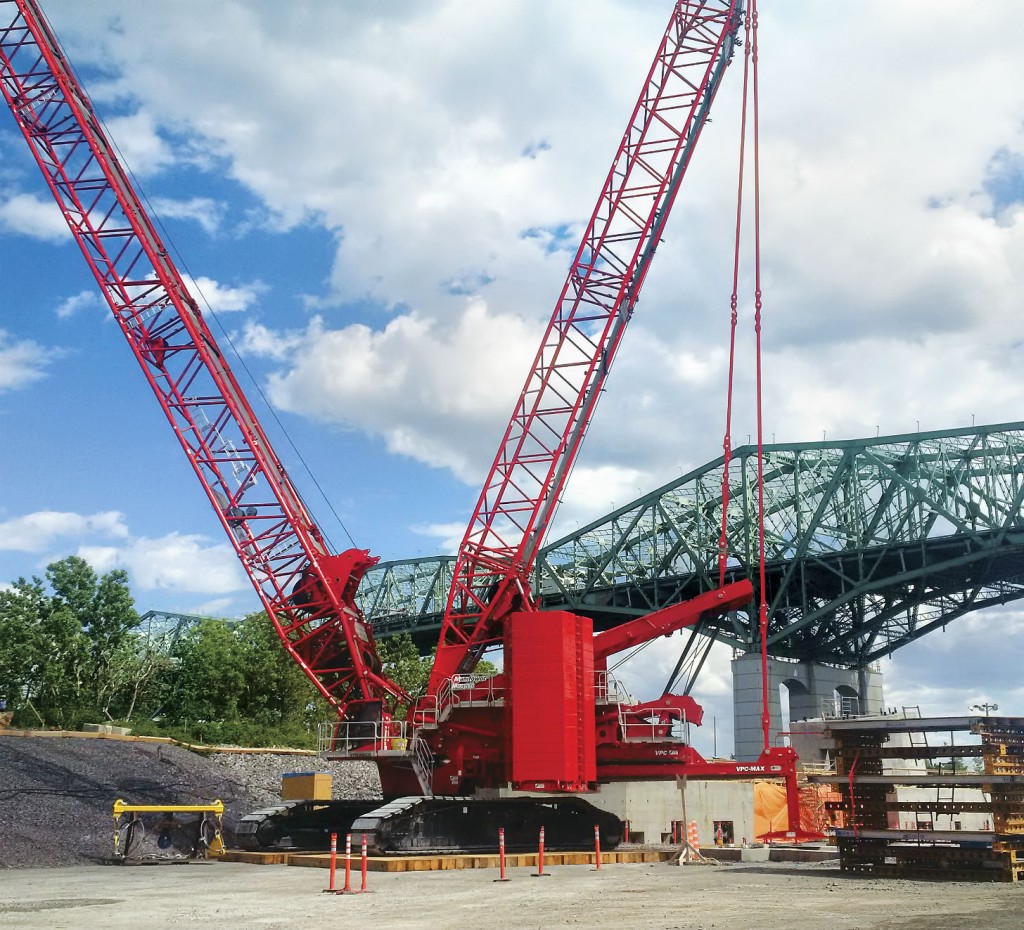 Two Manitowoc MLC650s are working on a project to replace the Champlain Bridge, which spans the Saint Lawrence River in Montreal, Quebec, Canada. Signature on the Saint Lawrence Construction (SSLC) is the engineering consortium assigned to the task. The capacity and reduced ground preparation made possible by the MLC650's VPC-MAX attachment – as well as the ease of use of its Crane Control System (CCS) – are helping the team stay on schedule.
Andre Mylocopos, approaches manager for SSLC, said the company chose the 716 USt MLC650 because of the Variable Position Counterweight's (VPC) ability to enable high-capacity lifts with minimal adjustments. The crane only needs to be set up once and its counterweight is adjusted automatically based on each lift. The optional VPC-MAX attachment raises the crane's capacity to 770 USt using fewer components and assembly steps than traditional attachments.
"The MLC650 has better chart than other cranes in its class for the work envelope defined on this project," he said. "We are able to perform most lifts at less than 90 percent capacity, so this gives us a comfortable safety margin. The VPC-MAX is instrumental in giving us that headroom without having to drag a wagon behind the crane. We actually eliminated a number of cranes from consideration because they couldn't meet our needs without a wagon, which is a major constraint due to the limited work area. The MLC650s were ready to go upon erection."
The cranes are currently tasked with lifting 220 USt steel girders for the bridge's east approach. The dual MLC650s will then be used to lift 88 USt precast concrete segments to construct the cable-stay bridge pylon, followed by a tandem lift to erect the 440 USt lower cross beam. After the completion of the cross beam, the MLC650s will be used to construct temporary support towers, and to erect 220 USt pier caps and additional girders.
CCS and the elements
The MLC650 features the CCS system which maintains a standardized operating platform across all of Manitowoc's newer crane models. Yan Duguay, a crane operator for SSLC, said that the company's operators found the MLC650 easy to use thanks to the intuitive controls made possible by CCS.

"Our operators are enjoying the MLC650's controls," he explained. "Compared to other cranes I've used, the computer system in the MLC650 seems easier to operate. That simplicity is crucial on a jobsite where time and safety are utmost concerns. Since we are only using Manitowoc cranes for the bridge replacement, the uniformity of easy-to-use controls only makes the jobsite more productive."
As with all Manitowoc cranes, the MLC650 also performs well in low temperatures, making it particularly well-suited for tough jobs in Canada.
"In Canada, we need cranes that can stand up to the elements. Manitowoc cranes perform well in extremely challenging weather conditions, which makes them ideal for the Canadian climate," Mylocopos explained. "When you combine those factors with intuitive controls, you can see how Manitowoc cranes are helping SSLC maintain uniformity and productivity on the jobsite. We're on track to complete the bridge by December of 2018 and we're counting on the MLC650 and the rest of our Manitowoc fleet to be a big part of that success."
The MLC650s are not the only Manitowoc cranes aiding SSLC in its bridge building efforts. The construction team's fleet also includes a 300 USt Manitowoc 2250, four 440 USt Manitowoc 16000s, two 1,433 USt ringer-enabled Manitowoc M250s, seven 150 USt Grove RT9150Es and two 130 USt Grove RT9130E-2s. The M250s, each equipped with a M-1200 ringer attachment, will be installed on 30,000-square-foot barges to lift pier caps and girders on the water. The Grove cranes will perform smaller tasks such as general loading and unloading, support, access, and erecting smaller structures and components.
Staying on schedule
The Champlain Bridge connects one of North America's busiest roadways, with more than 50 million cars, buses and trucks crossing its 11,155-foot span each year. The 42-month project to replace the bridge began in June of 2015 and is scheduled for completion in December of 2018. The replacement of the Champlain Bridge is currently one of the largest projects to expand infrastructure in North America.

SSLC was chosen by the Canadian government to carry out the design, construction, financing, operations, maintenance and rehabilitation of the New Champlain Bridge Corridor Project in April of 2015. SSLC consists of Montreal, Quebec-based SNC; Toronto, Ontario-based Dragados Canada; Richmond, British Colombiabased Flatiron Constructors Canada; and L'Ancienne-Lorette, Quebec-based EBC. The initiative is being conducted under a public-private partnership agreement with the government of Canada.
SSLC procured the MLC650s from Strongco, a seller and renter of industrial equipment for multiple industries including construction, road building, mining and forestry. Founded more than 40 years ago, the Mississauga, Ontario-based company is the sole distributor of Manitowoc cranes in the region and boasts an extensive network of branches across Canada and the northeastern U.S.
Company info
Related products
More from Projects
The all-new CASE TR340B compact track loader — operating at 90 horsepower with a 3,400-pound rated operating capacity — is the most powerful radial-lift CTL in the CASE lineup. Its all-new 8-inch LCD display improves on industry-leading CASE visibility with a new backup camera that is viewable in both forward and reverse operation. The display also showcases critical operating information and "trip" details. All-new electro-hydraulic controls, managed through the display, make it easier than ever for operators to dial CASE CTLs into specific application demands. All new cab controls and joysticks make the new TR340B easy to own and operate.
Industries such as construction, mining, energy, utilities and forestry, face many challenges when it comes to tracking assets and employees. Equipment often has to be transferred between locations, or monitored while it is dormant during off seasons. Lone workers may have to travel long distances or visit multiple sites during the course of their activities. And, all of this is further complicated today with shifting supply chains and economic realities putting further strain on the bottom line.