World of Asphalt 2013 announces four industry co-located events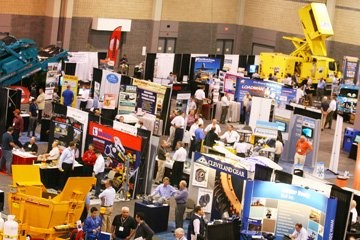 The 2013 World of Asphalt Show and Conference announces four industry groups to date are co-locating their annual conferences or other high-level meetings at the show, which will be held March 19-21, 2013 in San Antonio, Texas.
"World of Asphalt has a solid reputation as an industry gathering place and we value the active support of industry groups," stated Show Manager Rich Prausa. "Nothing beats face-to-face contact with industry peers to discuss current business challenges and what's ahead and to check out the newest product innovations."
Bringing their annual conferences to World of Asphalt 2013 are the Association of Modified Asphalt Producers (AMAP), Rubber Pavements Association and Oklahoma Asphalt Pavement Association. The Texas Asphalt Pavement Association has also agreed to support the 2013 show by bringing a meeting to the event.
World of Asphalt focuses on the business and professional needs of asphalt, pavement maintenance and traffic safety industry professionals. Attendees can examine and compare the latest equipment, products and technologies from leading industry manufacturers and suppliers on the show floor. Attendees can also take advantage of expert-developed educational programming on industry innovations and best practices.
World of Asphalt is co-located with the AGG1 Aggregates Forum & Expo for aggregates professionals; both shows will be held at San Antonio's Henry B. Gonzalez Convention Center.
2012 events a huge success
World of Asphalt and AGG1 2012 were a huge success, posting record numbers for attendee registrants as well as amount of exhibit space, number of exhibitors and number of education session tickets sold.
World of Asphalt, and the co-located AGG1 Aggregates Forum & Expo, featured:
The show floor covered a record 115,000-plus net square feet of exhibit space (10,684 square metres) - a 30-percent increase - taken by a record number of 408 exhibitors. Leading companies showcased their newest products and technologies aimed at the aggregates, asphalt, pavement maintenance and traffic safety industry sectors.
Record attendee registration numbers totaled more than 6,500 at show close, including:
Pavement Maintenance Contractors
Asphalt and Aggregate Producers
Fleet Managers
Highway Contractors
Traffic Safety Professionals
Plant Operators
Public Officials
A record 6,200-plus education session tickets were purchased by attendees for the shows' signature learning programs:
AGG1 Academy Asphalt Pavement Alliance's Asphalt Pavement Conference People, Plants and Paving Training Program.