Kobelco celebrates grand opening of U.S. excavator production facility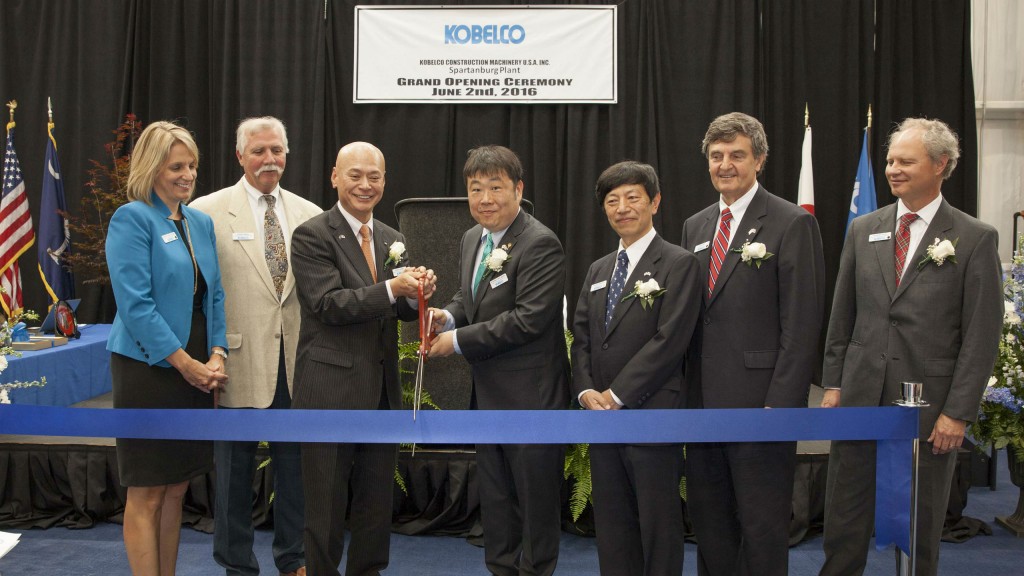 Kobelco Construction Machinery USA recently celebrated the opening of its new hydraulic excavator production facility in North America. Construction of the $41 million facility was completed within one year and presently, it's ramping up to mass produce 1,800 units/year.
Kobelco held a special event at the new facility in Spartanburg, SC to mark its official opening. Attendees of the event included honoured guests from: parent company Kobe Steel of Japan, Kobelco Construction Machinery Co. Ltd. of Japan, Kobelco Construction Machinery USA of Katy, Texas, the South Carolina Department of Commerce, the Spartanburg County Council and representatives of the Association of Equipment Manufacturers.
Kobelco chose the Spartanburg location from nearly fifty candidate sites across eight states for the property's vast amount of land and nearby access to major domestic ports. Sitting on approximately 85 acres, Kobelco's new manufacturing facility includes a 156,000-square-foot production plant, 17,000-square-foot office building and areas for both machinery parking and demonstration. The property also provides Kobelco with plenty of space for future production capacity expansion. Development and construction of the facility took one year and involved moving 367,000 cubic feet of earth and 14,680 truckloads as part of the site preparation.
Mass production at the North American facility has begun with conventional machines weighing 20-plus tons and Kobelco's Generation 10 excavators are the first models being produced. Product line offerings and capacity will be increased in accordance with market development, and future production plans at the facility are expected to include most of Kobelco's excavator models.