#ONGreatRoads contest to draw first out of five $100 gas card prizes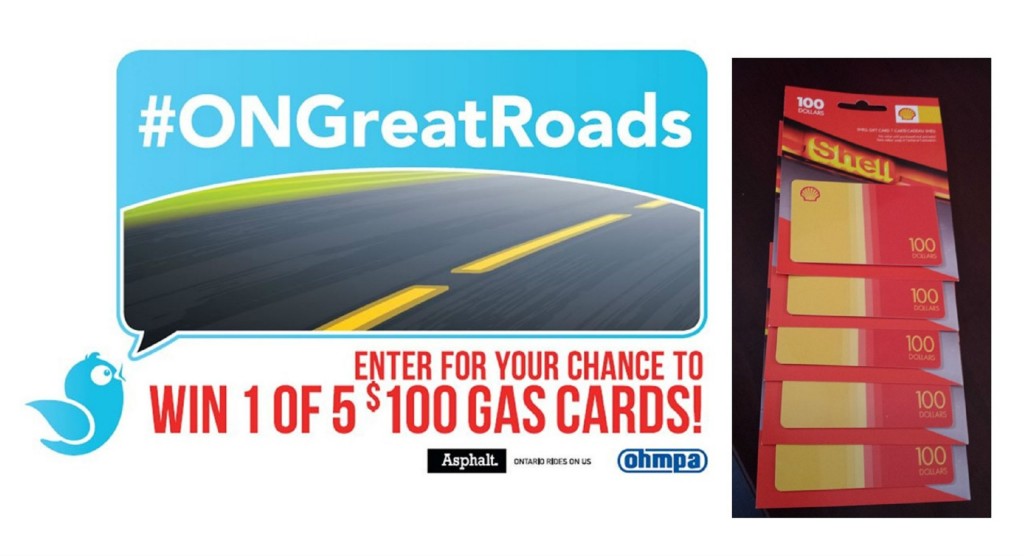 Summer is here and the winning is easy by tweeting or posting a photo of a favourite Ontario road. The Ontario Hot Mix Producers Association (OHMPA) is calling on the public to share photos of their favourite provincial roads as part of its fourth annual #ONGreatRoads contest.
Anyone submitting an original photo through Twitter or Facebook using the hashtag #ONGreatRoads by July 4 will be entered into a weekly draw for a $100 gas card starting June 8.
"Every day in Ontario we drive on approximately 200,000 kilometres of asphalt roads considered to be some North America's smoothest, most sustainable and most scenic," said OHMPA Executive Director Vince Aurilio. "OHMPA's goal is to promote excellence in asphalt pavement and we want celebrate what Ontario's asphalt producers do best and that is pave great roads that are at the heart of the province's infrastructure."
"Roads are central to everyone's daily life; without them we would be at standstill and more often than not, we take our roads for granted," said OHMPA Marketing and Communications Director, Abigail Wright Pereira. "Giving people an opportunity to tell the story of their favourite road is a great way to recognize the good work that goes into paving Ontario's road network."
Entering the contest is as easy as snapping a picture and tweeting it to @OHMPA #ONGreatRoads or posting it to Facebook at www.facebook.com/OntarioHotMix. All entries should be original photos of an open Ontario road and not a construction site. The winning photos will also be featured in the fall 2016 edition of OHMPA's magazine ASPHALTopics which is published three times a year.
Click here for more information on the #ONGreatRoads contest.