Komatsu PC2000LC-8 excavator speeds production to supply global customers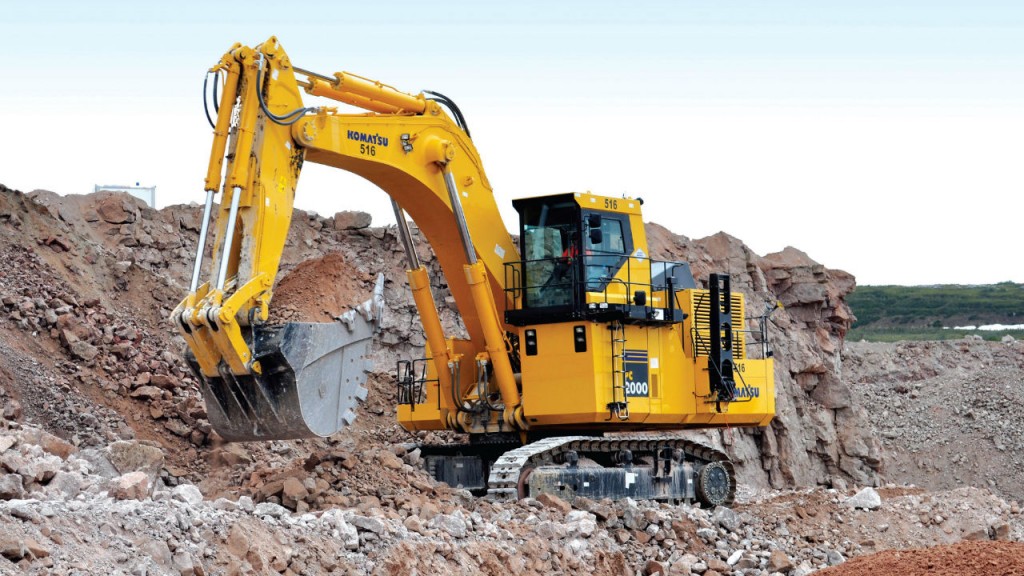 Located along the southwest coast of Newfoundland on the Port au Port Peninsula, Atlantic Minerals Limited's (AML) Lower Cove Quarry has some of the world's largest and dense deposits of high-calcium limestone and dolomite. Proven reserves are more than 150 million metric tonnes of limestone and nearly 90 million metric tonnes of dolomite which are turned into a large number of products that are used in a variety of industries, mainly iron ore processing and construction.
The 2,900-acre quarry location allows for fast, efficient shipping to customers along the Atlantic Coast of North America, South America, Europe and Africa. In addition to the Lower Cove Quarry, AML has an additional 13,000 acres of licensed claims on the peninsula, giving the company more than one billion metric tonnes of reserves to tap into in the years ahead.
AML has expanded the Lower Cove Quarry during the past two decades, and it continues to refine and streamline operations to increase production and efficiency. Part of its recent efforts included upgrading equipment. With the help of SMS Equipment, AML added a Komatsu PC2000LC-8 excavator.
The 200-ton-class excavator is used to load 100-ton trucks that haul material from the quarry to the primary crusher.
"The excavator is very powerful and fills our trucks quickly," said operator Gordon Bullen. Plant manager Dave McIsaac added, "Our new crusher is very hungry and the PC2000 helps keep it fed."
The PC2000LC-8 has decreased wait time during loading and improved cycle time from the quarry to the new primary crusher, according to plant engineer Raymond Fitzpatrick. He added that the crusher, along with additional new equipment, should increase production and efficiency enough to allow Atlantic Minerals to reduce its night shifts.
The PC2000LC-8 should also reduce owning and operating costs. "The PC2000 is very well built," said maintenance foreman Bill Forsey, "and we expect good reliability and long service life."