Breaker tips and technologies to reduce cost-per-ton ratio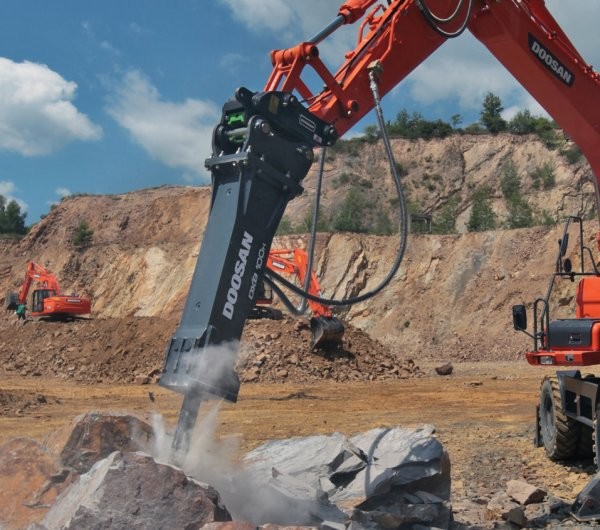 About as long as man has known rock, people have been designing and perfecting tools to demolish it. In recent years, hydraulic breaker technologies have evolved rapidly to include advancements that not only optimize breaking efficiency and reduce operating costs in mining and aggregate applications, but they help minimize downtime on the job.

"While performance of a breaker has traditionally been measured by the tons of rock per hour," said Stephan Giroudon, Doosan strategic account sales manager, "a breaker's cost-per-ton is quickly becoming the industry standard."

One of the easiest ways to keep your tool's cost-per-ton ratio low is to identify technologies that help reduce the effects of the constant beating breakers take in the high-psi conditions associated with mines and quarries. Additionally, there are also some key best practices that can contribute to the extended life of your attachment and your excavator.

High-impact technologies
The power and versatility of high-impact breakers allow operators to perform a growing variety of tasks in mines and quarries. "Hydraulic breakers can be used for mass excavation or primary breaking," said Giroudon. "They are effective for secondary breaking or 'oversize breaking' of blasted rock to sizes more manageable for crushers. Breakers are also on pedestal rock systems, typically installed over the crusher, for additional safety with rocks that get jammed in feeders."

A significant technological improvement for breakers in mining and aggregate applications is blank firing protection designed to guard the hammer from extra wear and tear when an operator misfires. Standard on leading manufacturers' rock breakers, the anti-blank-fire protection employs a hydraulic cushion at the bottom of the cylinder bore to dampen the movement of the piston. It also protects the hammer against metal-to-metal contact, decreasing the premature deterioration of the breaker and its bushings, retaining pins and front guide.

Some manufacturers offer an energy recovery valve in the hammer that can add performance in hard material. Increasing a tool's strike power by using energy generated by piston rebound, the valve recycles recoil energy and transfers it to the tool's next blow, increasing striking power.

Another key advancement in breaker technology is speed control. When a hammer's stroke can be adjusted, operators can match breaker frequency to material hardness. This provides greater productivity and reduces the amount of harmful energy transferred back to the excavator.

A breaker's hammer configuration is important as well. "Owners should consider an enclosed breaker design; one in which the breaker is cradled inside a protective housing," said Giroudon, noting that the cradle protects the power cell from damage and reduces noise level. The suspensions also protect the excavator boom and decrease vibration for enhanced operator comfort.

Rock-solid maintenance
As with any piece of equipment, proper maintenance is critical to operational efficiency, productivity, and most importantly, life span. While excavator-mounted breakers are used in some of the most punishing conditions, some simple steps can be taken to mitigate premature wear on the tool and the machine. Although some manufacturers include wear indicator devices with their tools, it's critical to inspect key wear points on a daily and weekly basis. To increase uptime, field replaceable wear components like bushings and retaining pins can provide performance solutions within minutes.
While the breaker's nitrogen level needs to be recharged periodically according to a manufacturer's specifications, greasing is a process that must be done multiple times on a daily basis.

Giroudon advises a sharp focus on lubrication: "A grease station is a must for a quarry operation."

Typically, a cradle-mounted and/or an excavator-mounted lube station is available for some breaker systems.

"For a quarry operation I recommend the excavator-mounted option with a bigger grease capacity because it takes less refill intervals. The cradle-mounted approach is good when you need to mount the breaker on different machines," said Giroudon.

Giroudon recommends the following additional breaker/excavator tips:

• Make sure you grease the tool/bushings frequently with the proper grease. A No. 2 lithium-based grease with 3 to 5 percent moly rated to exceed 500 degrees F is ideal.

• Move the tool and reposition often. If the hammer runs for prolonged periods, drilling will occur. This will cause extreme heat and premature failure.

• Use the right tool for the job. Contrary to popular opinion, the blunt tool is best for most oversize breaking, as it provides better positioning and better transmission of the shockwave.

• Avoid blank firing. This is the most abusive action for a breaker. The smaller the rock, the greater the chance of a blank fire. Outsmart the rock by stopping the hammer before it fires through the material. A variable-speed hammer should be considered to reduce the transfer of damaging energy back to the breaker.