Sandvik to demo mobile crushers and screens at Hillhead 2016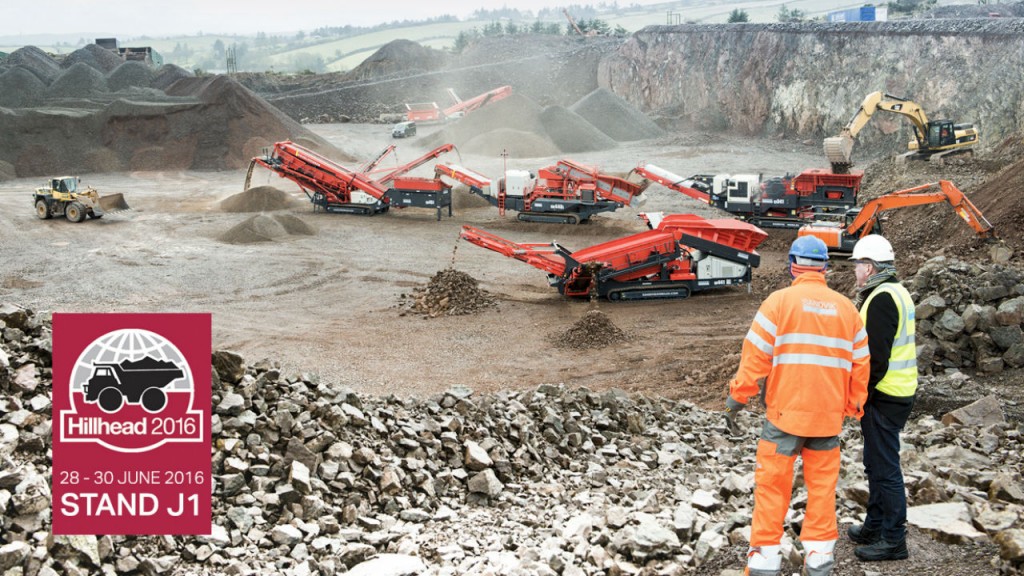 Sandvik will be taking advantage of Hillhead 2016 to highlight the total solutions nature of their product ranges. This year will see a focus on mobile crushers and screens, as well as recent developments from Customer Services. Additionally there are a number of product launches planned, as well as live demonstrations in front of the stand.
The Sandvik product offering provides solutions for virtually any application, and encompasses such diverse business areas as surface rock quarrying, excavation, tunnelling, demolition, recycling and civil engineering. The range of products developed to service these industries includes rock tools, drilling rigs, breakers, tunnelling equipment, crushing and screening machinery, bulk-materials handling systems – equipment and support to deal with virtually every possible requirement.
As the world's leading "live-action" show, Hillhead 2016 will see Sandvik demonstrate mobile crushing and screening equipment in front of their stand, with other solutions also being demonstrated on the stand. Additionally a number of U.K. and global product launches are planned.
Products being shown include:
Mobile crushing & screening
QJ341 best-selling jaw crusher with NEW pre-screen – GLOBAL PRODUCT LAUNCH
QH331 hydrocone with hanging screen
QI441 Prisec impactor
QJ241 compact jaw crusher
QE241 highly versatile scalper with unique configuration of two conveyors on one side
QE441 heavy-duty scalper ideal for quarrying and aggregates
QA441 Doublescreen
Customer services tools, consumables, wear parts and solutions
Optiagg mantle
Sandlock lifting device demonstration
Parts Evolution including live demonstrations on the stand
A selection of rock tools
Screening media display
Wear protection display
Selection of wear items including crusher jaws, mantles and concaves
Other equipment and services
Bretec breakers: C2, M5/M7, M15 and L20C
Ranger DX800 drill rig
CH540 stationary cone crusher
What makes Hillhead exciting and different is the live equipment demonstrations at the quarry face. This year Sandvik will be demonstrating the following mobile crushers and screens:
QJ341 jaw crusher with NEW pre-screen
QS331 cone crusher with hanging screen
QJ241 jaw crusher feeding QA335 Doublescreen
The Sandvik Construction stand will be located at: Stand J1