CCC seminar at Bauma focuses on carbon footprint of infrastructure projects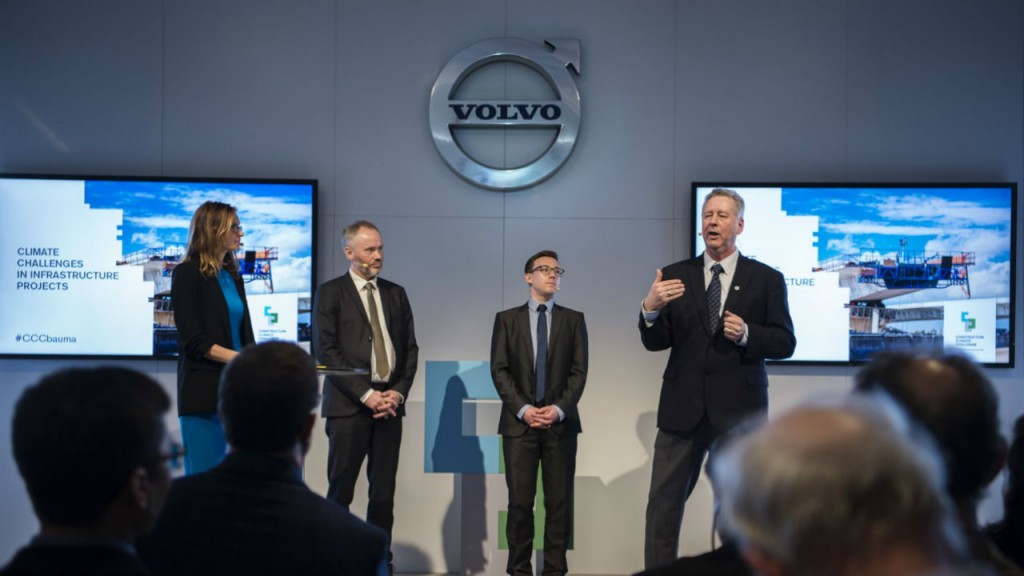 On April 13 at the Bauma construction machinery trade fair in Munich, the Construction Climate Challenge (CCC) initiative hosted by Volvo Construction Equipment held a seminar on current trends to address the carbon footprint from infrastructure projects. As procurers increasingly use CO2 emissions as a criterion for bidder selection, a panel of experts presented their views on challenges and solutions.
In his opening address, Martin Weissburg, EVP Volvo Group and President of Volvo Construction Equipment, hosting the CCC seminar, highlighted estimates that the construction industry is responsible for more than 30 percent of the world's greenhouse gas emissions. As a major emitter, the construction industry is part of the problem, and therefore bears the responsibility of also being part of the solution.
Terri Wills, CEO at World Green Building Council, supported his claims and highlighted the role to be played by the construction industry to align with the standards set by the world leaders at last year's climate conference in Paris, COP21.
"If we keep building the way that we are building today we are on track to a six-degree scenario of global warming. The results would be catastrophic. But we know that we could change that. If we make dramatic and significant changes in the way that we are working today, we can actually achieve a two-degree scenario," said Terri Wills, who also facilitated the seminar.
Sustainability Consultant Stefan Uppenberg from engineering services firm, WSP Group, followed up by putting the emissions from infrastructure construction into perspective.
"The total emissions from the Swedish construction sector, amounts to the same emission level as from all the passenger cars in the country. More than half of the emissions from construction processes comes from civil engineering, building roads, railways and other infrastructure projects," according to Stefan Uppenberg.
One of the most ambitious infrastructure projects in Europe currently is the British High Speed Two (HS2) rail project. The project´s Climate Change and CO2 Specialist, Mark Fenton, stressed the need to minimize carbon through commercial arrangements in procurement.
"Procurement is key. We entirely rely on our supply chain to deliver a low carbon infrastructure. And we need to make sure that the commercial arrangements that we develop, enable and appropriately incentivize our supply chain to minimize carbon," Mark Fenton explained.
Dave Ross, VP Advanced Technology & Verification at Volvo Construction Equipment, presented a vision of a worksite with a minimal carbon footprint, exemplified by Volvo CE's "Electric Site" research project, which combines electric, automated and connected machines.
During the concluding panel discussion, Terri Wills summarized the way forward in the transition towards sustainable construction of both buildings and infrastructure.
"I think these discussions gives us all the facts that we need to just get on and start doing this now. There are no excuses."
Company info