The rich history of innovation that Caterpillar acquired with the purchase of Bucyrus International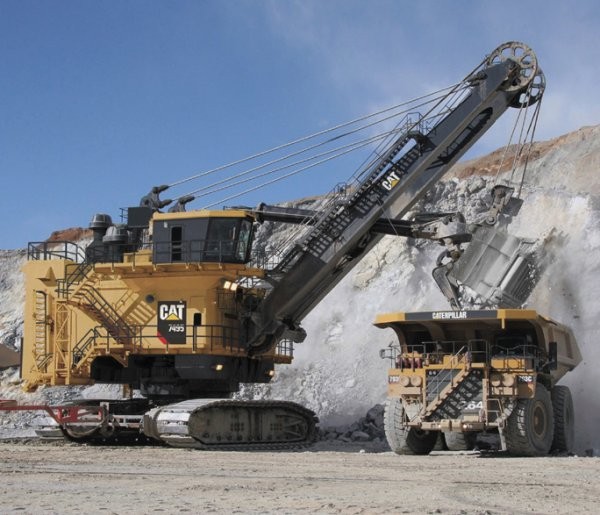 by Keith Haddock

The takeover of Bucyrus International, Inc. by Caterpillar, Inc. is sn $8.6-billion deal brings together two giants of the industry, and establishes Caterpillar Global Mining at Oak Creek, Wisconsin, the former headquarters of Bucyrus.

To view the rich heritage of one of America's innovative and most famous industrial equipment manufacturers, let's take a walk back through the history of the company.

Known as Bucyrus-Erie Company prior to 1997, and Bucyrus Company prior to 1927, Bucyrus International Inc. boasts an unmatched heritage of specialization in the mining and construction equipment manufacturing industries. From the smallest yard crane to some of the largest machines on earth, no other company has produced such a wide variety of types and sizes of excavating machines. Its floating dredges, tractor equipment, cable excavators, hydraulic excavators, drills, cranes, walking draglines, bucket wheel excavators, and other special equipment are all part of the Bucyrus heritage that is now Caterpillar's.

For the past 25 years or so, Bucyrus has been better known in the surface mining industry than in construction. That's because the mid 1980s recession took a toll on most industrial manufacturing companies and Bucyrus-Erie was no exception. The company was forced to change direction and realign its products to those serving only the surface mining industry; products for which it enjoyed little competition. It consequently sold off manufacturing rights to all its construction-related products, including loader backhoes, hydraulic excavators, cranes and cable excavators, and concentrated on products such as giant walking draglines, electric shovels and blast hole drills.

In recent years, the boom in surface mining around the world allowed Bucyrus to expand rapidly and undertake some strategic acquisitions to bolster its mining product lines. Beginning in 1988, it purchased the walking dragline assets of Ransomes & Rapier Ltd. in England. Then in 1997 it purchased its major competitor, Marion Power Shovel Company, allowing access to patents and designs of Marion surface mining machines in the same industry that Bucyrus already served. More recently it purchased DBT Engineering in Germany in 2007, providing Bucyrus with an extensive range of underground mining equipment, a new area for the company.

In 2009. Bucyrus expanded even further by purchasing the mining equipment business of Terex Corporation. This deal included Terex hydraulic excavators (previously known as O&K), a range of electric drive haul trucks (still marketed today as Unit Rig), an increased range of drills, and the SHM Highwall Miner, a machine that extracts coal from the exposed seams in high walls at surface mine boundaries.

Throughout Bucyrus' history, and now continued by Caterpillar, research and development efforts continue to add new products and improve established product lines with a focus on reducing the cost per ton of material moved.

Get the full story of Bucyrus history and its extensive product lines in Keith Haddock's book, "Bucyrus Heavy Equipment – Construction and Mining Machines 1880 – 2008". Includes spectacular photos from Bucyrus' archives, and describes every product the company made from early railroad machines to the giant electric mining shovels, walking draglines and drills of today. Card bound 8 1/4" x 10 3/4". 456 b&w photos. Signed copies available from the author. Send $44.95 cheque or M.O. (covers shipping and taxes) to: Park Communications, 505 Hegler Crescent, Edmonton, Alberta, T6R 1T3, or phone 780-434-2840 for more information.


Company info
505 Hegler Crescent
Edmonton, AB
CA, T6R 1T3

Read more