Ammann "Paving Day" introduces expanded equipment and support for Canadian contractors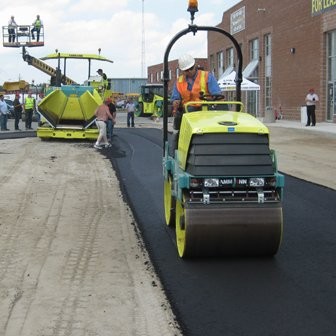 Barrie, ON – A "solutions" approach to paving equipment sales and support for Canadian contractors was the theme of the recent "Paving Days" demonstration hosted here by Ammann Canada.

Up to 50 contractors, equipment dealers and industry analysts attended the full-day event staged at the Barrie facility of McDowell Equipment, one of Ammann's two Ontario distributors.

Morning sessions were opened by Ammann Marketing Director, Alex Greschner, who arrived from Switzerland to introduce attendees to Ammann's unique approach to international growth. Swiss-based Ammann has been designing and building road machinery for more than 140 years. Greschner explained how the firm ensures its long-term stability by funding all operational and development initiatives out of its own finances. While this approach can sometimes inhibit rapid expansion, it also ensures a sustainable presence in every market it enters.

Peter Price, Ammann's Area Sales Manager for Canada, reviewed the now-familiar line-up of Ammann compaction equipment from plate compactors to 30-ton rollers along with the combination of the pneumatic and steel drum rollers ideal for the perfect finish. Price noted that, with current ACE (Ammann Compaction Expert) electronic measuring and control technology, Ammann is one of only two OEMs to offer true "Intelligent Compaction" capabilities as defined by U.S. government standards. ACE-equipped vibratory rollers not only read compaction values in real time, they automatically self-adjust the machine's compaction effort to suit substrate conditions as often as 300 times per minute.

Outdoor sessions in the afternoon focused on the introduction of Ammann's all-new line of asphalt pavers. Ferdinando Dell'Orto, Product Manager for Ammann pavers, presented the four new models with three different machines onsite for visitors to try out. The Ammann AFW series begins with the AFW 150 G 3-wheeled mini paver and works up to the 33,069 lbs (15,000 kg) AFW 500 medium duty paver. Expanded to its maximum spread layer width, the AFW can finish mattes up to 255 in. (6,500 mm) wide. Along with the AFW 270 and AFW 350 pavers, the AFW 500 is offered with the customer's preference of wheels or crawler mobility.

Peter Price acknowledged several representatives of his Canadian distributor network in attendance. Developing coast-to-coast support capabilities has been Price's primary focus over the past few years, accomplished now with 8 distributor organizations from Newfoundland to BC. Ammann distributors, says Price, are all highly knowledgeable of the unique challenges that the varied regions of Canada present to roadbuilders. With new paving machines to complement Ammann's soil and asphalt compactors, specialists in the firm's distributor network are better equipped to provide customers with complete solutions support and troubleshooting to achieve the most cost-effective results on specific roads and projects.