JCB produces 200,000th Loadall telescopic handler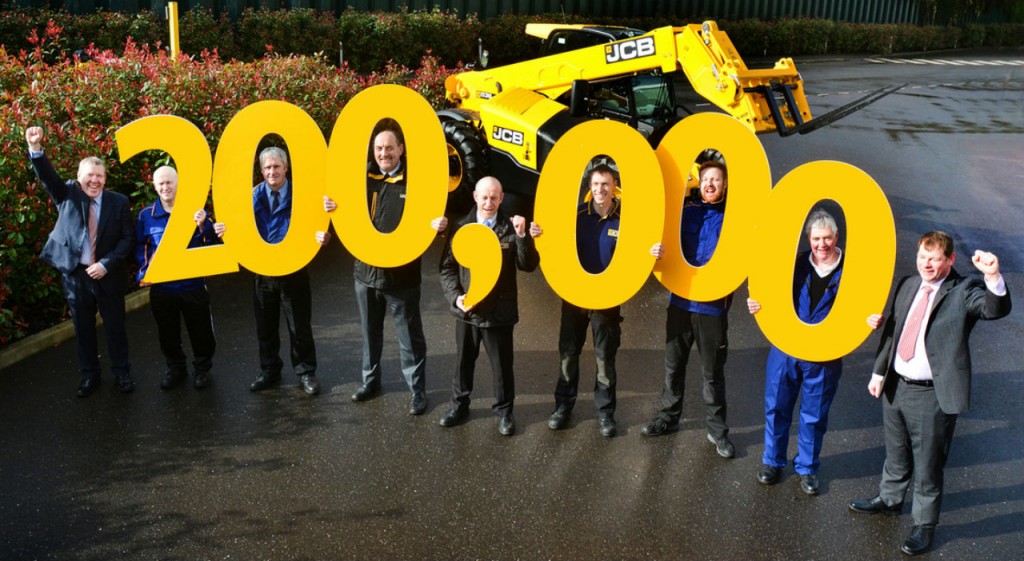 JCB's Loadall has been one of the world's most popular telescopic handlers for many years, with innovative design and engineering excellence. The Loadall has provided materials handling and lifting solutions for construction, agricultural and industrial markets for almost four decades. JCB celebrates the production of its 200,000th award-winning Loadall telehandler, a milestone in materials handling history.
Launched in 1977 as the JCB 520, the first Loadall was a two-wheel drive machine with a 21-foot (6.4-m) lift height and a maximum lift capacity of 2.48 tons. Previously, contractors had lifted materials with rough-terrain forklifts, backhoe loaders and wheel loaders. Over the past 40 years, the JCB Loadall range has expanded to incorporate machines with working heights of up to 65.6 ft (20m) and maximum lift capacities exceeding 6.61 tons.
With every update, JCB has moved the telescopic handler market forward, introducing four-wheel drive, placing the engine to the side of the chassis to allow a lower boom-mounting position and offering multi-mode steering with equal-sized wheels to improve maneuverability.
"From very small beginnings, the JCB Loadall has become a very important machine for JCB and for the construction and agricultural industries," said Lord Anthony Bamford, JCB Chairman. "'Revolutionary' is often a word that is overused, but in the case of the Loadall, it is a perfect description. The way loads are handled on building sites and farms has never been the same since we introduced the Loadall in 1977."
From that early two-wheel-drive 520 model, the range grew rapidly with the addition of the heavier-lifting 525 in 1980 and the lighter second-generation 520-2 and 520-4 in 1981. The 520-4 introduced four-wheel drive and larger rear wheels for improved traction on construction sites. These models were also notable for the introduction of JCB's Q-fit implement carriage, which allowed operators to work with a range of buckets and attachments, including pallet forks.
Though known worldwide as Loadalls, it wasn't until 1982 that JCB adopted this name. At that time, JCB introduced its own slick-shifting Synchro-Shuttle transmissions. Servo control levers were added in 1986 for easier operation, particularly in repetitive handling and loading operations.
JCB completely overhauled the Loadall concept in 1989 with rear-engine models incorporating multi-mode steering and equal-sized wheels all round for improved travel comfort and maneuverability. In addition to front-end, two-wheel steering that made it easier to drive a Loadall down the road, drivers could enjoy turning in tight circles with all-wheel steering or even shuffling sideways in crab-steer mode to get out of an awkward corner or take the bucket edge along the side of a roadway.
However, by 1997, JCB discovered that moving the engine to a side-mounted position between the wheels could lead to further improvements. This allowed a greater reduction in the height of the boom pivot for even better visibility over the right-hand side and to the rear three-quarters while providing unmatched service access to the power unit and cooling pack.
Power and fuel efficiency benefitted again in 2005 when JCB introduced its own engine, the 4.4-litre Dieselmax. In 2006, output was increased further for the engine's debut in the side-engine Loadall. Two versions of this potent engine powered a purpose-built streamliner to a new diesel land-speed record on Utah's Bonneville Salt Flats.
In response to customer demand for increased performance and lower ownership costs, top-end Loadall models featured a high-capacity, variable-flow hydraulics system with oil pumped only as needed up to 140 litres per minute.
That same year, the Loadall reached a significant production milestone when it became the first telehandler brand to hit the 100,000 mark. A $9 million investment in manufacturing resources and a second assembly line at the Rocester, U.K. headquarters factory brought improved production efficiency and flexibility and substantially increased capacity. Just one year later in 2007, JCB would win the Queen's Award for its ground-breaking 536-70, 535-140 HiViz and 535-125 HiViz models.
These models would be closely followed in 2008 by a completely new side-engine, high-boom design for the North American market. In 2009, JCB built on existing experience with hydrostatic drives in mid-engine compact handlers to develop the 527-58. As the first compact side-engine Loadall with hydraulic propulsion, this enhanced machine offered a great combination of size, maneuverability, driving ease and loading/handling performance.
To meet new emissions standards and performance demands, JCB developed the 4.4-litre EcoMAX engines further, using only cooled exhaust gas recirculation (EGR) and a variable geometry turbo to meet Tier 4 Interim emissions standards. Installed in high-specification versions of mainstream Loadall handlers in 2012, the EcoMAX also featured a more powerful engine control unit that sharpened its responses and helped deliver more torque and better fuel consumption. JCB also introduced a 74-hp (55-kW) EcoMAX engine to meet demand for lower operating costs, CO2 emissions and improved efficiency. This served as a popular choice for customers thanks to the exceptionally strong low-speed torque characteristics normally only seen on higher-powered engines.
Also in 2012, JCB launched the heavyweight 550-80, a 26.25-foot lift machine with a 5.5-ton capacity, designed primarily for arduous loading operations with high-capacity buckets in both waste handling and agricultural markets. This would be closely followed in 2014 by the 560-80, taking that maximum lift capacity to 6.61 tons. JCB's highest lifting machine, the five-stage boom 540-200, also joined the lineup at that time, providing customers with a stable 65.62-foot (20-m) lift height.
Today, the Loadall engine features a compact exhaust silencer and selective catalytic reduction (SCR) system housed beneath the hood to meet Tier 4 Final emissions standards without the added hardware and servicing costs associated with the diesel particulate filter (DPF) needed on several competitive machines. The 74-hp (55-kW) EcoMAX solution really comes into its own as it meets emissions legislation without any requirement for aftertreatment, mitigating the need for DEF (AdBlue).
Hydraulic performance came under the spotlight in 2014 with the introduction of Smart Hydraulics across the 550, 560 and Wastemaster range, which includes a unique lift cylinder circuit that permits the boom to lower faster under complete control at low engine revs. This regenerative hydraulics system also added cylinder end-stroke damping, a "bucket shake" feature, automated boom suspension and auxiliary venting. Loading cycles were also 20 percent faster, and the system delivered a 15 percent reduction in fuel consumption.
Further evidence of JCB's unrivalled experience developing both hydrostatic and powershift transmissions emerged with the 2015 introduction of the ultra-compact Loadall 525-60 HiViz with a hydrostatic transmission, full-sized spacious cab and exceptionally low boom mounting design to maximize visibility. The compact machine is just 6 feet (1.8 m) high and 6 feet (1.8 m) wide.
Since its introduction in 1977, it took almost 30 years for JCB to sell the first 100,000 Loadalls, but it has taken less than 10 years to sell the subsequent 100,000 – a testament to the growing importance of the product and JCB's strength and dedication in this sector.
Related Articles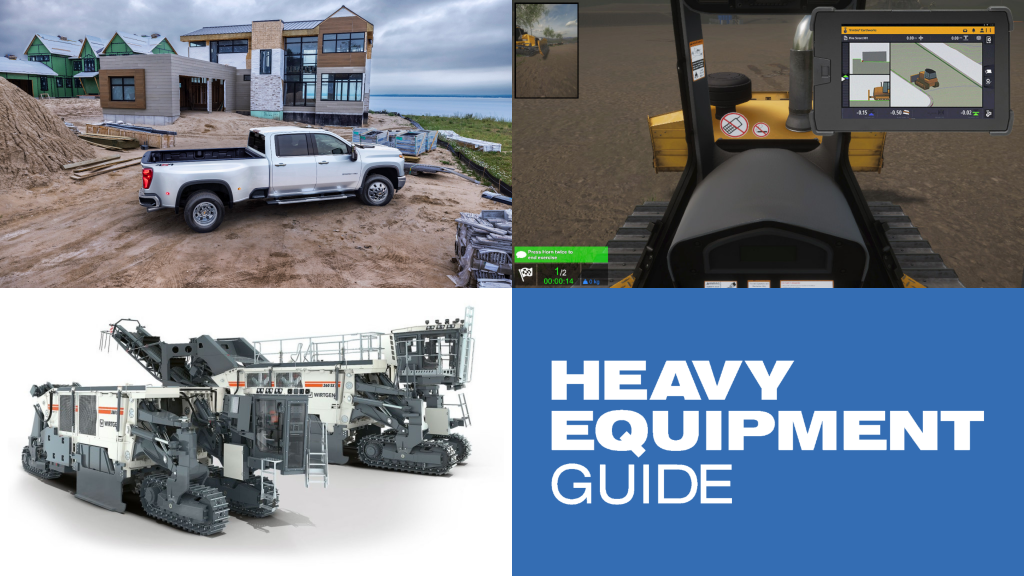 Weekly recap: CM Labs integrates Trimble software, new Chevrolet Silverado arrives, and more