Volvo DD105 Tier 4 Final double-drum compactor with redesigned platform debuts at World of Asphalt 2016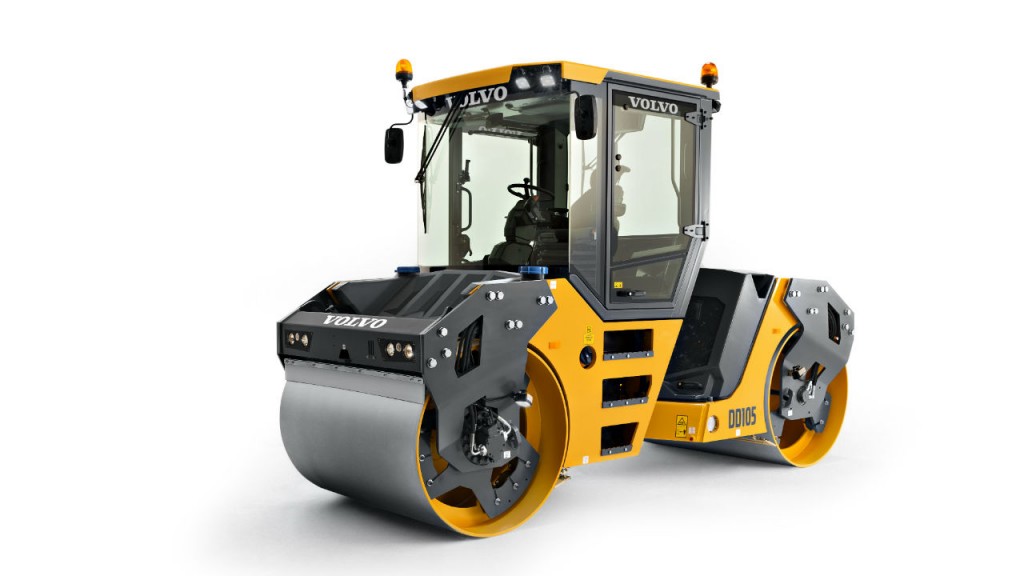 The 10-ton DD105 sets the tone for compaction innovation, built upon an all-new, visibility-enhancing pedestal frame backed by a lifetime warranty, and available with the latest options to boost job quality, including eight-amplitude settings and Volvo Intelligent Compaction with Density Direct.
The DD105 is outfitted with front and rear 66-inch (1,680 mm) wide drums and powered by a 114-hp Tier 4 Final 3.8-litre Volvo engine. Fuel savings can be maximized with features such as auto-idle and ECO mode, which can further reduce fuel consumption by up to 30 percent. Standard dual-amplitude settings allow the operator to easily adjust drum forces according to material depth, and an optional eight-amplitude setting provides the industry's most precise control.
"The DD105 is not only easy to operate and maintain, but it's highly efficient at delivering quality compaction on any medium- to large-sized asphalt job," said Mark Eckert, global product manager at Volvo Construction Equipment. "And based on customer preference, it can be customized with the latest technologies – including Volvo Intelligent Compaction with the industry's only real-time density-mapping technology. It's truly designed to achieve target density and smoothness with as few passes and as little guesswork as possible."
Intelligent Compaction (IC)
The DD105 is available with two optional IC systems – Volvo IC and Volvo IC with Density Direct. Both systems offer pass mapping, temperature mapping and data storage features, offering improved quality assurance and control. Volvo IC with Density Direct also includes the industry's first real-time density mapping technology, which is proven to be accurate to within 1.5 percent of core sampling. This helps eliminate guesswork, ensuring the operator has real-time knowledge of the factors that most drastically influence job quality.
All-around visibility
The DD105 is available with a standard open ROPS/FOPS canopy or an optional enclosed cab – each offering 360-degree operator visibility. The new pedestal frame design improves views of curbs and obstructions. From the adjustable seat, the operator has a commanding view of the jobsite with clear sightlines down to the drum and spray bars. With ergonomically positioned controls and joystick, maneuverability is improved for the operator and offset steering ensures precise compaction. The DD105 is equipped with Anti Slip Control to safely load and unload the machine for transport without assist, and to propel on steeper grades or slopes without any slipping that could lead to scuffing or other damage to the pavement surface.
Reliable drum wetting
The DD105 features a state-of-the-art pressurized water system with triple filtration, providing uniform coverage with variable flow to prevent material pick-up. With features including primary and backup pumps, primary and backup spray bars for each drum, hand-serviceable nozzles, and drum wipers, the automatic drum wetting system delivers unbeatable efficiency.
Simple service, backed for a lifetime
The DD105 is designed for simple service and maintenance with ground-level access to the engine, radiator, battery, filters and daily checkpoints. Utilizing a single key, technicians can access daily service hatches where fuses and relays are conveniently grouped together. The DD105 is also backed by the industry-exclusive Volvo Lifetime Frame and Structure Warranty, under which the frame and articulation joint of the machine are fully covered, ensuring Volvo or an authorized dealer will repair or replace components as necessary during the full life of the equipment under the initial owner.