Vögele Super 2000-3iis 10-foot tracked paver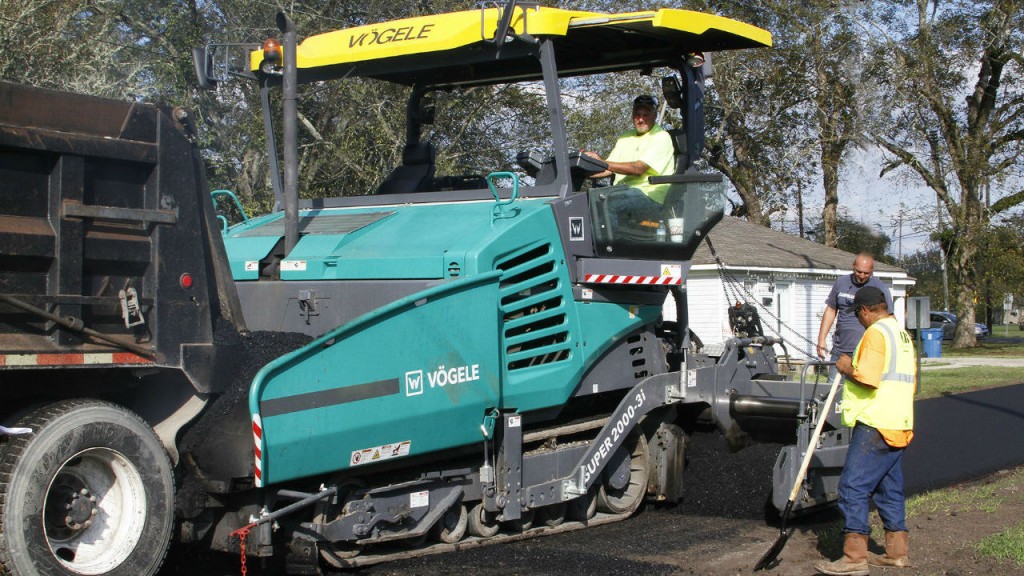 The new Super 2000-3i asphalt paver from Vögele – introduced to North America at World of Asphalt 2016 – refines the productive features of its predecessor Vision paver and elevates asphalt paving to a new level of performance.
In 2016, the 10-foot tracked Super 2000-3i replaces the Vision 5200-2i, and is the first of a line that will supplant the Vision series. Contractors may look forward to the Super 2003-3i (replacing the 10-foot wheeled Vision 5203-2i); the Super 1700-3i (replacing the 8-foot tracked Vision 5100-2i); and the Super 1703-3i (replacing the 8-foot wheeled 5103-2i).
The new line introduces Vögele Dash-3 technology and its ErgoPlus 3 operating system to a highway-class paver specially suited for North American use.
The Super 2000-3i features a basic width of 10 feet (3.05 m) and a maximum paving width of 28 feet (8.6 m). It has a top placement rate of 1,540 tph (1,400 mtph). The tracked Super 2000-3i is designed primarily for use in highway construction and large-scale commercial applications, which are all about power and productivity.
Power plant
Three main components define the power unit of a Super 2000-3i: its modern, liquid-cooled diesel engine, a splitter gear box flanged directly to the engine, and a large cooler assembly.
With a powerful, 6-cylinder Cummins QSB6.7-C250 engine rated at 250 hp (186 kW @ 2,000 rpm) and high-output hydraulic drives, the Super 2000-3i is fully equipped for robust applications.
This power plant is Tier 4 Final emissions-compliant, and provides an excellent horsepower-to-weight ratio. Yet its fuel-saving ECO mode is sufficient for many applications. Even in ECO mode, the Super 2000-3i still has a full 234 hp (175 kW) at its disposal, while the machine generates even less noise when running at just 1,700 rpm.
Its large fuel tank holds 100 gallons, suitable for more than a day's work. Both low fuel consumption and low-noise operation are made possible by intelligent engine management with ECO mode. The Super 2000-3i offers daily maintenance-free operation with auto-lubrication and more.
Drive system
The Super 2000-3i features an innovative and reliable drive concept for accurate tracking. All drive components, including the three-phase generator, are supplied from the central splitter gear box and operate at maximum efficiency. High-traction crawler tracks efficiently convert drive power into forward motion.
A large cooler assembly ensures that the power unit always delivers its full output. With innovative air routing and a variable-speed fan, temperatures are continually maintained within the optimum range, significantly extending the service life of both the diesel engine and the hydraulic oil. A further advantage is that the machine can operate without difficulty in all climates.
Because all hydraulic elements are supplied with hydraulic oil directly from the splitter gearbox, all pumps and valves are combined in one spot that is easily accessible for maintenance work. Even the powerful generator for screed heating is flanged directly onto the splitter gearbox. Its integrated oil cooling system makes it completely maintenance-free and very quiet.
ErgoPlus 3 operation
The Super 2000-3i is supplied comes with the latest version of Vögele's operating system, the popular ErgoPlus 3, which has been enhanced with a number of new ergonomic and functional features.
With its new mounting system, the paver operator's console can be shifted even more conveniently and easily between the right and left sides of the operator's stand. In addition, it now has a large colour display that ensures good readability even in poor lighting conditions.
All controls are clearly arranged. Paver functions are clustered in logical groups so that operators find their controls just where they would expect them to be.
On the ErgoPlus 3 console, all push-buttons are easily identifiable by touch even when wearing work gloves. Vögele's Touch and Work principle means that once a button is pressed, the work begins. Functions are executed directly, without the need to confirm.
Screeds
For this new Highway Class paver, the Super 2000-3i can be combined with the VF 600, the VR 600 and the AB 600 TV extending screeds.
The VF 600 screed, which utilizes unequal-width front-mounted extensions for multivariable width applications, has a maximum paving width of 25 feet 6 inches (7.75 m) with bolt-on extensions.
The VR 600 screed has rear-mounted extensions for main line applications, providing maximum paving width of 28 feet (8.6 m) with bolt-on extensions.
And the AB 600 TV screed, with rear-mounted extensions, achieves higher compaction thanks to integrated vibration and tamper. The screed well suited for placing cold RAP for roadbase, or difficult polymer modified asphalts. Its maximum paving width is 27 feet 11 inches (8.5 m) with bolt-on extensions.
The AB 600 TV extending screed is equipped with both a vibration system and tamper, meaning it can achieve higher compaction and faster densities attained right out of the paver.
Electric screed heating is standard on the Super 2000-3i. A consistent surface texture is provided by uniform heating of the screed plates. With the engine running at minimum rpm, the time required for the screed to reach its operating temperature is reduced substantially due to an intelligent generator management system. Typical heat-up time is 20 minutes.
The ErgoPlus 3 screed operating consoles have been completely redesigned, making operation of this new Dash 3 machine even easier for the entire crew. With ErgoPlus 3, the screed operator has the paving process at his or her fingertips. All functions are easily comprehensible and all controls are clearly arranged.
Also, the main paving functions of the screed can be controlled using one of the two handy screed remote controls for each side of the paver for the VF 600 and VR 600 screeds. Intuitive operation is possible thanks to self-explanatory and language-neutral symbols.
The remote controls can be securely stowed in the holders on the main screed, or on the ends of the screed extensions. The holders are magnetic, meaning that the remote controls are easy to grab at any time, giving the operator a large radius of movement so that he or she can always find the most effective working position in any paving situation.
Niveltronic Plus Leveling System
Niveltronic Plus, the exclusive Vögele system for automatic grade and slope control, was developed based on many years of experience in grade and slope control technology. Easy operation, precision and reliability are its hallmarks, ensuring perfect mastery of all grade and slope requirements.
This fully integrated system is optimally adapted to the machine technology of the Super series pavers. All wiring and connections, for instance, are integrated into the tractor and screed, effectively eliminating all risk of damage to these components.
A large and practical selection of sensors permit versatile use of the Niveltronic Plus system. Whether for parking lots, traffic circles or highways, Vögele offers the right sensor for every jobsite situation. Sensors can be changed quickly and easily, for Niveltronic Plus automatically detects which sensor is connected, thus simplifying the configuration.
Company info
Related products
Related Articles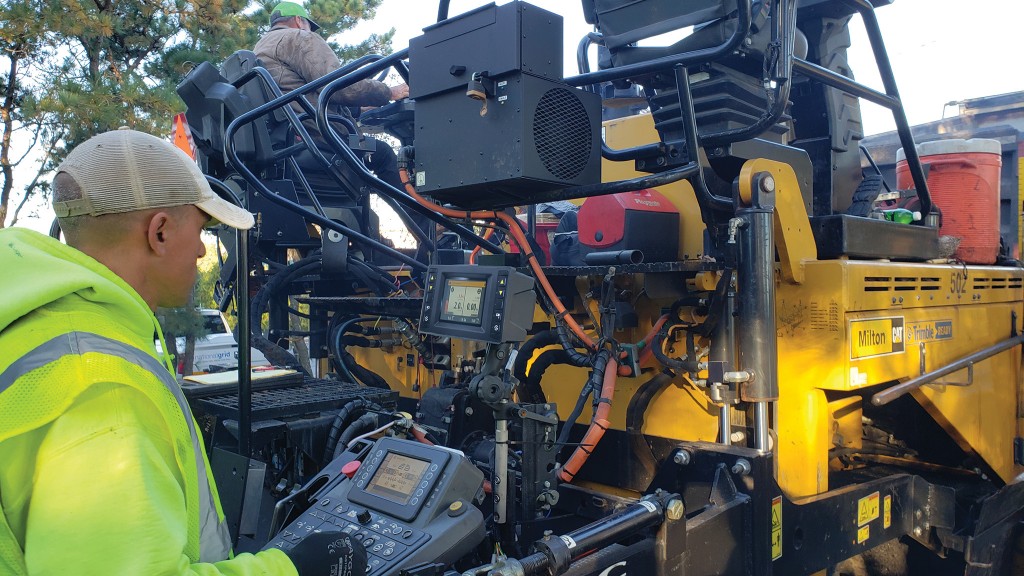 How 3D machine control is automating today's asphalt paving operations