BOMAG "Dash 5" series tandem vibratory rollers improve productivity and mat quality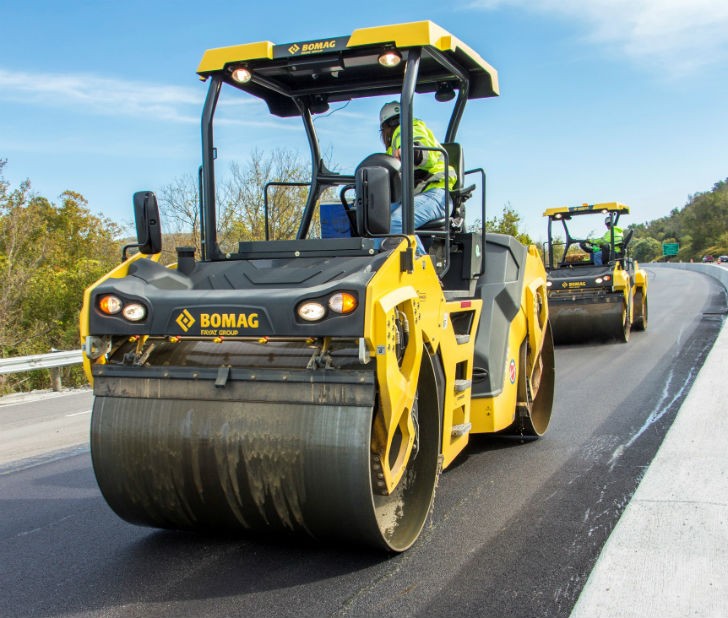 The six base models that make up the BOMAG "Dash 5" Series of tandem vibratory rollers are the most advanced and versatile compactor series ever built by BOMAG. Offering design enhancements over previous series, these rollers increase productivity, improve mat quality and reduce service time. Tackling a range of commercial and mainline applications from parking lots and asphalt repair to interstates and airports, this series of rollers offers rolling widths ranging from 59.1 inches (1,500 mm) to 84.1 inches (2,135 mm) to efficiently compact a wide range of paving widths.
BOMAG is the only manufacturer to offer three different vibration technologies – vertical, TanGO and ASPHALT MANAGER – throughout the asphalt roller line. Traditional vertical vibration boasts dual amplitude and frequencies, giving the operator the flexibility to tailor compaction energy output to the application. TanGO's tangential oscillating rear drum (available on the BW161ADO-5, BW190ADO-5, BW191ADO-5 and BW206ADO-5 models) allows the rollers to be used on sensitive applications such as bridge overlays, thin lifts and around structures. The most intelligent compaction management system on the market, ASPHALT MANAGER's drum features vectoring vibration from true vertical to true horizontal as material stiffness increases.
Large 55.1-inch (1,500 mm) drum diameters on the BW191AD-5 and BW206AD-5 highway-class rollers help to deliver a smoother surface finish to improve mat quality. These larger drum diameter rollers provide more impact surface area in contact with the asphalt to help prevent mat pushing and shoving. It also helps to eliminate the potential for bow waves in front of the drum, even when working at higher mainline compaction speeds on tender mats.
All rollers in the line feature powerful and fuel-efficient Tier 4 Final diesel engines. BOMAG's exclusive ECOMODE operation found on the rollers saves on operating costs by automatically matching engine speed to load demand. When performing low-load tasks like static rolling, the engine speed is de-rated to conserve fuel. Additionally the operator can set a predetermined idle time where the engine is automatically shut off once that time is exceeded. BOMAG's exclusive ECOMODE operation can lower fuel costs by up to 30 percent over full engine speed operation, depending on application.
Improving the rollers' compaction performance and efficiency, the intuitive ECONOMIZER compaction measurement system can be economically added to all "Dash 5" series rollers. ECONOMIZER takes the guess work out of compaction by delivering real-time compaction progress to the operator via a simple-to-read LED light gauge on the instrument panel. As material stiffness increases, the number of illuminated LED lights also increases. The system also warns operators of potential over compaction to prevent aggregate fracturing. ECONOMIZER saves contractors time, fuel and money by eliminating unnecessary passes and allows the operator to identify and correct "soft" spots in the mat.
Large operator platforms that improve operator comfort and visibility are the hallmark of BOMAG's "Dash 5" roller line. A single sliding and swiveling operator's seat increases visibility to the machine's front, rear and sides. The suspended seat with integrated travel lever slides effortlessly along a back rail, while it swivels 180 degrees to give operators direct line visibility to the drum's edge. The console swivels along with the seat, so the controls and display are always in the same position relative to the seat.
With BOMAG's EasyService built into this series of rollers, contractors maximize machine uptime by minimizing service time. All machine maintenance points can be easily reached from ground level. Featuring no grease zerks throughout the line to minimize daily maintenance, these rollers incorporate special bearings that are hermetically sealed with high quality grease, providing reliable lifetime lubrication. The rollers' single-unit hydraulically opening hood easily swings up and out of the way to provide unobstructed access to the entire engine compartment.
BOMAG's "Dash 5" series of tandem vibrator rollers boast pressurized water spray systems with interval-timing to extend operating time required between tank refilling. Two spring-loaded flexible polyurethane scrapers per drum evenly distribute water to keep the drum clean. Available crab walk steering allows the front and rear drums to be offset to facilitate compaction alongside structures. Full-width operator platform ROPS cabs with heat and air conditioning are available to increase operator comfort.
BOMAG "Dash 5" Series of Tandem Vibratory Roller Critical Specifications:
Base Models...................................................... BW141AD-5, BW151AD-5, BW161AD-5, BW190AD-5, BW191AD-5, BW206AD-5
Operating Weight Range................................ 14,777 to 30,643 pounds (6,700 to 13,900 kg)
Compaction Width Range............................... 59.1 to 84.1 inches (1,500 to 2,135 mm)
Tier 4 Final Engine Range ............................. 73.2 to 140 hp (55.4 to 105 kW)
Company info
Related products
Related Articles
Searching for the best-performing excavator? Your search ends here. We tested the Volvo EC350E and EC380E against a leading competitor in three different tests: trenching, truck loading and lifting capacity at reach. The results show a 20% difference in cost-per-ton, a 15% difference in tons-per-hour and a 12% difference in both operating costs and lifting capacity. See the results and put an end to your search for the best excavator.