Edmonton getting $1.67 billion downtown revitalization
HCM contractors do pile driving for $150 million underground parkade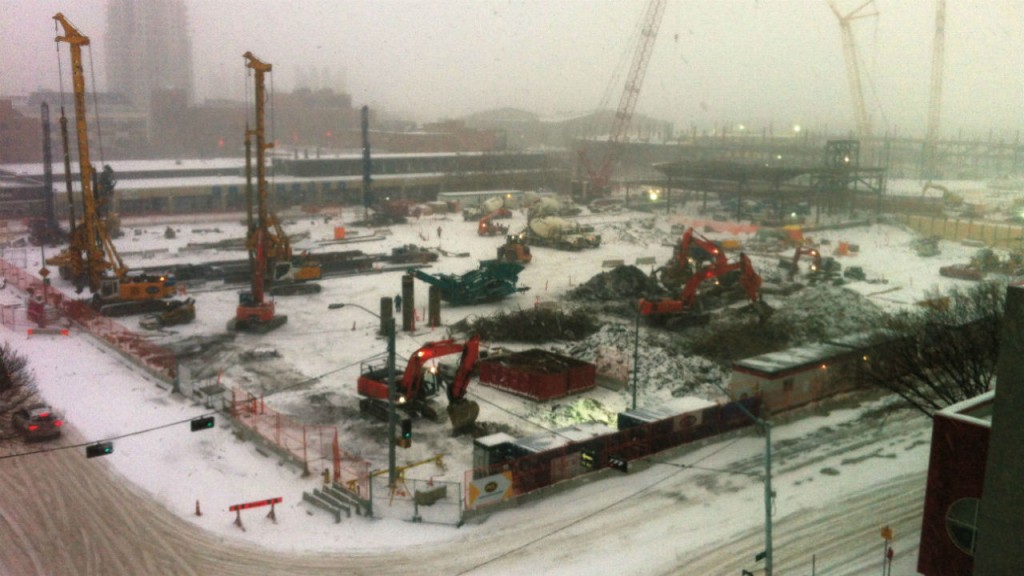 Low oil prices in Alberta haven't slammed the brakes on a major construction project turning heads in the provincial capital of Edmonton. The downtown core continues to be a beehive of activity as contractors and subtrades work towards their deadline of fall 2016 when the new Rogers Place Arena is scheduled to open in time for the 2016/2017 Edmonton Oilers hockey season.
The arena at 104th Avenue and 104th Street is the jewel in the crown of a $1.67 billion downtown revitalization being orchestrated by the developer, Katz Group-WAM. Construction on the $606 million facility began in January 2014. All steel work has been completed and the roof is now enclosed on the 18,500-seat hockey rink.
But while the arena is clearly the showpiece, there are several other elements of the project that when tied together will put Edmonton on par with other major cities with sports entertainment districts, such as Los Angeles and Columbus, Ohio.
These include two large office towers, a 50-storey hotel and condo tower, and a 50-plus-storey tower to be built on the Greyhound site by 2019. There will also be a Katz Group headquarters and casino, a ground-level plaza and a four-storey underground parkade to hold all the extra traffic expected into the arena district.
"This is the shiny star in Alberta at the moment," Katz Group vice-president Glen Scott told the Edmonton Journal last spring. People are asking: "'What is going on in Edmonton?' There's such a massive amount of capital being invested at one time in a small area that people are sort of boggled by it."
Pile driving and shoring for parkade
The parkade is a massive undertaking in itself. The $150-million project will have four levels built below grade. It is being constructed in two stages. Pile driving and shoring for the first phase took place in the fall of 2014; construction of the second phase is due to start in July.
Winning an $11-million contract for the foundation work, HCM Contractors brought in two Bauer Pileco BG24 drill rigs and two Watson 3110 drills for pile driving. The Calgary-based company is a geotechnical excavation, shoring and foundations contractor with expertise in caisson wall construction, piles and lagging, and structural shotcrete.
For the Edmonton arena district parkade, the clay soil conditions leant themselves to a shoring system of soldier piles and timber lagging, which is used to retain soils behind the excavation and to transfer the loads to the piles.
About 150 piles were sunk between 22 and 26 metres deep, spaced in eight-foot intervals on centre. The perimeter wall of the structure is 500 lineal metres.
"This job had some high loads because of the depth, but the clay is generally good," said Geoff Jilg, HCM's project manager on the site. "And it allowed us to go to timber lagging, which is very common in Edmonton where there's not really any water [in the clay] and the base doesn't slough. So you can use timber lagging in conjunction with the piles and anchors."
With soldier piling, steel beams (W section piles) are driven into each hole which is then filled with lean mix concrete. Lifts are then dug, spaced around five feet on the vertical axis, and then a system of lagging boards is installed. At anchor elevation tiebacks are drilled, installed, cured and stressed. At that point the structure is ready for initial formwork, for the exterior walls and footings.
Jilg said the pile driving went relatively smoothly with no problems encountered except for the inconvenience of having to relocate portions of the shoring wall in order to miss some existing utilities. HCM also had to drill through the rubble of a previous low-rise warehouse that had been demolished.
He said the drill rigs performed according to expectations. Commenting on the Watson 3110 drill, Jilg said the machine's lack of an interlocking Kelly bar makes it "quite fast, in and out of the holes," which in this case was 36 inches diameter.
Watson describes the 113,000-foot-pound machine as "capable of drilling large diameter drilled shafts. The torque and crowd available with the Model 3110 provide capacity to drill in difficult conditions, including hard rock and boulders."
With phase one of the Edmonton arena district parkade about two-thirds done, HCM is looking ahead to the summer, when it will conduct pile driving and shoring wall excavation for phase two of the parkade. Jilg says that the second phase will enlarge the current structure by about 50 percent, with the foundation work expected to take between four and six weeks.

More from Industry News
The all-new CASE TR340B compact track loader — operating at 90 horsepower with a 3,400-pound rated operating capacity — is the most powerful radial-lift CTL in the CASE lineup. Its all-new 8-inch LCD display improves on industry-leading CASE visibility with a new backup camera that is viewable in both forward and reverse operation. The display also showcases critical operating information and "trip" details. All-new electro-hydraulic controls, managed through the display, make it easier than ever for operators to dial CASE CTLs into specific application demands. All new cab controls and joysticks make the new TR340B easy to own and operate.
Industries such as construction, mining, energy, utilities and forestry, face many challenges when it comes to tracking assets and employees. Equipment often has to be transferred between locations, or monitored while it is dormant during off seasons. Lone workers may have to travel long distances or visit multiple sites during the course of their activities. And, all of this is further complicated today with shifting supply chains and economic realities putting further strain on the bottom line.