Record-setting MINExpo 2012 is round the corner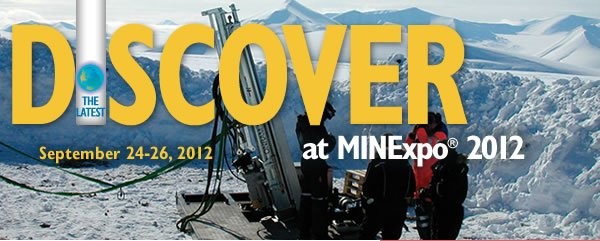 Bring your walking shoes to MINExpo INTERNATIONAL 2012, because this year it's bigger than ever!

MINExpo 2012 is 850,000 square feet and 1,800 exhibitors in 12 indoor halls and outdoor areas of the Las Vegas Convention Center.

But it is more than that. It's new products and services;s first hand demonstrations; solutions to make your business more productive, more profitable, safer and more environmentally friendly; learning from experts to resolve your daily challenges; and, networking with people from the worldwide global mining community.

Start Early
Register before August 10 and get a reduced rate that includes exhibits and 20 education sessions over the three days of the show.

During your advanced registration the Matchmaker Program will let you indicate the products and services you want to see. A few weeks before the show, MINExpo will email you exhibitors that match your criteria complete with links to their websites. In addition, MINExpo's online directory, available prior to the show, provides invaluable product information. You'll also want to be sure to download the MINExpo app to help maximize your time at the show.

After the Show
You will receive a list of the exhibitors you visited in order to ensure the follow-up you need to make your buying decisions.

MINExpo will be held September 24-26, 2012, in Las Vegas, Nevada.
Registration is $100 before August 10 and $200 after, so register early (includes exhibits and conference sessions).