Asphalt and Aggregates industries heading to Nashville
World of Asphalt and AGG1 Academy set to be best ever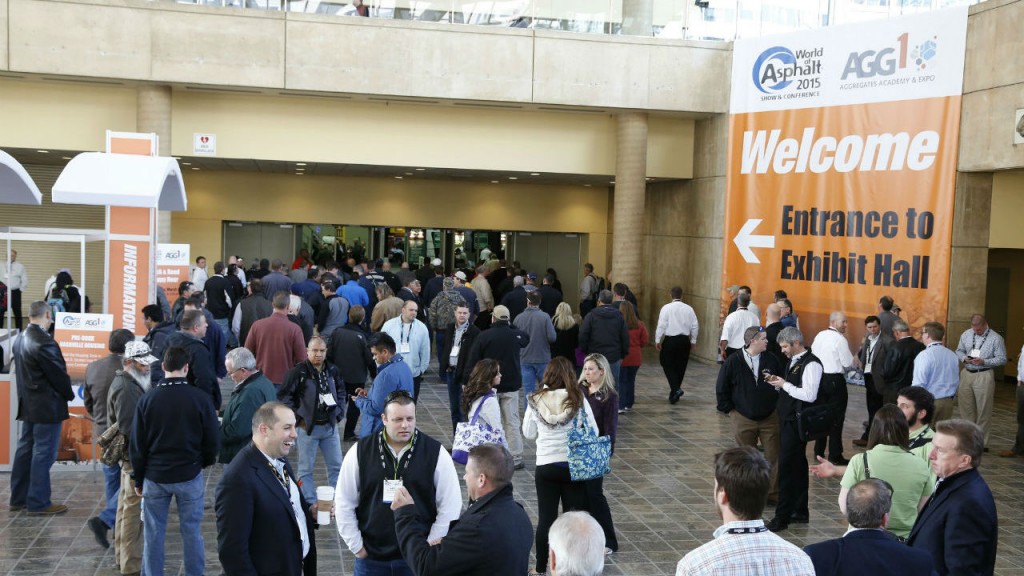 Smart asphalt and aggregates professionals who want to examine the latest industry product innovations and discover the latest industry best practices are headed to the 2016 World of Asphalt Show & Conference and AGG1 Academy & Expo March 22-24 at the Music City Center in Nashville, Tennessee.
Advance registrations continue to track far ahead of all past shows, coming from all 50 states, 9 of the 10 Canadian provinces and more than 45 other countries worldwide.
World of Asphalt and AGG1 Academy have both achieved record size and number of exhibitors. The show is a sell-out with more than 150,000 net square feet of exhibits combined and more than 480 exhibitors, including 150 new from last year.
The shows target the business and professional-development needs of aggregates, asphalt, pavement maintenance and traffic safety industry professionals.
Prepare for Success
With opening day just a few weeks away, preparing for a successful show experience is a click away at www.worldofasphalt.com and www.agg1.org.
Check out new products and technologies – The online searchable exhibitor directory (with show floor plan) includes a New Products and Technologies preview section that highlights the innovative products and services that will be on display.
Take advantage of online planning tools – Use the interactive show planner to create a personalized agenda of exhibits, education and networking meetings.
Download the mobile app to stay connected – Make the best use of your time onsite and make last-minute updates by synchronizing your agenda with the show mobile app, and stay connected to fellow attendees via the app's social media feeds Twitter and Facebook.
Register in advance – Save time and avoid the hassle of onsite lines. One registration allows access to both shows, and several education-ticket options are available.
Sign up for education – With convenient access to more than 115 education sessions developed and presented by industry leaders, don't miss this unparalleled learning opportunity.
"We're set to have our biggest and best shows yet; this is the place to be if you're a serious professional who wants to improve job performance and your company's bottom line," said Show Manager Rich Prausa.