Cat D6N Dozer
Grading is now easier with a trio of Cat Connect GRADE technologies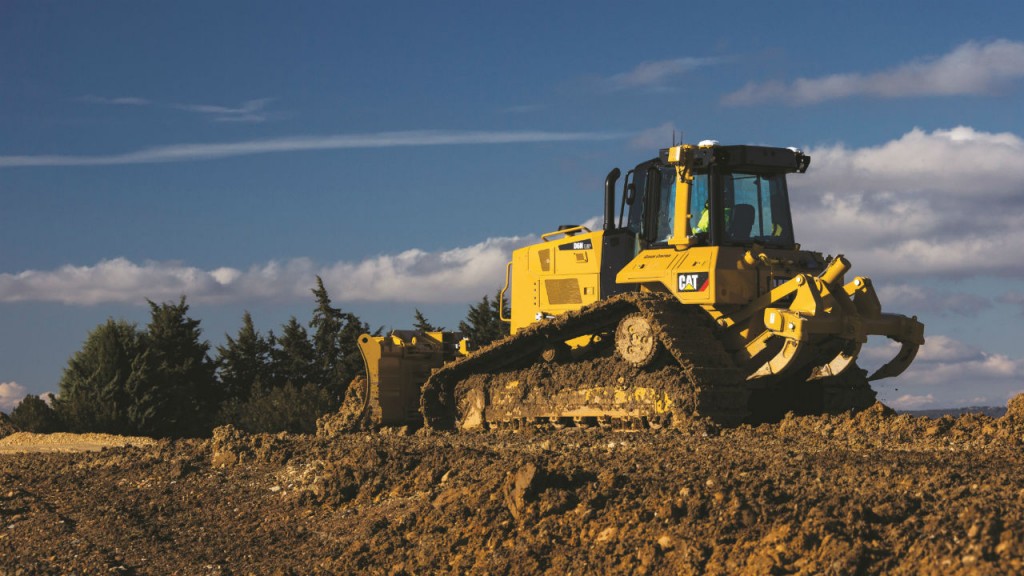 Caterpillar recently unveiled the new D6N dozer at their year-end press event in Peoria, Illinois, and it was immediately clear that grading has become a lot easier with their trio of Cat Connect GRADE technologies: Stable Blade, Slope Indicate and the new Slope Assist.
The D6N has received a number of other updates, key among them are a new transmission with lockup torque converter, Enhanced Auto Shift and an updated cab. The D6N is powered by a 166-hp (124 kW) Tier 4 Final Cat C7.1 ACERT engine.
GRADE technologies prove to be a productivity advantage
The now standard Cat Connect GRADE technologies are integrated right into the machine at the factory with no additional hardware or software required. Several optional Grade technologies are also available either as a factory install or a dealer upgrade.
Cat Slope Assist helps operators more easily achieve the required mainfall and slope orientation of the blade by automatically maintaining pre-established blade angles for the grade. According to Caterpillar, operators can finish the job up to 39 percent faster with up to 68 percent better surface quality, while using up to 82 percent less operator effort.
Cat Stable Blade complements the operator's blade-control input for attaining higher quality finish grades more quickly and with less effort.
Cat Slope Indicate displays machine cross slope and mainfall (fore/aft orientation) on the primary monitor, helping operators work more accurately on slopes with no special equipment required.
Slope Assist is a feature exclusive to Caterpillar and came out of the company's development of Stable Blade. It provides a distinct advantage for less experienced operators. According to Sam Meeker, Product Application Specialist at Caterpillar, "New operators can always have a bit of a challenge with understanding the relationship between where the blade is and where the dozer is. It's always a challenge to get that seat of the pants feel that you need to operate a dozer effectively.
"Slope Assist holds the blade steady and helps that operator to get work done faster because he's effectively holding that blade at the proper angle that he's requesting. It'll hold it there for him so that as he dozes along he doesn't have to worry about making quite as many adjustments to the blade control."
Caterpillar conducted a productivity study for Slope Assist on Cat dozers. In a controlled indoor scenario, three operators tested the technology: an expert operator from Caterpillar's product development team, a project manager with a major construction company who had moderate operating experience, and a Cat tractor design engineer who had moderate operating experience.
A 200-foot sand strip was graded flat and sand was piled at 70, 100 and 130 feet along the strip. The task was to grade the strip smooth again.
Caterpillar was interested in three metrics: quality of graded surface, time to grade and operator effort. Manual grading and grading with Slope Assist were compared for each operator. Caterpillar found that surface quality improved for all three operators when using Slope Assist, and was most dramatic for the less experienced operators who achieved 36 to 68 percent improvement in smoothness. All three operators saved time while achieving that quality. However, when it came to operator effort, while all operators experienced reduction in effort, it was the experienced operator who saw the most benefit – with 82 percent fewer inputs to the blade.
According to Meeker, when the experienced operator was operating manually, he was doing a fantastic job. "He was literally bumping that control two or three times a second to try and get it exactly where he wanted – up and down and left and right. And that's what we see with most professional operators." Meeker said that one of Slope Assist's key advantages is that it is easier on the experienced operator. By reducing hand inputs, it reduces the amount of work operators have to do to achieve a high-quality grade.
New transmission performance results in fuel savings
The D6N's new transmission, with a lock-up clutch torque converter, seamlessly selects the drive mode best suited to the application. The transmission provides the performance of direct drive with the ease of operating with power shift. According to Caterpillar, fuel savings range from 10 to 15 percent, and productivity gains in typical applications are estimated at up to 10 percent, compared with the previous model.
The standard Enhanced Auto Shift system, combined with the lock-up-clutch control, allows operators to select the optimum ground speed for the load being moved, resulting in further fuel savings.
Additional features
The cab has more leg room and wider, easier closing doors. The smoother-shifting transmission and quieter engine make operation more comfortable, and operator-selected electro-hydraulic mapping fine-tunes implement response to suit operator preference or application. The instrument display and operator interface have been updated, HVAC system performance is improved, and an improved fresh-air filter keeps the cab cleaner.
Company info
Related products