All-new Ford F-Series Super Duty chassis cab supports heavier equipment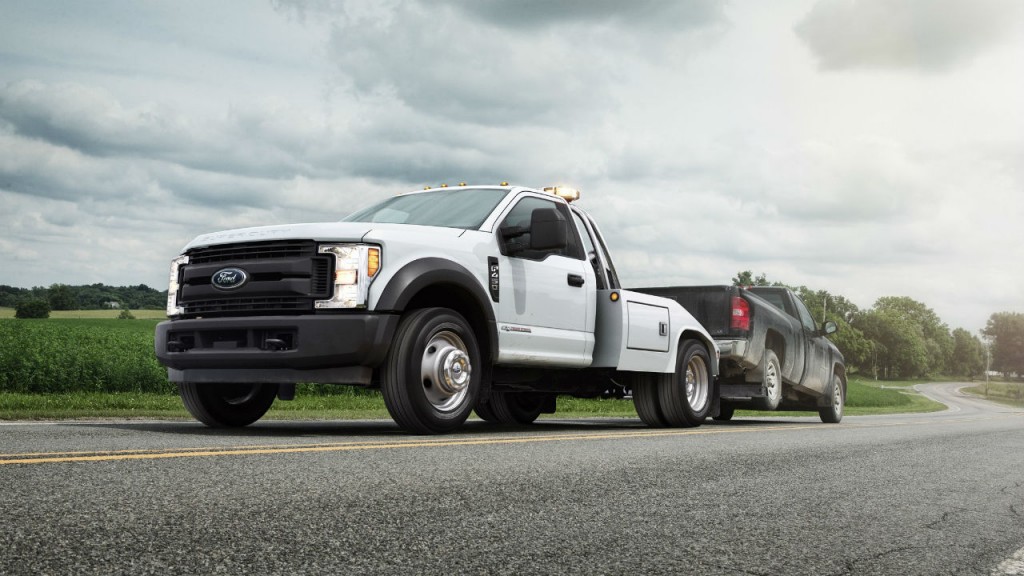 Ford is delivering again for commercial truck customers with the all-new 2017 Ford F-Series Super Duty chassis cab.
The all-new F-350, F-450 and F-550 chassis cab lineup is optimized to help commercial customers be more productive on the job – from clearing snow-filled streets to rescuing stranded motorists to restoring power in a storm.
"Commercial truck customers need tough, capable trucks that can haul heavy equipment to crush challenging jobs," said Craig Schmatz, Ford Super Duty chief engineer. "The innovations our team has put into the next-generation Super Duty chassis cab are paying off by delivering capability that surpasses the competition."
The next-generation F-350, F-450 and F-550 Super Duty chassis cab lineup features:
Best-in-class front gross axle weight rating of up to 7,500 pounds – 250 pounds better than the closest competitor – that supports carrying bigger snowplows, taller utility buckets and cranes, larger ambulance bodies or other specialized vocational body upfits.
Best-in-class gross combined weight rating of up to 40,000 pounds – the combined weight of the truck and everything it can haul and tow – for both truck and trailer. That's the equivalent of half the maximum gross combined weight rating of an 18-wheeler semi on most U.S. federal highways.
330 hp and 750 lb.-ft. of torque from second-generation Ford-designed, Ford-built 6.7-litre Power Stroke V8 diesel – best-ever ratings for Class 4 and Class 5 Super Duty chassis cab.
Capability starts with all-new frame
Thanks to an all-new backbone, F-350, F-450 and F-550 F-Series chassis cab delivers more work capability than ever.
The all-new frame is the toughest, strongest, most rigid frame ever used in a Super Duty chassis cab. It features 95 percent high-strength steel with eight times more torsional rigidity than the previous frame, through-welded crossmembers, and fully boxed rails under the cab and forward for strength and safety. Open C-channel frame rails behind the cab enable easy body and vocational equipment upfits. All these improvements help deliver the best-in-class 40,000-pound maximum gross combined weight rating and the 500-pound increase in front gross axle weight rating, along with increased towing capacity over the previous Super Duty chassis cab.
Weight savings reinvested for improved capability
Using advanced materials, Ford is saving up to 350 pounds of weight in the all-new F-Series Super Duty – reinvesting that savings into tougher, stronger components.
For the first time, the Super Duty body uses high-strength, military-grade, aluminum alloy throughout the cab, which improves dent and ding resistance while saving weight for significant increases in towing and payload capability.
"We are reinvesting the weight saved by using advanced materials, giving that savings back to customers with more capability and performance than ever," said Schmatz.
In addition to the heavier-duty fully boxed frame under the cab, many components are more robust in the new Super Duty, including axles, suspension, driveline and towing hardware.