Norcan Fluid Power Limited is Rexroth's authorized distributor for industrial and mobile hydraulics in Western Canada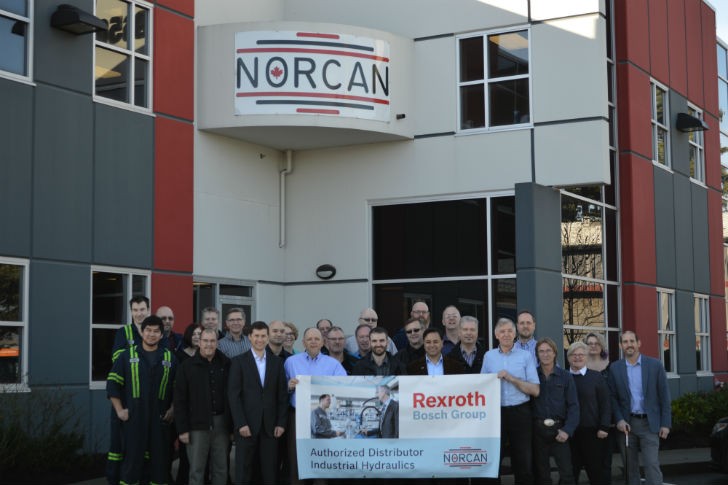 Bosch Rexroth Canada Corp. is pleased to announce the appointment of Norcan Fluid Power Limited as Authorized Distributor for Industrial and Mobile Hydraulics products in Western Canada including: British Columbia, Alberta, Saskatchewan and Manitoba, effective March 1, 2016.
The agreement is intended to provide Western Canadian customers with greater access and choice for Bosch Rexroth's hydraulic products and innovative solutions to achieve their specific application requirements and at the same time, expand service, technical support, application expertise and local inventory. Customers and industries will benefit from Norcan Fluid Power's multi-branch footprint, and with their extensive industry experience and Western Canada presence. Bosch Rexroth Canada with sales, engineering and service support locations in all major business centres across Canada, together with head office, manufacturing and logistics centre in Welland, Ontario, will maintain a direct market strategy while supporting future growth via the new Norcan Fluid Power Agreement.
Norcan, founded in 1974 in Vancouver, B.C. and owned by BCB Corporate Services Ltd, is a major Canadian distributor in the areas of Industrial, Mobile and Marine hydraulic components, and provides a wide array of services and technical expertise. Offices are located in seven strategic branch locations across Western Canada including Langley, Prince George, Kamloops, Calgary, Red Deer, Leduc and Saskatoon with 120 employees with 22 outside sales reps.