New Vögele Super 2000-3(i) and Super 2003-3(i): next generation of versatile asphalt pavers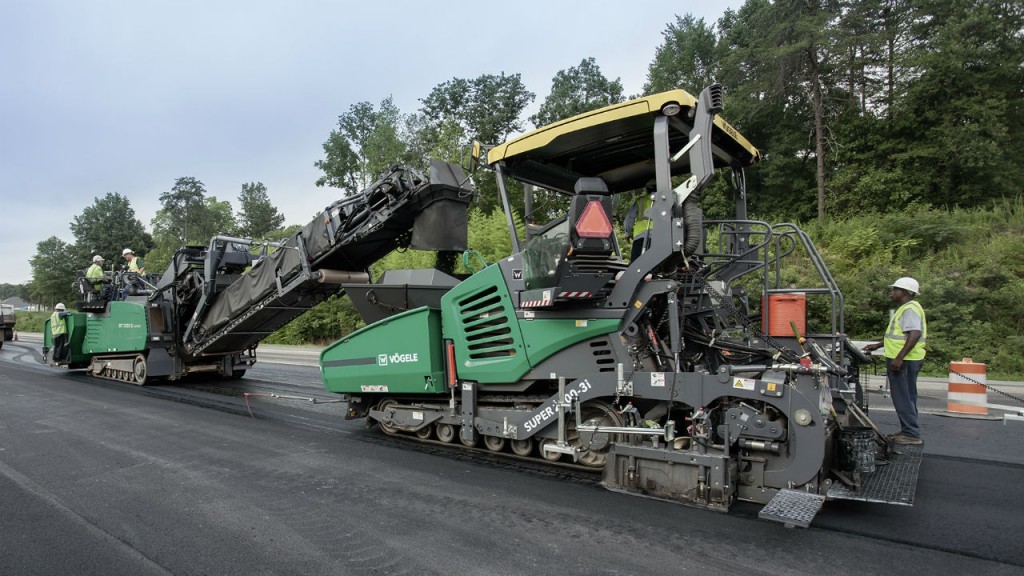 With the tracked SUPER 2000-3(i) and the wheeled SUPER 2003-3(i) pavers VÖGELE has developed two entirely new machines for the North American and Australian markets. They are designed primarily for use in highway construction and large-scale commercial applications, which are all about power and productivity. Both pavers come with the latest version of the VÖGELE operating system, the popular ErgoPlus 3, which has been enhanced with a number of new ergonomic and functional features. With its new 10-foot Highway Class pavers, VÖGELE also offers the right screed for every application. The SUPER 2000-3(i) and the SUPER 2003-3(i) can be combined with the VF 600, a screed with front-mounted extensions, as well as the VR 600 and AB 600, two screeds with rear-mounted extensions. The AB 600 Extending Screed is equipped with both a vibration system and tamper, meaning it can achieve higher compaction. It is ideal for placing recycled materials or RCC applications.
Efficiency, performance and low fuel consumption
The driving force behind the two new VÖGELE Highway Class pavers is their powerful, six-cylinder Cummins diesel engine rated at 250 hp (186 kW). Both low fuel consumption and low-noise operation are made possible by intelligent engine management with an ECO mode. A large cooler assembly ensures that the power unit always delivers its full output. With innovative air routing and a variable-speed fan, temperatures are continually maintained within the optimum range, significantly extending the service life of both the diesel engine and the hydraulic oil. A further advantage is that the machines can operate without difficulty in all climate regions. Self-diagnostics and sensors for all engine vitals eliminate daily checks. Simply put, the engine is daily maintenance-free.
Precision paving with material management
The SUPER 2000- 3(i) and the SUPER 2003-3(i) can be supplied with mix easily and quickly thanks to low material hopper holding 16.5 tons (15 tonnes), wide hopper wings and sturdy rubber flashings fitted to the hopper apron. The hydraulically operated hopper apron prevents material spills during truck exchanges. It directs the material inside the hopper directly onto the conveyors, so no hand work is required. The wide conveyor tunnel and powerful, hydraulic separate drives for the conveyors and augers support high laydown rates of up to 1,540 tons/h (1,400 tonnes/h). Large, 16-inch (40-cm) diameter auger flights with precision pitch ensure excellent spreading of the material when paving in large widths or at lower engine rpm. VÖGELE's unique auger flight design provides prolonged service life versus standard flight designs. Thanks to the effective spreading of the material, the pavers always have an optimal head of mix in front of the screed to meet the demands of every paving situation.
ErgoPlus 3 operating system
ErgoPlus 3, the latest version of our operating system, has been enhanced with a number of new ergonomic and functional features. With its new mounting system for example, the paver operator's console can now be shifted conveniently and easily between the right and left sides of the operator's stand during operation. In addition, it has a large colour display that ensures good readability even in poor lighting conditions. The screed consoles have been completely redesigned, making operation of this new "Dash 3" machines even easier for the entire paving crew.
Screeds to meet all needs
Given enormous tractive effort and high laydown rates, the new 10-foot pavers are the ideal machines for paving in large widths. In order to achieve an optimal paving result for every kind of application, VÖGELE offer screeds which operate with high precision. Several screed options are available, featuring different equipment with compacting systems. The pavers can be combined with the VF 600, the VR 600 and the AB 600 Extending Screeds:
The VÖGELE VF 600 screed, with unequal-width front-mounted extensions, is ideal for multivariable-width applications. Its maximum paving width with bolt-on extensions is 25 feet 6 inches (7.75 m) for both pavers.
The VÖGELE VR 600 screed, with rear-mounted extensions, handles mainline applications. Its maximum paving width with bolt-on extensions is 28 feet 3 inches (8.6 m) for SUPER 2000-3(i) and 24 feet (7.3 m) for SUPER 2003-3(i).
The VÖGELE AB 600 screed, with rear-mounted extensions, achieves higher compaction thanks to vibration and tamper. The screed is particularly suited for placing cold RAP (Reclaimed Asphalt Pavement) for road-base and polymer modified asphalt. Its maximum paving width with bolt-on extensions is 27 feet 11 inches (8.5 m) for SUPER 2000-3(i) and 24 feet 7 inches (7.5 m) for SUPER 2003-3(i).
Company info
Related products
Related Articles
As one of the latest models in the R2-Series excavator lineup, the Bobcat® E88 delivers durability, performance and quality for more productivity. Technically speaking, it's a compact machine, but it brings big performance with its redesigned engine and optimized lift performance, plus undercarriage and counterweight improvements. All these enhancements make this excavator one of the highest-performing models in its size class. With impressive over-the-side lift capacity, you can dig with greater confidence over the side of the machine. Put it to the test against similar models from other manufacturers. You'll see that the E88 can outwork the competition.