2012 Business Development Survey results for construction and engineering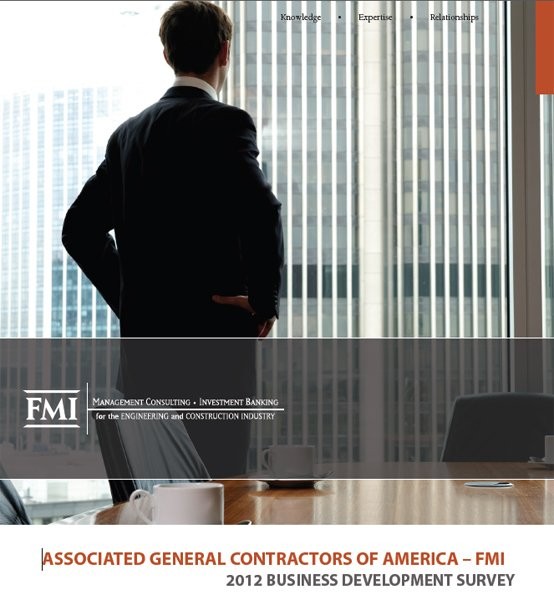 FMI, the largest provider of management consulting and investment banking in the U.S, to the engineering and construction industry, and the Associated General Contractors of America have collaborated to release the "2012 Business Development Survey."

The report captures how the business development efforts of contractors have changed. Beginning with the recession and continuing through the recent months of slow economic expansion, the report takes a concentrated look at the business development function, as well as firm performance and strategy.

In the report's introductory letter, Stephen E. Sandherr, CEO, AGC of America, and Cynthia Cechini Paul, America Managing Director, FMI, state:

"We launched our survey in late 2011 to help better understand how successful firms were utilizing their business development initiatives to navigate the currently challenging economic climate. In addition, the survey focused on the effect that the economic climate was having on the beliefs of industry participants and their experiences with regard to business development.

"In total, 305 chief executive officers, presidents, business owners, executives and other business development professionals from across the industry responded. We are tremendously grateful for the investment of time and energy made by these individuals. The insights learned from this study concerning business development efforts in today's world are thanks to them."

Survey Insights
Going forward, business development is becoming more central to the overall business plan of many firms, with some contractors holding firm on business-development spending even as work becomes scarce.

Providing incentives for customers to maintain loyalty is a strategy being employed by the upper echelon of profitable firms. Margin leaders, looking to extract value from client relationships, are experiencing a correlation between the growth in repeat business and firm profitability.

Across all contract types, bid-hit rates for mid-sized firm ($100 - $500 MM) are lagging behind their industry counterparts. It is also the segment where the largest percentage of respondents (42 percent) spend less than 1 percent on business development.

To download a copy of the full report click here.

Company info