Ontario Rental Supply purchases first Skyjack SJ86 T telescopic boom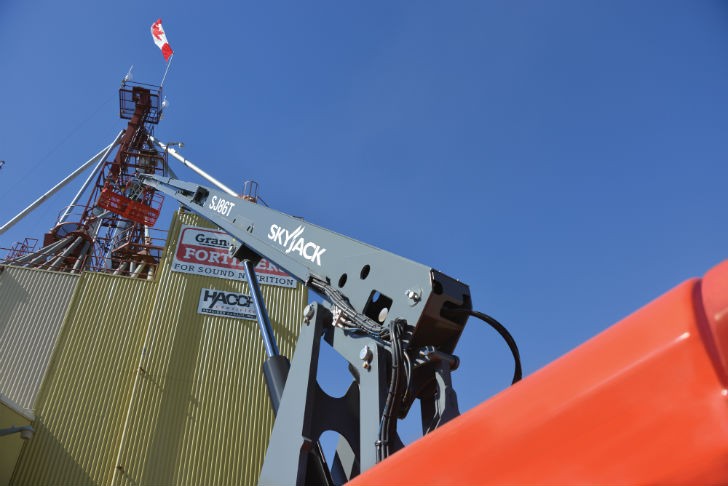 Linamar Corporation's, Skyjack division sold the first SJ86 T telescopic boom in North America to Ontario Rental Supply (ORS), a company headquartered in Ottawa, Ontario, that rents, sells and repairs construction equipment.
"We like that the SJ86 T offers high capacity zones and dual-capacity ratings," said Pat Kelahear, general manager at ORS. "We've mainly used the telescopic boom for glazing application, installing glass on building exteriors, since it offers quite an impressive working height and makes it easy to reach the exterior of tall buildings."
ORS currently has more than 100 Skyjack aerial work platforms in its fleet ranging from working heights of 12 feet to now 92 feet with the acquisition of the SJ86 T.
With a horizontal outreach of 76 feet 10 inches (23.42 m) and jib with a range of motion from +65 degrees to -60 degrees, the SJ86 T is also ideal for helping with steel erection on new buildings.
"We gave our commitment to purchase a SJ86 T the minute we heard they were expanding their telescopic boom range," Kelahear said. "We like Skyjack machines because they keep things simple, which helps with ease of operation and maintenance."
The boom features a 36- x 96-in (0.91- x 2.44-m) platform, an unrestricted platform capacity of 500 pounds (227 kg) and a restricted platform capacity of 750 pounds (341 kg). The default is the restricted capacity. Lights on the control boxes on the base and platform indicate which zone the operator can be in. Once the platform reaches the restricted area, the amber light flashes to notify the operator they have reached the limit of the restricted area. The operator then must switch the toggle to the restricted capacity before moving into that zone.
Like other Skyjack units, the new telescopic boom is designed to offer low life-cycle costs and great return on investment by using shared components with other Skyjack models. For example, the axles, relay-based control system, fibreglass cowlings and modular platform railings are the same on the new telescopic boom as on other Skyjack machines.
Growing together
Partnership and support were also key in ORS' decision to purchase Skyjack aerial work platforms.
"We like to partner with leading manufacturers to build our business. Skyjack's team and people are outstanding – we feel they are an extension of our team," Kelahear said. "We also wanted to show our support for Skyjack like they have done for us since day one."
With over 100 years of combined construction equipment rental and business management experience, ORS serves the Ontario region with one location in Ottawa, one location in Brockville and online at ORSRents.com.
"We purchased the SJ86 T because we needed that height of boom," Kelahear said. "And without a doubt, Skyjack's product along with its quality, service and support was the best fit for us."
Company info
Related products