Hitachi adds three new models to T4F utility excavator lineup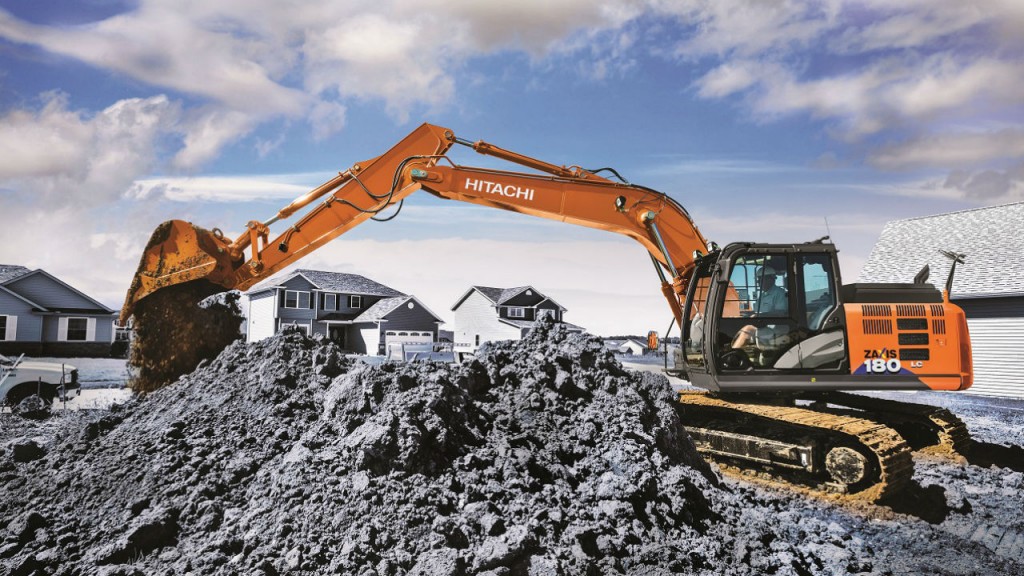 Hitachi Construction Machinery – Americas has upgraded three models of its successful utility-class excavator line to meet EPA Tier 4 Final/EU Stage IV emission standards. The three excavators – the ZX130-6, ZX160LC-6 and ZX180LC-6 – are equipped with a powerful Isuzu engine complete with integrated, effective engine technologies and do not require a diesel particulate filter.
With the introduction of these three machines, all five excavators in Hitachi's utility excavator line, which is designed for contractors working in the underground, road building, energy, commercial building and pipeline industries, are now T4F-compliant. The ZX210-6 and ZX210LC-6 models were upgraded in July of last year.
"The updates made to the ZX130-6, ZX160LC-6 and ZX180LC-6 machines provide operators with quiet, powerful performance with the added bonus of cleaner operations," said Mark Wall, excavator product marketing manager for Hitachi Construction Machinery – Americas. "As a result of very efficient combustion and an improved piston design, the Isuzu engine burns particulate matter in the cylinder. This eliminates the need for a diesel particulate filter."
Built with the same toughness as Hitachi's large mining excavators, the ZX130-6, ZX160LC-6 and ZX180LC-6 deliver higher efficiency, reliability and durability.
Efficiency
The ZX130-6, ZX160LC-6 and ZX180LC-6 take efficiency to a higher level with a HIOS III hydraulic system, which balances engine performance with hydraulic flow. The hydraulic boost system and enhanced boom recirculation generate aggressive boom and arm speed – returning the arm to dig faster.
These models also provide efficient performance with three work modes. High Productivity (H/P) delivers more power and faster hydraulic response. Power (PWR) delivers a balance of power and speed, plus fuel economy for normal operation. Economy (ECO) maximizes fuel efficiency while delivering an enhanced level of productivity.
Additionally, auto-idle and auto-shutdown features contribute to fuel efficiency, and an easily accessible battery disconnect switch extends battery life.
Reliability
The Isuzu engines employ cooled exhaust gas recirculation (EGR), a diesel oxidation catalyst (DOC) and selective catalytic reduction (SCR). Diesel exhaust fluid (DEF) is injected into the exhaust stream of the engine, runs through a catalyst, and turns the NOx in the exhaust into harmless water vapor and nitrogen gas. The EGR is specifically tuned to further reduce NOx (compared to EPA Tier 4 Interim/EU Stage IIIB engines) to meet new emission standards with minimal use of DEF. Additionally, an improved piston design allows particulate matter to be burned in cylinder, so there's no need for a diesel particulate filter (DPF).
Comfort
All three upgraded excavators feature unobstructed all-around visibility thanks to a new hood design paired with a wide expanse of front, side and overhead glass and mirrors, plus a standard rearview camera.
Operators get maximum support from a sculpted mechanical suspension high-back seat. And an automatic, high-velocity bi-level climate-control system with automotive-style adjustable louvers helps keep the glass clear, the cab comfortable and the operator productive.
Durability
D-channel side frames house and protect the highly efficient coolers and T4F engine. Booms, arms and mainframes are so tough, they're warranted for three years or 10,000 hours, whichever comes first. With large idlers, rollers and strutted track links, the sealed and lubricated undercarriage is built for the long haul.
Uptime
Maintenance is minimized with the ZX130-6, ZX160LC-6 and ZX180LC-6. The excavators feature grouped service points, at-a-glance gauges and convenient upperstructure handrails that provide easy engine access.
Extended service intervals help maximize uptime and scheduled maintenance is easy to track using Hitachi's ZXLink system, which comes standard equipped on all three models.
New options
The ZX130-6, ZX160LC-6 and ZX180LC-6 come with an optional auxiliary function lever that provides proportional control for auxiliary hydraulic attachments to help improve productivity on the jobsite.
Company info
Related products