Construction specific cloud service: Sage Construction Anywhere
Construction specific cloud service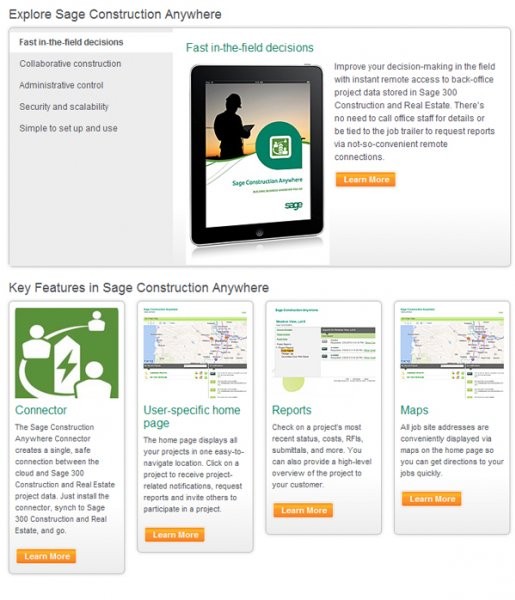 Sage North America thas released their Sage Construction Anywhere, a cloud-based platform that increases accessibility to project data, fosters collaboration, and increases operational efficiency. It is designed to help construction and real estate companies get critical project information into the hands of those who need it most—anytime, anywhere.

Sage Construction Anywhere enables everyone involved in a construction project to work together with common information and keep all projects, people, documents, and data securely in one project hub in the cloud. It is built upon Microsoft's industry-leading cloud services platform, Azure, which provides the highest available levels of data integrity and confidentiality. The Sage Construction Anywhere platform provides the administrator control over who sees what projects and which details as well as makes it easy to invite new companies, people, and contacts to a project. Designed specifically for the construction industry by the market leader in construction business management solutions, Sage Construction Anywhere uses terms and processes that are instantly familiar to builders and contractors, making it an intuitive tool that requires virtually no training.

"In the construction industry, a building project can involve dozens—even hundreds of trades and other team members that all need to be in lock step to drive the project's performance," said Jon Witty, vice president and general manager of Sage Construction and Real Estate. "Sage Construction Anywhere is the quickest and easiest way to bring together all the people, documents, data, discussions and interactions related to the project. It changes the way we think from simply asking whether we got the project done in time and made money, to managing how quickly we performed and the ability to maximize profit at every step of the project."

Sage Construction Anywhere will aggressively rollout new functionality several times a year. Each major update will be built around improving a core aspect of project collaboration and operational excellence for the construction industry.