Leica laser distance meter works even in sunny weather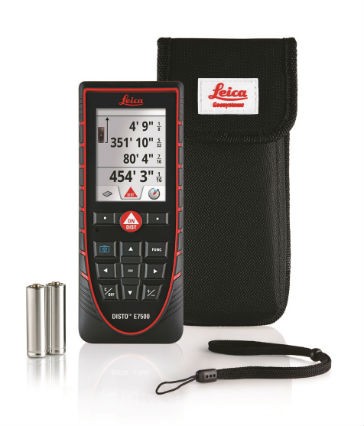 Leica Geosystems' Leica DISTO E7500 laser distance meter is an essential tool for anyone who needs easy, precise measurements outdoors. An advanced digital Pointfinder and 4x zoom enables users to take measurements with high accuracy up to a 500-foot range in all light conditions. This capability is a distinct advantage when working outside in sunny weather; even if the red laser point is no longer visible, the target can easily be seen on the tool's full-colour display. The housing and keypad are sealed against water and dust, and certification to the rigorous IP65 rating provides peace of mind when working in adverse weather conditions. The rugged tool can also be cleaned under running water.
Smart Horizontal Mode capability enables the Leica DISTO E7500 to quickly provide an accurate result even when encountering obstructions such as walls, hedges or people. One measurement to the target is enough for the required horizontal distance to appear on the display.
Other capabilities include automatic calculation of volumes or areas, two programmable favourites keys, timer delay, a 30-position memory, an offset function, and 15 options for units of measure. The Leica DISTO E7500 is certified to ISO Standard 16331-1 for proven precision and performance in everyday use on the jobsite.
Company info
Related products