The fundamentals of hybrid technology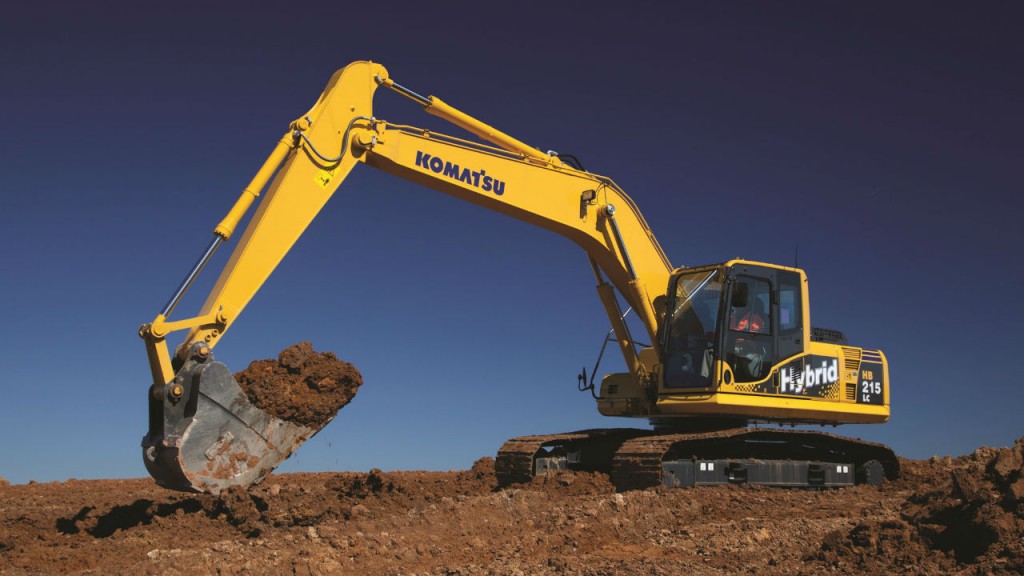 While most people are familiar with hybrid automobiles and know that they use a gas engine and a storage battery, I expect that few people know how construction equipment hybrids work.
There are three types of hybrids in common usage in North America for construction equipment at this time. To distinguish them, I am using terminology that focuses on the key feature for each: ultra-capacitor, hydraulic, and hybrid electric drive.
Ultra-capacitor hybrid
An ultra-capacitor is similar to a battery in that they both store electricity. However, since capacitors work through the migration of electrons and ions for charging and discharging, they can instantaneously transfer power. A battery, on the other hand, uses chemical reactions to produce electricity, a slower process. This makes an ultra-capacitor a better choice to meet the energy demands of construction equipment.
In Komatsu's hybrid system, in addition to an ultra-capacitor, there are two other main components: an electric swing motor and a generator motor.
The electric swing motor is used in place of the hydraulic swing motor found in conventional excavators. During swing braking, the swing motor produces electricity and stores it in the ultra-capacitor. An inverter switches the AC electricity from the generator motor and swing motor into DC electricity for storage in the capacitor.
The generator motor is positioned between the engine and hydraulic pumps. It has two functions: to produce electric power to charge the capacitor, and to assist the engine in powering up by using electricity from the capacitor.
The hybrid system accounts for the majority of the total fuel savings. Other features, such as low speed matching and ultra-low engine idle, account for the remainder of the fuel savings.
Low speed matching uses advanced control logic to match hydraulic pump operation with the most efficient engine speed. It increases engine speed from a 700 rpm ultra-low idle as the hydraulic demand increases.
Komatsu's newest generation hydraulic excavator, the 22-tonne HB215LC-2, provides a 30 percent fuel saving compared to the PC210LC-8, a 20 percent saving compared to the PC210LC-10, and a five percent saving compared to the earlier hybrid model, the HB215LC-1.
The first generation model was introduced in 2008 and was the first hybrid hydraulic excavator in the world.
At Intermat 2015, the Paris-based international construction equipment show, Komatsu announced that they would launch more sizes of hybrid excavators in the next year or two. At the show, Komatsu also said there were over 3,000 of its hybrid excavators, in all three generations of models, at work around the world.
Hydraulic hybrid
Caterpillar unveiled its first hybrid excavator, the Cat 336E H, at its Mossville Industrial Design Center in October, 2012, at a special trade-press event. The machine's official launch was held later, in April 2013, at the international trade show, bauma, in Munich, Germany.
The 336E H used a new hydraulic-hybrid technology developed by Caterpillar and this was quite a dramatic announcement.
Ken Gray, global product manager for large hydraulic excavators for Caterpillar's Excavation Division, said at the time: "A hybrid is independent of any particular technology – it doesn't have to be electric. There are many ways to store and reuse energy.
"No other commercially available technology has higher power density than hydraulics, and that's why we selected a hydraulic solution to help our customers achieve substantial fuel savings. It is extraordinarily quiet, too."
Since large excavators operate in high-production applications in which fuel is a very significant operating cost, it made sense for Caterpillar to use the high-capacity 336E H to introduce their new hydraulic hybrid technology. This year, Cat added another hybrid model, the 336F L XE.
Caterpillar emphasizes that customers do not sacrifice anything in terms of performance, power, force, speed or production, and that the owning and operating costs are actually lower than for a standard machine.
Cat's hybrid wheel loaders use three building block technologies.
1. The Electronic Standardized Programmable (ESP) pump which smoothly transitions between the hydraulic hybrid power sources, the engine and the accumulator to conserve fuel.
2. The Adaptive Control System valve (ACS) which optimizes performance by intelligently managing hydraulic flow to control machine motion with no loss of power.
3. The Hydraulic Hybrid Swing system which captures the excavator's upper structure swing brake energy in two accumulators (large pistons with nitrogen gas over oil) and then releases the energy during swing acceleration.
Cat says that the key ingredient is the ACS valve, which is found only on their machines. It is the "brain" of the system, one that independently controls machine functions and directs hydraulic energy where operators need it precisely when they need it. The company says that because the ACS valve is fully integrated with the pump and hybrid system, operators will experience the same control, hydraulic power and lift capacity they get from traditional Cat machines. That's why the valve is now standard on larger machines like the 374F and 390F.
Caterpillar says that the 336F L XE hybrid delivers up to 20 percent greater fuel efficiency than its standard 336 counterpart.
Hybrid electric drive
Another type of construction equipment that can benefit from hybrid technology is the wheel loader, which does a lot of starting and stopping as it changes direction.
John Deere's hybrid-electric drive wheel loaders recapture energy while slowing. This is similar in some ways to the system used by Komatsu in their excavator but it does not have an ultra-capacitor to store the power.
There are four main components in Deere's system: a generator, inverter, electric motor, and brake resistor.
The generator converts the rotational energy from the engine into three-phase alternating current (AC) electrical energy. It can also function as a motor to use recycled energy to drive hydraulics and save fuel.
The water-cooled, solid-state electronic inverter delivers electrical energy to the drive motor as demanded by the operation of the loader.
The electric motor is brushless for added reliability and converts three-phase (AC) electricity back to rotational energy and torque. The motor replaces the job of a torque convertor, but can also work as a generator to recycle energy back into the system.
The water-cooled brake resistor passively consumes energy whenever the power electronics actively control its circuit and is only needed to consume excess recycled energy.
These loaders use electric traction. Electric traction means that an engine drives a generator to create electricity which is then used by an electric motor or motors to drive the traction system – either wheels or tracks. It has been used for years, especially in large mining trucks.
Benefits of electric traction include: smooth propulsion control, consistent hydraulic performance, faster ramp climbing (in the case of wheel loaders), lower fuel consumption, reduced tire wear on machines with traction control, and fewer wear parts for reduced maintenance cost over the long-term.
With electric traction, the diesel engine runs at a constant speed which is key to fuel savings, reduced emissions and increased wear life over conventional drives. Deere says the system is more reliable than conventional drivelines because of the reduction in number of moving parts.
The engine's constant operating speed also results in continuous hydraulic flow at all times, which delivers crisp hydraulic responsiveness and reduces cycle times.
Deere sees noise reduction on the job site as another benefit of the hybrid design. Since the engine runs at a constant speed instead of increasing and decreasing speed as the machine is worked, the engine noise is continuous and therefore less noticeable to both the operator inside the cab and bystanders outside.
John Deere introduced two hybrid wheel loaders – the 644K Hybrid and 944K Hybrid – at the 2011 ConExpo- Con/Agg trade show in Las Vegas, two years before the machines were scheduled to be available on the market. The 944K Hybrid Loader represented the largest four-wheel-drive wheel loader ever manufactured by John Deere.
Deere reports that the 644K and 944K get up to 25-percent and 40-percent fuel savings, respectively, versus conventional drive for specific operations.
Payback
How long it will take to recover the additional cost of a hybrid over a conventional machine (the payback) depends on the type of hybrid and its associated purchase price, fuel prices, maintenance costs and applications. There are other factors, of course, such as operator skill, jobsite conditions, and the amount the machine is used.
If you think a hybrid would suit your needs, get a comparative analysis from a dealer for a hybrid versus a conventional model.
For a high-production machine like the Cat 336E H excavator, Caterpillar estimated at the machine's introduction in 2013 that it would take about a year to see a payback. At today's price of diesel, it will take longer but it is still a financially viable option for the right application.