Hyundai Eco Pedal automatically detects foot pressure and adjusts power modes according to demand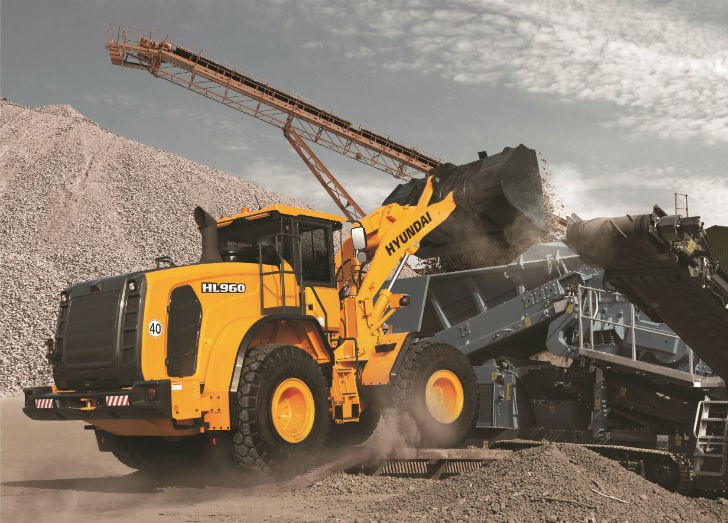 Hyundai Construction Equipment Americas' new HL900 series line of Tier 4 Final wheel loaders are designed for maximum performance, productivity and efficiency, and have been proven to deliver as much as 5 percent greater productivity and 10 percent lower fuel consumption compared to previous 9A series loaders.
Models include the HL940, HL955, HL960, HL970 and HL980, HL935, and special model configurations like the popular Tool Master (TM) and Extended Reach (XT).
The cab on the Hyundai HL900 series wheel loaders is up to 10 percent larger than previous models, and has been reconfigured for additional floor space and improved visibility. In-cab sound levels were reduced by 3 dB. Cab features include a larger seven-inch touchscreen monitor, optional finger-tip controls, fully adjustable and heated air-ride seat, and centralized control switches for added convenience. The enhanced climate control system, which features high-capacity filter and additional airflow vents for optimum cooling and heating efficiency, is conveniently positioned for easy service access on the right side of the cab.
An optional Smart Start ignition system for password- or Bluetooth key enabled machine start is also available on the HL series, as is a new automatic weighing system with improved functionality for more efficient production management. The HL955 and larger models feature optional front locking differentials for improved tractive effort and added machine control. The newly designed bucket has a deeper profile, curved side plates and a larger spill guard for improved bucket fill and material retention.
New engine technologies contribute to overall fuel and production efficiency. Cummins engines power the smaller HL935, HL940, HL955 and HL960 models. The larger models, including the HL970 and HL980, are powered by Scania engines. Cummins and Scania engine technologies both achieve Tier 4 Final emissions compliance through a combination of selective catalytic reduction and diesel oxidation catalyst systems using diesel exhaust fluid.
HL900 series loaders are up to 10 percent more fuel efficient than 9A series models, as a result of such features as Hyundai's Eco Pedal, programmable auto-engine shutdown (available with the smart key option), optional fingertip controls, Eco Gauge, and a five-speed direct drive lock-up clutch.
Eco Pedal automatically detects foot pressure and adjusts power modes according to job demand. The electro-hydraulic fingertip control, available on select models, provides additional precision and reduces operator fatigue. The dynamic colour-changing Eco Gauge provides the operator with a visual reference of fuel efficiency, total fuel consumption and average fuel data.
Machines can be equipped with a standard four-speed automatic transmission or an optional five-speed automatic transmission with a lockup clutch which improves efficiency and minimizes heat.
Company info
Related products