WF Botkin builds bridges with SDLG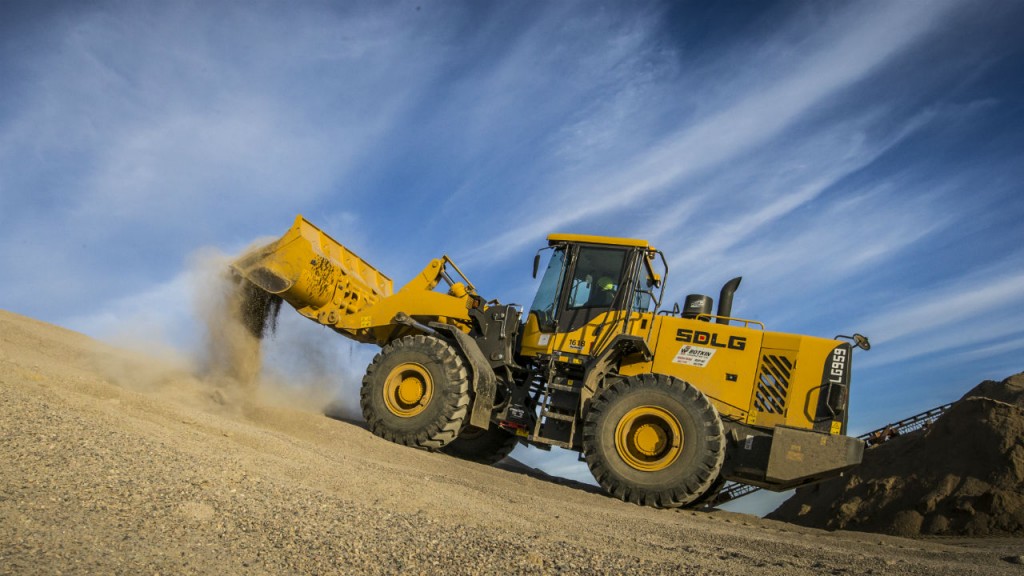 Capital management is the hallmark of any successful construction company. Investments in equipment are expensive, and every machine must generate return on its investment. An expensive machine left idling can become a financial albatross for a small business.
It was this notion that led Regina, Saskatchewa–based WF Botkin Construction to invest in an SDLG wheel loader. Though the company has several material handling sites in its region, it only needed a machine to work a few days a week on a new bridge project. A large outlay on a premium wheel loader that wouldn't be in continuous use would not have made financial sense.
"We recently won a project to replace some bridges in Regina and we needed a wheel loader to support our operations," said Clair Botkin, vice president of the company. "We're primarily moving barricades around the jobsites and loading materials, so we didn't need a wheel loader working constantly. We didn't need the features of a more expensive loader for our work, either."
Botkin brought his needs to Redhead Equipment. The two companies had had a relationship for years, so Botkin trusted the dealer to suggest a machine that would be a good fit and to then support the wheel loader through its lifecycle. Redhead suggested the SDLG LG959.
The LG959 has an operating weight of 38,250 pounds. It features a Tier 3 Deutz engine with 224 hp and 777 lb.ft of torque; ZF transmission and axles; wet disc brakes; a hydraulic quick coupler and 3rd function hydraulics; a modern fit and finish with high visibility; and an operator-friendly cab.
For its first project, the SDLG loader is building a box culvert bridge. There the machine is moving barricades that detour traffic around the site, and handling granular materials for the bridge's construction. It's also placing backfill around the structure's culverts. The project began in late spring and is expected to wrap up in October. When the job is complete, Botkin will transfer the wheel loader to one of its stockpile facilities, moving concrete rock, base material, sand and peat rock, among other materials.
"The SDLG wheel loader has been working well on the jobsite," Botkin said. "It came with bucket and forklift attachments, which we definitely need and utilize – these attachments were a big reason why we went with SDLG. I would consider purchasing more of them when the need arises."
Botkin said that the SDLG 12-month, 1,500-hour warranty was another motivation for choosing SDLG. The company had considered a used wheel loader, but was won over by the brand's warranty and the fact that it would be backed by Redhead Equipment. "Our relationship with Redhead gave us a great deal of confidence," he said.
Company info
Related products
More from Earthmoving
The all-new CASE TR340B compact track loader — operating at 90 horsepower with a 3,400-pound rated operating capacity — is the most powerful radial-lift CTL in the CASE lineup. Its all-new 8-inch LCD display improves on industry-leading CASE visibility with a new backup camera that is viewable in both forward and reverse operation. The display also showcases critical operating information and "trip" details. All-new electro-hydraulic controls, managed through the display, make it easier than ever for operators to dial CASE CTLs into specific application demands. All new cab controls and joysticks make the new TR340B easy to own and operate.
Industries such as construction, mining, energy, utilities and forestry, face many challenges when it comes to tracking assets and employees. Equipment often has to be transferred between locations, or monitored while it is dormant during off seasons. Lone workers may have to travel long distances or visit multiple sites during the course of their activities. And, all of this is further complicated today with shifting supply chains and economic realities putting further strain on the bottom line.