Toromont Cat chooses Groeneveld greasing systems for rental
Trial proves value of automatic lubrication for rental company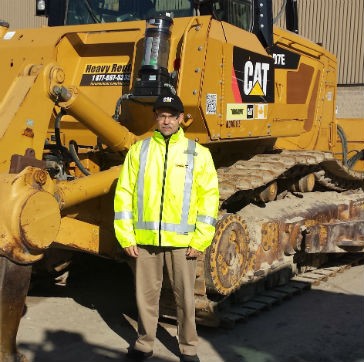 Toromont, one of the larger Caterpillar dealers in the world, has selected Groeneveld as their preferred supplier for automatic lubrication systems for their heavy rental fleet. "And for good reasons," Heavy Rents Asset Manager Matt Visentin underlines. "It's a great product with the back-up of a solid service organization, able to support us and our customers in the entire region we serve. And our customers as well as Toromont Heavy Rental benefit from the values of automatic greasing, which include higher productivity and less repair and maintenance and increased residual value."
Toromont Cat from Canada, located in Ontario, Manitoba, Nunavut, Newfoundland and Eastern Labrador, covers one of the largest geographical areas of all Caterpillar dealers worldwide. The company is dedicated to supplying and servicing new and good quality used equipment and exceptional product support in the mining, construction, agricultural and material handling segments. Groeneveld already supplies automatic lubrication systems to Toromont dealers for the after-market, while many machines can also be ordered ex-factory with Groeneveld lubrication systems. Based on the positive experience with the system, Toromont decided to conduct a trial with the system for their Heavy Rental division. "Five different machines were equipped with Groeneveld automatic lubrication systems, and they worked extremely well," explains Visentin.
Lower costs and increased uptime
This made Toromont's Heavy Rents division decide to equip all of its existing and future equipment with Groeneveld automatic lubrication systems. "we always look for ways to provide the best possible service to our customers and to offer maximum machine availability or uptime, while at the same time keeping repair and maintenance costs under control. Since we started equipping our equipment with Groeneveld we have seen a 30 percent reduction in repair costs," Visentin explains. "With machines operating under severe circumstances in remote areas, which is not unusual in our region, proper daily maintenance like greasing is a challenge. Groeneveld automatic lubrication systems offer the right solution for every machine and all kind of applications." It's not only the durability of the product, the remote monitoring and canbus-connection, or the availability of large reservoirs to ensure enough grease supply between service intervals, that made Toromont choose Groeneveld. Also the ability of Groeneveld's solid Canadian organization to support the product in the large Toromont territory, is a great advantage. Plus the fact that Groeneveld also supplies its systems to Caterpillar for ex-factory installs, which means that we can order parts via the Cat Parts system," Visentin concludes.
Related Articles
Searching for the best-performing excavator? Your search ends here. We tested the Volvo EC350E and EC380E against a leading competitor in three different tests: trenching, truck loading and lifting capacity at reach. The results show a 20% difference in cost-per-ton, a 15% difference in tons-per-hour and a 12% difference in both operating costs and lifting capacity. See the results and put an end to your search for the best excavator.