ESAB multi-process welding system provides industrial quality arc performance in a compact package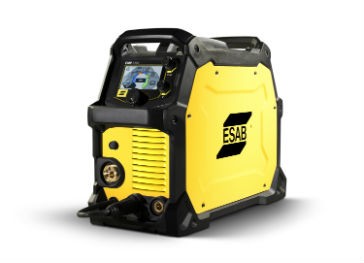 ESAB has introduced the Rebel EMP 215ic, a 120V-230V, CC/CV welding system that offers true multi-process arc performance, location flexibility, lightweight portability and a groundbreaking operator interface. A unique sMIG ("smart MIG") function enables users to begin MIG welding – with an extremely stable arc – just by setting metal thickness and wire diameter. Unlike competitive units, there is no need to enter information for shielding gas mix.
The Rebel provides an industrial quality arc for MIG, flux-cored, Lift TIG and Stick welding, including excellent performance with difficult-to-weld E6010 electrodes.
The Rebel has two operating modes, Basic and Advanced, that make welding easy for beginners or lets those with more experience fine-tune parameters. Operators interact with the Rebel using a unique control that combines traditional weld parameter adjustments with the functionality of a smartphone.
The Rebel accepts 4- and 8-inch diameter wire spools, runs .023- to .035-inch diameter wires and enables users to switch from 230V to 120V primary power simply by connecting the supplied adapter plug. The Rebel weighs 40 pounds, measures 23 x 9 x 16 inches and features a five-handle roll cage and unibody construction that integrates the front, back and top panels to provide superior durability for protecting internal components.
When connected to 230V primary, the unit provides a MIG output of 20 to 220 amps, a Stick output of 30 to 160 amps and a TIG output of 5 to 240 amps. When connected to 120V primary, the unit provides a MIG output of 15 to 130 amps, a Stick output of 5 to 110 amps and a TIG output of 5 to 140 amps. Applications include auto repair and restoration, maintenance and repair, mechanical contractors, light construction, farm and ranch, training facilities and sheet metal/HVAC.
The unit comes ready-to-weld for all welding processes. ESAB includes a professional-grade Tweco Fusion 180 MIG gun, a Tweco stick electrode holder, a Victor gas regulator, a TIG torch, all required hoses and cables, and a sample of general purpose electrodes and a 2-pound spool of ESAB Weld ER70S-6 solid wire. An optional spool gun provides MIG aluminum capabilities.
"The Rebel EMP 215ic is the most incredible go-anywhere, weld-anything machine on the market. Users have to experience this machine to believe just how good it is," says Doug Smith, Product Business Manager – Arc Equipment, ESAB. "As just one example, no other small, integrated welder can run a E6010 electrode, much less run it well on 120V. The Rebel offers outstanding all-process arc performance because we enhanced the control algorithms from our industrial systems such as the Warrior and Aristo, gathered input from real world welders and then incorporated that knowledge into the Rebel design."
The smartest control system
Available in the North American market, the Rebel's interface can be set for English, Spanish and French. The control display incorporates a built-in user manual with graphics and text to help with weld process setup, such as for connecting the work and ground leads to the correct terminals, as well as for ordering parts. The display lets users select the welding mode, as well as set and control all functions.
With the Rebel's sMIG ("smart MIG") function, users begin MIG welding by setting metal thickness and selecting wire diameter. The Rebel will automatically adapt to any popular steel, stainless, chrome-moly or aluminum filler metal/gas combination and provide a stable MIG arc. The sMIG mode enables users to weld thicker or thinner metal by increasing or decreasing wire feed speed, as well as to raise or flatten the bead profile ("crown") by increasing or decreasing voltage ("trim"). Welders can also adjust inductance to fine tune arc stability and control spatter. As users adjust one parameter, sMIG automatically adjusts others to keep the MIG arc stable.
Using an exclusive, built-in algorithm, sMIG monitors the operator's technique and continuously adapts the MIG output to provide a stable arc and superior, repeatable welds. "sMIG takes smart to a level never-before-seen in the industry," says Smith. "Experienced welders become productive more quickly, and novice welders start producing quality welds in less time. The sMIG feature takes away the doubt of welding with incorrect settings and so users can focus on good gun technique. Rebel gives users confidence to weld anywhere with a ready-to-weld package."
For those welders who prefer traditional MIG and flux-cored welding, the Rebel enables users to pre-set and adjust wire feed speed and voltage, as well as set run-in speed, adjust burn-back control and program timers for spot and stitch welding. When welding, the control shifts to display amperage and voltage.
Because different types of Stick electrodes require different controls, the Rebel lets users optimize performance by selecting from one of two settings: Cellulosic Electrodes (E6010, E6011) or all other Electrodes (E70XX, E308, E309, E316). To further fine-tune performance, the Rebel features adjustable arc force and hot start control.
With TIG welding (as well as MIG), users can select either 2T/4T trigger control; 2T for standard operation and 4T to provide a hold function that reduces hand fatigue. Operators can adjust gas pre- and post-flow, as well as adjust upslope and downslope to help them establish the weld puddle and prevent crater cracking, respectively.
Three Rebel models
ESAB offers three Rebel models. The full-featured Rebel EMP 215ic offers all of the capabilities noted above. The Rebel EMS 215ic provides all of the same capabilities, features and functions, except that it does not have a TIG output. The Rebel EM 215ic provides MIG, sMIG and flux-cored welding outputs and features a more traditional interface with digital meters.
Company info
Related products