New all wheel steer loader from Wacker Neuson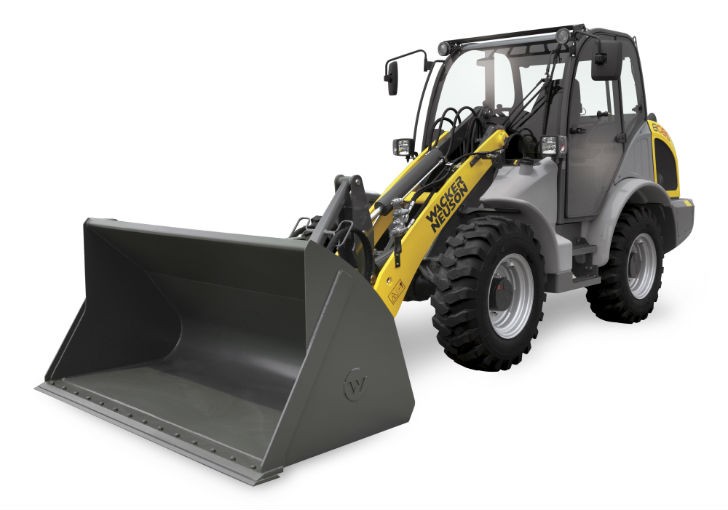 Wacker Neuson, is adding to its range of all wheel steer (AWS) wheel loaders, introducing a new model that offers speed, versatility, stability and operator comfort to any job site. The new model, 8085, is particularly beneficial to job sites where continuous travel over longer distances is needed, reducing cycle times and improving productivity.
The versatile 8085 is offered with two speed configurations. The standard travel speed of 12.4 miles per hour with 19 gallons per minute auxiliary flow, is an excellent machine to use on a variety of job sites with most standard attachments. The 8085 with the option of high speed/high flow travels up to 25 miles per hour, the fastest wheel loader in its class. With the high flow auxiliary hydraulics of 30 gallons per minute, the 8085 is ideal for operating high performance attachments such as blowers, brooms and mowers. The high flow edition also features automatic ride control providing a smoother ride by automatically engaging when the machine reaches a certain speed. Also standard on the high-speed/high-flow model are manual travel speed and manual throttle controls designed to more efficiently operate hydraulic attachments
Wacker Neuson's new 8085 also offers three steering modes that sync electronically. (Previously, all wheel steer units were all wheel steer all the time.) With the 8085, operators can change between 2-wheel mode for faster forward travel speed to all wheel drive for travel over rough terrain, and to crab steer that moves the machine horizontally in order to fine-tune placement in tight spaces. The operator can simply change the steering mode with the flip of a dashboard switch and the machine will automatically synchronize to the desired steering mode.
Adding to this machine's versatility is the hydraulically operated universal attachment plate which enables the operator to quickly switch attachments without leaving the operator's station, saving time and extra effort. In addition, the universal plate allows owners to use their current or new skid steer attachments on the versatile wheel loader which increases their return on investment and provides new job opportunities.
The 8085 wheel loader features a long wheelbase for smooth driving and easy handling. The center of gravity located in the middle of the machine and counterweights located far behind the rear axle allow for higher payloads and increased stability. The deluxe cab takes operator comfort to a new level with extra space and storage, air-ride seats, premium HVAC and a panoramic view all come standard.
The 8085 is powered by a Tier 4 Final, 74-horsepower Deutz diesel engine with maintenance-free DOC after treatment that provides power and efficient operation. Weighing in at 10,472 pounds, the 8085 has a tipping load of 8047 pounds and a bucket hinge pin height of 10 feet, 10 inches. From trees to snow to construction materials, the 8085 is an excellent material handling machine for construction, landscape, agriculture and municipal applications.
Company info
Related products