Prevent Tailgate Theft With The TailgateLock™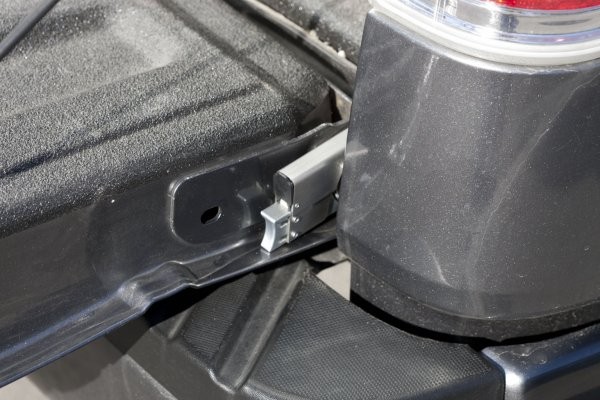 Master Lock, the world's largest and most trusted manufacturer of padlocks and related security products, proudly announces the availability of its new TailgateLock™. The TailgateLock™ is designed to prevent unauthorized removal of the tailgate on Ford, GM, Dodge and Toyota pickups.
The TailgateLock™ is a semi-permanent and easily installed device that attaches in seconds to the pivot post of any standard tailgate without any drilling or tools required. Once installed the TailgateLock™ allows free movement to open and close the gate, but prevents removal without the use of a key. The TailgateLock™ features stainless steel construction and includes a keyhole cover to protect the lock from the elements".

"Most tailgates can be removed from a pickup truck in less than thirty seconds, making them an attractive target for thieves", commented Jeffrey Ling, Product Manager at Master Lock. "And with tailgates valued at several hundred dollars and in some models several thousand dollars, the new TailgateLock™ is inexpensive protection".
Through a partnership with Mike Rowe, creator and host of Discovery Channel's popular show, Dirty Jobs, a portion of the sale price is donated to mikeroweWORKS, Rowe's mission in support of hard work and skilled labour in North America.
A short demonstration video of the TailgateLock™, being installed by Mike Rowe, is posted at the Master Lock Truck website, which features the entire family of Master Lock Work Truck Security products. The patented will be available exclusively at Canadian Tire stores across Canada and a video can be seen at www.masterlocktruck.com.