Skyjack launches new Tier 4 Final telehandler range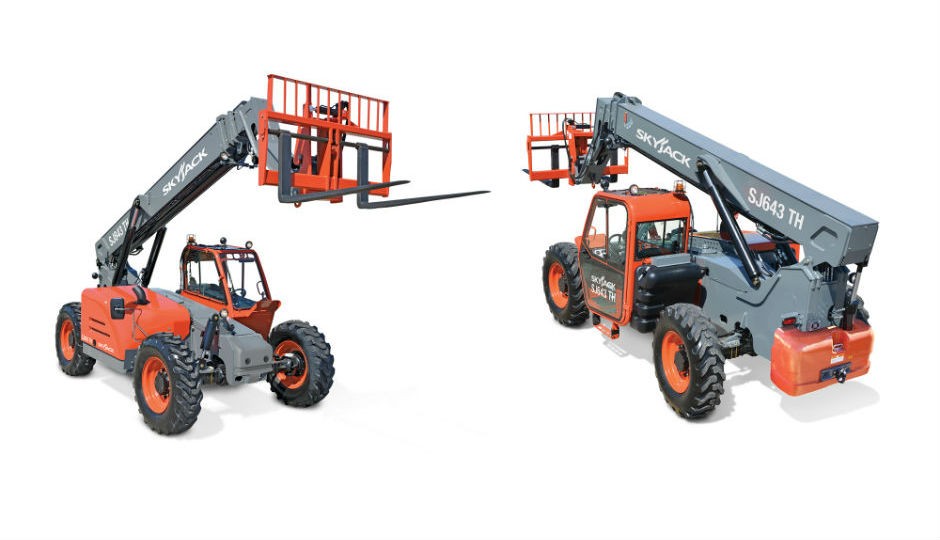 Linamar Corporation's Skyjack division is launching a new range of telehandlers. Designated the TH series, the four new telehandlers will replace the existing VR telehandler series.
"We are excited to offer Tier 4 Final telehanders without the cost and complexity increase that normally accompanies a tier engine change," said Brad Boehler, president of Skyjack. "In fact, new pricing and our ROI-focused clean sheet design makes the range truly competitive and attractive to the rental industry."
The four new models are:
Like other Skyjack telehandlers, the last two digits represent the maximum lift height in feet, while the number in front indicates maximum capacity in thousands of pounds.
Skyjack took the opportunity to completely reassess telehandler design while implementing the Tier 4 Final engines. Compared with older models, the TH range offers simpler rear axle stabilization, hydraulics systems, outriggers, controls, engine servicing, electronics and option packages.
Tier 4 Final – Why costs do not have to rise
"When it comes to Tier 4 Final regulations, we know rental rates don't just go up to meet the increased costs of emissions compliance," Barry Greenaway, Skyjack's product manager said. "The TH range is engineered to require no diesel particulate filter (DPF), no diesel exhaust fluid (DEF) and no other active exhaust aftertreatment on standard engines for Tier 4 Final."
By using improved gearing, high torque engines and a simplified, high efficiency hydraulics package, Skyjack designed the TH series to employ 74-hp engines while delivering the same on-site job performance as higher power units.
"For example fully loaded potential grade-abilities on the SJ1056 TH is 50 percent, while on the SJ843 TH it's 63 percent, all with 74-hp," Greenaway said. "This, and no increase in hydraulic function times, means that the SJ TH range delivers all the jobsite functionality expected of a rough terrain telehandler with a minimal trade off in third gear travel performance on 10,000-pound models. Those with a need for speed can select the optional 107-hp power plant for the SJ1044 TH and SJ1056 TH which uses only a DEF aftertreatment system with no DPF requirement."
Lifting expectations
With the SJ1056 TH, Skyjack has redefined what a 10,000-pound class machine is capable of by leveraging the strength and simplicity of the new TH series design. Current telehandlers in the 10,000- to 12,000-pound range typically lift their 10,000-pound load to a maximum height of about 33 feet with outriggers deployed.
"With Skyjack's SJ1056 TH, the telehandler has the ability to take the same 10,000-pound load to 44 feet – providing increased productivity and versatility over even most 12,000-pound units," Greenaway said.
The new TH series comes with 74-hp Deutz engines as standard and 107-hp Deutz engines as options on the SJ1044 TH and SJ1056 TH.
The TCD 2.9L 74-hp engine provides 221 lb/ft of torque and 18,000 pounds of tractive effort on the SJ643 TH and SJ843 TH, while the 74-hp TCD 3.6L provides 287 lb/ft of torque and 20,000 pounds of tractive effort (an increase of 5 percent over the 110-hp VR1056E) on the SJ1044 TH and SJ1056 TH.
"Using the 74hp engine on the new TH series means there are no DEF requirements, no multiple extra engine and exhaust sensors, or selective catalytic reduction," Greenaway said. "Decreased complexity means decreased downtime, decreased service calls and increased return on investment for rental companies and end users alike."
Standard features
External extension cylinder and top mounted extension chain.
Oversized engine bay with full fiberglass cowling.
Deutz engines, Dana powershift transmission and Dana axles.
Modular cab that can be converted from open to closed at the rental yard.
Simple control panel design consistent with other Skyjack product.
Multi-function engine display.
Cast counterweight with hitch pin incorporated.
Yoke mounted lifting hook for under slung loads.
Quick attach carriages shared with existing Skyjack VR telehandlers.
Skyjack's SkycodedTM relay based control system, free from computers and PLC's.
Auxiliary hydraulics across the range.
Engine block heater.
Optional features
Rear axle stabilization (standard on 1044 and 1056 models)
Axle mounted outriggers (standard on 1056 and optional on 1044)
Company info
Related products